[App] Tor Browser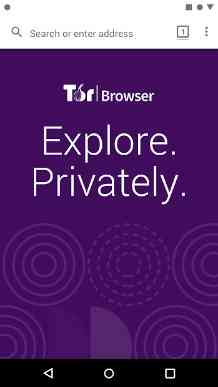 Tor Browser for Android is the only official mobile browser supported by the Tor Project, developers of the world's strongest tool for privacy and freedom online.
Note: For this release, you also need to install Orbot, a proxy application that will connect Tor Browser for Android with the Tor network. For the upcoming TorBrowser for Android stable release, our goal is for Orbot not to be necessary to connect to Tor.
Known issue: Our Security Slider is now under 'Security Settings,' but because of a small issue, it's only showing up after you restart the app. We plan on fixing it for the next release.
BLOCK TRACKERS
TorBrowser isolates each website you visit so third-party trackers and ads can't follow you. Any cookies automatically clear when you're done browsing.
DEFEND AGAINST SURVEILLANCE
TorBrowser prevents someone watching your connection from knowing what websites you visit. All anyone monitoring your browsing habits can see is that you're using Tor.
RESIST FINGERPRINTING
Tor aims to make all users look the same, making it difficult for you to be fingerprinted based on your browser and device information.
MULTI-LAYERED ENCRYPTION
When you use TorBrowser for Android, your traffic is relayed and encrypted three times as it passes over the Tor network. The network is comprised of thousands of volunteer-run servers known as Tor relays. Watch this animation to learn more about how it works:
BROWSE FREELY
With TorBrowser for Android, you are free to access sites your local internet service provider may have blocked.
Learn more about Tor Browser for Android:
Need help? Visit support.torproject.org. The manual is coming soon.
Learn more about what's happening at Tor: blog.torproject.org
Follow the Tor Project on Twitter: twitter.com/torproject
ABOUT THE TOR PROJECT
The Tor Project, Inc., is a 501(c)(3) organization developing free and open source software for privacy and freedom online, protecting people from tracking, surveillance, and censorship. The Tor Project's mission is to advance human rights and freedoms by creating and deploying free and open source anonymity and privacy technologies, support their unrestricted availability and use, and further their scientific and popular understanding.
Tor Browser user reviews :
I am now of the opinion that one cannot use only one browser. So, I've installed a few to analyze them, and settle on 3. Tor was the very first and I'm impressed already. Nice appearance, easy to get up & running, great security settings, enough options for comfortably, and a bundle of add ons to customize it. So far I'm impressed and quite taken back by the efficiency with which it displays, plus the settings are at your fingertips with no articles and 20 step procedures and protocols to forget
Almost perfect but problems recently. Used this for a long time on nearly all my previous devices but it totally fails on my latest one. On the Samsung S22 Ultra, pages simply fail to render correctly making it unusable. Both Onion and clear Web pages simply do not render and after scrolling around, it will sometimes render something garbled. Looking on Reddit, the I see others with the same device are experiencing the same problems.
Very Awesome , I even set it as my default browser ! ! ! I enjoy privacy and I also enjoy being able to surf the web , in it's entirety ! ! ! ! And with tor , and tor browser , it's a defenite great surfing experience , as well as finding websites that have downloadable , sweet Books , and I found some very inter , as well as free. !! : Books , and a bunch of cool things that I have never seen on the regular " car web ' , I am on it right now , so I better leave a 5/5 for it's
For those who saying tor browser is not working or their IP is still showing… This is only alpha version of tor browser you still need to download orbot to work tor browser properly. And in stable version you won't need orbot to work for tor browser (you can use tor browser without orbot) And also tor browser's stable version is releasing in 2019. [Please Read the description before downloading and commenting]
So far so good. Though a little pointless until it has Orbot integration (which I'm aware is coming) looking forward to the official release after alpha and beta phases. So far everything is running smooth, fast and issue free on my HTC U11
im loving this application, what a great next generation comeback. id love to do some work for you guys ive done some decent fan art in the past im hoping to impress you guys with the things i can bring to the table. also the only thing i ask is, is that can you make this application sd card compatible.
Latest Update :
Tor Browser is improving with each new release. This release includes critical security improvements. Please read the release notes for more information about what changed in this version. https://blog.torproject.org/new-release-tor-browser-1108
Contact developer :
Video :
Download Tor Browser from Play Store
Leave your feedback regarding Tor Browser
Get more android apps/games/updates
Subscribe to our mailing list and get new android apps / games and updates to your email inbox.
Thank you for subscribing.
Something went wrong.