[App] Transno – Outlines, Notes, Mind Map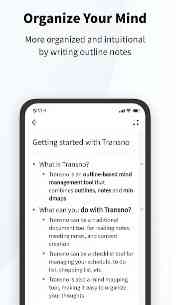 Transno is a multi-function app that helps you:
Learn by doing, best way to manage your notes
One click to create, share and demonstrate your mind map
Collect your thoughts, help a wonderful creation
Simple way to organize your tasks with tags
Key Features
one click to mind map
infinitely nested lists
zoom in any sublist
easy to expand and collapse
arrange any content with drag & drop
label items with # and @ tags
add note to items
cloud synchronization
mark items as complete
global search for all text
insert pictures
change font color(RTF)
Contact Us
Facebook: Transno
Twitter: Transno
Telegram: TransnoUserGroup
E-Mail: transnohelp[at]gmail.com
Now Transno is still in beta version, we're always happy to hear you. If you have anything to talk, please feel free to contact us anytime.
Your words can make Transno a better product.
We believe 'How much do you take life seriously, how strong Transno will be'.
You may also like jw library
Transno user reviews :
I love Transno. Just waiting for the pro option to come out. It needs an option to increase text size on screen and in document exports, and what's up with the gray text? Make the text all black please. I love that you can add photos within your outline in a document, and the mindmap feature is so useful and amazing. It will really make you look at yourself and how you think, and even how you organize your habits. I'm using it for several different projects. Thanks for making this.
This is really cool. Both design and functionality are great. Making notes for complex topics is a delight. With few more features like interlinked notes this could be gain wide adoption.
I can't use the app because the font size is too small and can't be changed. Otherwise, the app is excellent.
Clean, easy to use app that's incredibly useful for organizing ideas in nested list form.
An awesome app for mind mapping and taking notes. Just s bit complicated while starting and has a learning curve. But do worth it. Cheers for the app. I do have one request. That is when you launch the paid version of the app. I hope there is an one time payment option for the super early users like me.
Transno Note App

Welcome to join our Telegram group (Link: t.me/transnousergroup), you can request new features or report bugs immediately in that group. At the same time, we issue advanced codes to the first 200 users in the group.
It is amazing app  for student and professionals. You can draw your mind map and presentation without any headache.
Highly recommendable app. Please add more color options for the text; add subscript and superscript; add option to edit separate words (changing color, font, etc); add pinning documents like starring; add free flow mindmapping; redo & undo buttons are a little bit difficult to access. And please add widgets for the app
Its awesome and easy. Has a lot of scope for improvement.
Best way to keep notes and review anytime to recall any point by organising notes in most effective manner thanks transno for this wonderful concept to combine the mindmap concept and organising notes by point to point and i literally loved that we can add any images to remember more precisely and just the improvement i want is to create a folder we must able to select our own images to represent that folder that it
one thing's really true … this app is indeed self explaining and simple to be deployed as well … and it's fast … I have it downloaded this very day morning and after some first tries I was, still am, on the go with program … I will keep it …
Great app….. Just dont know how to delete a point created by error, no option to go back…. Pl add lot of customization options like font styles, font size, highlight, unlimited highlighting colours etc.
Finally something that looks beautifully simple yet works powerfully by design.
Amazing, simple. Clean interface, but just wish that the mind map can be edited.
Very useful especially if we want to port the data to graphics and presentatiob
Really cool ! Really need to be able to share external items to the app tho
Honestly an app too good to be true. It's clean, simple, lots of functionality without clutter but wait for it – the best feature is being able to instantly convert a note into a mind map without any extra effort! Web client is a god-send, syncs without any glitches, night mode, layout options – you name it. Bonus! You can add pictures! That's a feature I haven't seen in some other well known apps of the same kind. Devs were super responsive too. Love love love!
Contact developer :
Download Transno from Play Store
Leave your feedback regarding Transno
Get more android apps/games/updates
Subscribe to our mailing list and get new android apps / games and updates to your email inbox.
Thank you for subscribing.
Something went wrong.