[Game] Wrestling Revolution 3D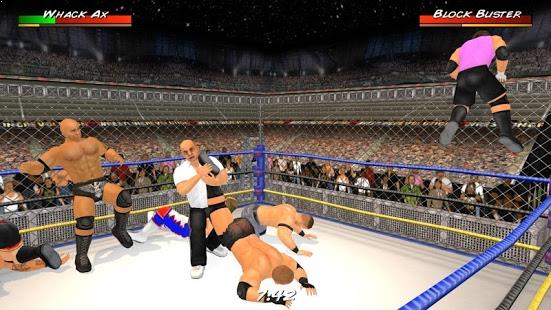 Wrestling Revolution 3D : The playability of No Mercy and the depth of Fire Pro in the palm of your hand!
Join the revolution and witness the biggest 3D wrestling on mobiles get BIGGER with each free update as it gradually evolves into the epic universe that Wrestling Revolution is known for! These early releases feature a preset "supercard" of matches and an interactive training process that you can even create your own wrestler for. With matches featuring as many characters as your device can handle, it also requires gaming's first "War Games" style DOUBLE ring to contain the action! And yet the anarchic gameplay where anything can happen remains intact thanks to the uniquely versatile animation system – along with a dozen different camera angles to enjoy the view from (including some affectionate tributes to classic wrestling games from the past!).
BASIC CONTROLS
The game features an interactive tutorial that you are advised to play through, but the basic controls are as follows:
CURSORS = Movement (double-tap to dash)
A = Attack (with a direction to aim high, without to aim low)
G = Grapple
R = Run
P = Pick-Up / Drop (with a direction to throw)
T = Taunt / Pin / Referee duties
EYE = Change focus / Turn opponent around
HEALTH METER = Switch character
CLOCK = Pause / Change camera angle
Wrestling Revolution 3D game is also compatible with Android controllers such as NVidia Shield or MOGA Pro ("B" Mode).
EDITOR
Although there's a lack of content at this early stage, you can at least make your own trainee in the editor (please note that it will not be possible to save your changes permanently until the options are finalized):
Click either side of an option box to change its value.
When changing costumes, you will notice that changes are automatically inherited top-down and from right to left. If you want to fine tune, you can then move onto the other side.
It may be necessary to access a body part again before you can change its colour.
Changes to the character's "Build" will need to be reloaded with the "Update" button before they can be appreciated.
Hold over the character model to turn them around to see from all angles.
PERFORMANCE
Although every effort has been made to keep performance as high as possible, some devices may benefit from a visit to the Options menu to fine tune the display:
The number of characters is perhaps the biggest factor so consider turning off referees and setting a limit on the match size.
If you don't want to sacrifice numbers, you can sacrifice polygons instead and opt for "Basic" character models (no fingers).
The ropes are surprisingly demanding and you may squeeze in an extra character if you make them "Static".
Turning off shadows and reducing crowd sprites may also help.
Follow all the latest developments on Facebook and Twitter:
www.facebook.com/MDickieFans
www.twitter.com/MDickieDotcom
Please note that Wrestling Revolution (like Fire Pro) depicts a fictitious universe and is not affiliated with any real wrestling shows such as WWE (Wrestlefest), TNA, NJPW, or UFC. And obviously not NFL (Madden), NBA, or FIFA.
You may also like
Wrestling Revolution 3D user reviews :
I love it but this is something I will like to say I think the championships to be at least 3 singles titles and each Paper-view should have names Where is hell in a cell?, Where is the elimination chamber? Where are the commentators?, And I can't see any ladder match The entrance stage should have a screen and wrestlers should have nicknames I am 99.9 percent sure that everyone wants these matches and other things I just listed And who is with me know? Please I want a reply from MDickie
Good game but upgrade it to latest people in WWE and change ur players to how they look recently and put their real song. I really love this game it helps me when I'm bored great work. I will appreciate it if you can upgrade everyone loves the game but some are getting bored of it so don't relax upgrade it please.great game
Great game The game has bugs when it comes to the ropes and in the steel cage match the opponent drop kicked me and I fell out of stage and won. Overall great game looking forward to improvements and hoping to see a career mode like the 1st game. Awesome and fast updates too!
Awesome. This is the app game I've been waiting for. I can't wait to see this game progress in development. I'm a huge fan of both No Mercy and FirePro so this is a dream game for me. Keep adding to it and I'll keep playing.
Contact Developer :
Video :
Download Wrestling Revolution 3D from Play Store
Leave your feedback regarding Wrestling Revolution 3D
Get more android apps/games/updates
Subscribe to our mailing list and get new android apps / games and updates to your email inbox.
Thank you for subscribing.
Something went wrong.