[Game] ZHED
 creative destruction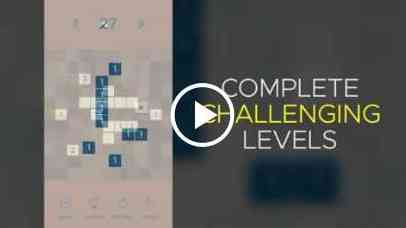 ZHED is an instant classic puzzle game.
Based on a simple mechanic it builds onto increasingly complex puzzles that challenge you to a level you would not imagine. No timers, no clocks, no stars and no tricks, just pure puzzles for you to enjoy. It's the perfect brain-teaser that lets you train focus, concentration and memory.
How to Play ZHED?
Tap a square and select a direction (upwards, downwards, to the left and to the right). See how the square reacts when they intersect with each other, and build a path to fill the goal square. When you finished, the next level will show up! You can undo moves or restart levels as much as you want.
How many levels are there?
There are currently 5 free level packs with a total of 100 challenging and curated levels.
How to save my game progress?
Make sure you are connected to internet, and your progress will be saved automatically!
Do I need to pay anything to play this game?
It is 100% free, but you can buy or earn hints to help you solve harder puzzles.
NOTES
ZHED​ contains optional rewarded video ads.
ZHED​ sells hints and extra level packs as IAPs.
Please read the PRIVACY POLICY
www.gcontrolgames.com/policy.html
Like us on FACEBOOK
www.facebook.com/GroundControlGames
Send us your feedback, we appreciate it.
Enjoy :)
ZHED user reviews :
If you're looking for a puzzle game with a unique concept and level design that make you want to continue through to the next while maintaining a challenge, this one is for you. This game begins with a concept and builds that concept with every level. Just finished level 100, I'm pretty sure I've had this installed on my phone for years now and it was worth every second.
The initial levels are actually challenging. So many games expect you to play tens or hundreds of levels before their 'puzzles' actually get challenging and interersting. This one must be made by people who enjoy sitting down and having to think about the puzzle they're doing. I'm on level 18 and so far most of the levels have taken me a few tries and effort to complete. I hope they get even harder!
Impressive mind game! Interesting and challenging! So far reached 51 level and used 5 hints in total at level 23 and 27. Sooner your mind start finding the ways to create the path and fill the blocks for it. 46 is the hardest and interesting till now
It's pretty fun. You can mess around with the puzzles as you solve them, which I like. In that sense it's like a super simple video game! I've literally tried to get all my friends to try it lol
Brilliantly simple. Some levels will not require you to use every clue that is given – red herrings are fair game – but that doesn't end up feeling like a shortcoming.
Interesting game. Had to review the first few levels to understand the rules. 25 levels in. So far I can see the solutions without making moves first but takes some thought to work it out. Gets repetitive but it's unique enough to be worth trying.
What a beatiful game! So satisfying when a level comes together. Great music too. I'm only playing a few levels a day because I don't want to run out–hopefully more levels will be added. I can see myself play this for the rest of my life. Cheers!
Love this game, super unique! I do wish that there was a dark mode or that the normal mode was a light grey and not straight white. It's a bit jarring.
Outstanding mind puzzles! Takes a bit to grok but then it's fun! Hints are very reasonably priced. So nice to find a developer that isn't greedy.
I liked the game. It's simply beautiful. Neither too difficult nor too easy. It perfectly suits me and my thinking. But I must say that you should add a tutorial option which would help to understand the game format. Earlier I didn't understand how to play it. Then after searching on YouTube, I got the concept. After that I didn't face any problem. Overall nice puzzle game. Really enjoyed it. Thank you.
Contact developer :
Video :
Leave your feedback regarding ZHED
Get more android apps/games/updates
Subscribe to our mailing list and get new android apps / games and updates to your email inbox.
Thank you for subscribing.
Something went wrong.