[Game] Age of Apes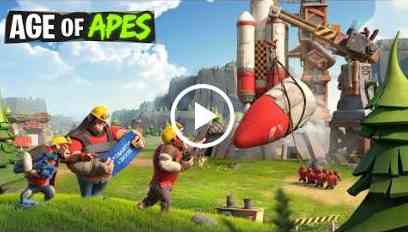 The world of humans has ended; the Age of Apes has begun!
Monkeys are at war to launch Rockets into space in search for… bananas! Become part of the strongest Horde, fight other apes and be the first monkey to explore the galaxy!
Glorious gifts await those brave enough to battle in Age of Apes!
Manage your outpost, build an army, become the most powerful monkey of your Horde and lead them to war in this free MMO strategy game!
Use great new social tools to cooperate with your Alliance members, share game screenshots and personalize them with cool stickers!
Watch our in-game TV channel reporting live game news, and covering your own actions!
Explore a world of fascinating ruins, steal, fight, and strategize to bring your Rocket to victory!
From defeating White Mutants to stealing precious resources from other Hordes, you can contribute to your monkey Horde in many ways and be the hero of all primates!
What will your strategy be to win this post-apocalyptic space race?
COOPERATION
Choose to be part of an elite pack of monkeys, in one of the 6 legendary Hordes
Protect and lead convoys of precious resources to power up your Rocket!
Fight monkeys from other Hordes and take part in massive PVP wars!
Make friends with other players of your Alliance!
STRATEGY
Build or hijack convoys of resources from other Hordes
Develop your outpost to dominate the monkey world
Create your own army and train the most powerful monkeys!
Plan to get ahead of the other Hordes in the Rocket race!
EXPLORATION
From Roger the Intendant to Junior the terrifying Horde Leader, meet our cast of awesome monkeys
Explore a post-apocalyptic world full of surprises
Fight PVE battles against the terrifying White Mutants.
Travel all around the map, discover ancient Ruins, and huge Bosses!
COMMUNICATION
Plan strategies with your allies through our new unique social system!
A picture is worth a thousand words! Take snapshots of the game and personalize them with cool stickers and drawings!
Become a famous monkey, get many followers, and follow other primates too!
Watch our in-game TV news channel with real-time coverage of game events, including your own actions!
Are you monkey enough to go bananas, and have fun in this crazy Age of Apes?
NOTE: This game requires an internet connection to play.
You may also like wuxiaworld
Age of Apes user reviews :
The game is good nice graphics,gameplay,set-up,and others(except the internet connection)even my internet connection is good it's still disconnecting.I will rate five stars if you fix it.
It is kinda new concept for strategy game in animation style. but there seems lack of sense of color… i don't know what anyone might think but in my opinion the colors used in this game makes my eyes a lil bit sore. and seriously there are much more parts you guys (developers) could improve! :) i give you 3 stars for now and maybe more next time.. go for it pour all of your heart into it and keep it up! ah and one more thing the implementation between cinematic and the game should be ressemble
tap4fun

Dear Lancelot Nickodemus, thank you for your feedback. I have submitted your suggestions "Improve the color sense" and "Improve the cinematic sense of the game" to our designers. Thank you for your wisdom. We will continue to innovate to bring you a better gaming experience. Have a nice day!
Is something going wrong right now ? I am not able to connect since 2 days to the game… did update, phone battery is charged, and network fully available … Anyway, very nice game. The idea and story are great. Things can be better. More events, resources gathering mechanism's is not efficient, coop between alliance is not that easy and more non-player opponents can be added on the map.
tap4fun

Dear Hichem BEN AMMAR, thank you very much for your feedback and your support. If you have any problem about connection, please feel free to contact us by Customer Service. If you have any suggestion, contact us also. Good luck and have a nice day!
Good strategy city builder. A lot like Rise of Kingdoms in gameplay – a lot. Edit: But still with a lot new features and things to do. Never a dull moment.
tap4fun

Dear Marcus Edelbo, thank you very much for your feedback. I hope you could have a better experience in Age of Apes. Good luck and have a nice day.
Latest Update :
New Fighter: Guard of the Frontier, Alexis. A strong hero of the barbarian tribes. Get him in the Arena.
Teleport function added in Ultimate Monkey.
New nameplate feature: Customize your character with exclusive nameplate decorations.
New events: Valentine's Day events, Gang Treasures, Shoot the Bandit coming soon.
Optimizations: Improved Planet Wars, Astral Coliseum, Colin's Exploration, Relic Detection, Extreme Hunting, Impasse Trials, and Dr. Hogg's Revenge.
Contact developer :
Video :
Download Age of Apes from Play Store
Leave your feedback regarding Age of Apes
Get more android apps/games/updates
Subscribe to our mailing list and get new android apps / games and updates to your email inbox.
Thank you for subscribing.
Something went wrong.