[Game] Aqueducts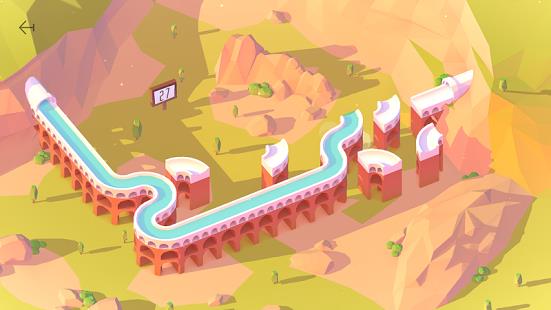 Aqueducts is a puzzle game in which your task is to prevent a drought in the city.
For this you will need to build roads from aqueducts from reservoirs to cities and fill such grandiose buildings as the Amphitheater, Hanging Gardens, Temple of Claudius, Baths and many others.
Creating a viable city is not easy, fortunately, you have aqueducts that will help you achieve these goals.
If you can overcome all the obstacles and get a leak for your urban buildings, the city will survive and you will win.
Rules of the game:
Simply tap the different aqueducts pieces to rotate and connect them together to form a complete chain
You may also like
Aqueducts user reviews :
Great game – great visuals, very relaxing atmosphere, engaging levels. I enjoyed both types of levels (limited moves and limited water supply – I had the game for a long time, I also played those), and I think the constraints add a fun component, rather that frustration. Ads are non-intrusive, announced beforehand and skipable. Only "downside" is the winter landscape – while a nice touch, it takes away from the depth of the landscape, especially in the final scene of the game.
I… I have never seen a puzzle game this calming before. Most game that describe themselves as "calming" doesn't do that for me, except here. It is just solve puzzles, don't worry about anything. The ads aren't even annoying since you can expect them, and can be skipped after 5 secs. It's not a new concept, yet it's made in the best way possible. I just love it.
Relaxing game. The ads are kinda ruining the relaxing flow, however you do have an option to remove them. They even give you a choice as to how much you want to pay for this, which is really awesome. Puzzles are not that complicated and it seems like the perfect game to end a day. Thumbs up to developers!
Beautiful in all of itself. This is the app I use to unwind when I feel I need some mental rest. It is very tranquil, the music is beautiful and calming and it never feels repetitive, the aesthetics are simply gorgeous and the puzzles aren't frustrating but challenging and fun. I just can't get enough of the game.
Awesome puzzle game. I think that it's hard to make a minimalistic environment look good and have artistic value. You guys nailed it.
I like the graphics alot,very pleasing to the eye. The gameplay is superintuitive. I like that you can get rid of ads
I usually never rate, even if it's a fantastic game, but I had to for this one. The gameplay is absolutely fantastic, the graphics and music compliment the game super well. But what really drove me to write a review was the fact that in order to unlock the rest of the levels they have a pay what you want policy, which included 0 dollars. They aren't begging for money or anything like most freemium games. I'm filling my account and paying, love these guys. You have a great app, keep it up
The game is fantastic Especially the background music and sounds are very relaxing. And i would love to rate this with 5 stars But am giving 4 stars because after playing this game for 10-15 minutes the game gets slower and slower. And whenever i close it my phone notifies me that the system launcher isn't working and then i restart my phone. I don't know why is this happening but am sure that this problem is coming because of this game because before this game was downloaded my phone was running very well. Plzz fix this bug. This is the most beautiful and lite game i have ever played. I don't wanna lose it. Plz do something for me…..
Very well done to the developers and whomever else was involved. This is a very smooth, beautiful, creative, and well thought out. Getting right into the game without a tutorial but teaching the player the mechanics of the game without words is something very hard to find that is done well. I'm very interested to see any future games or developments made by them. Keep up the WONDERFUL work
Contact developer :
Download Aqueducts from Play Store
Leave your feedback regarding Aqueducts
Get more android apps/games/updates
Subscribe to our mailing list and get new android apps / games and updates to your email inbox.
Thank you for subscribing.
Something went wrong.