[Game] Asphalt Nitro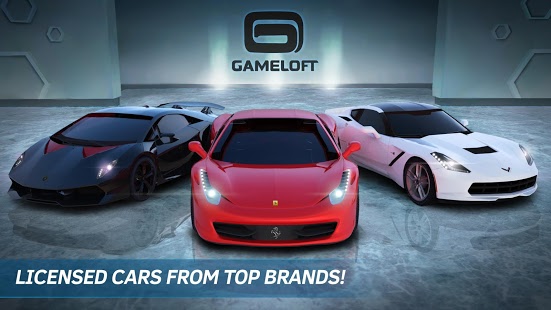 Asphalt 8 just got a little brother. Get ready for all the adrenaline-pumping velocity you love, in a 25-MB package to download!
Take control of luxury licensed cars, such as the Ferrari LaFerrari or Lamborghini Veneno, in breathtaking environments that you'll need to tame with the craziest stunts you can pull off! Fire up your Nitro and be the first to cross the finish line!
BURN UP THE STREETS & THE SKY!
Take your amazing speed machines and push them miles beyond their limits!
Hit the ramps and take the race to new heights.
Maneuver through the air while pulling off mind-blowing stunts.
MASTER MULTIPLE MODES!
Challenge opponents in 8 different game modes, including Gate Drift, Knockdown, and much more!
Police Chase mode is back for the first time since the earliest days of the series!
Beat your friends in asynchronous races!
CIRCLE THE GLOBE!
Race across some of the most gorgeous locations on Earth, each recreated with stunning graphics. From Brazil to China, you've got a whole world to explore!
Discover loads of hidden shortcuts to help you completely dust the competition.
Important Consumer Information:
Please note that the game may not launch or work properly with Intel Atom processor devices.
Visit our official site at www.gameloft.com
Follow us on Twitter at glft.co/GameloftonTwitter or like us on Facebook at facebook.com/Gameloft to get more info about all our upcoming titles.
Check out our videos and game trailers on www.youtube.com/Gameloft
Discover our blog at glft.co/Gameloft_Official_Blog for the inside scoop on everything Gameloft
Asphalt Nitro app allows you to purchase virtual items within the app and may contain third-party advertisements that may redirect you to a third-party site.
Terms of Use: www.gameloft.com/conditions/
Privacy Policy: www.gameloft.com/privacy-notice/
End-User License Agreement: www.gameloft.com/eula/?lang=en
list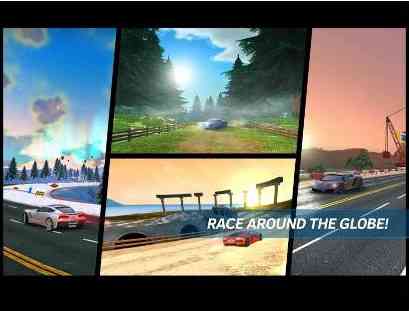 Asphalt Nitro user reviews :
As todays mobile devices are very advanced, It would be not a problem, to increase it's Data size, for more realistic gameplay ! It's The Best offline Racing Game, Which I've been playing since the old versions ! Upgrading vehicles don't need so much animation, It simply eats up time, make it quick and direct ! Thank you gameloft for creating this Game!
Awesome game. Clean controls. The camera settings could be tweaked to show more of the screen around the driver as well as ahead. Easy to gain control and expertise of the cars. It was fun owning a virtual Koenigsegg. *Pro tip* Watch the ads until there isn't any left to watch, you'll be aptly rewarded. One of the only games I've played that lives up to the expectation of a racing game. None of that fuel to race nonsense.
The Best car racing game played so far.. Easy to control,, booster along the road & challenging making the game very interesting. I would have given it 5 stars but the price for the cars to purchase is very expensive and the money given after every race is small. Also upgrading your car is a bit difficult to go about it… Fix these issues and I will give it 5stars
I love it. Asphalt airborne and all takes too much data but this is perfect. I just want 1 thing man. I just need to be able to drive in free roam. That would make it awesome and I will change my eating to 5 stars. Driving in a city getting chased by the cops is what I love about NFS Most Wanted on PC That and the fact that keyboards are awesome to play with. Any way, fix the free roam up and I will recommend your game on many amazing YouTube channels and I will recommend this to all my friends
Hmmm…when I opened it for the first time,all I saw was a white screen for 4 minutes,I restarted the app and guess what,I saw the gameloft logo for more than 10 mins and I couldn't control my phone when I clicked the off button,the screen went off but the sound was continuously heard in background!I couldn't control volume keys even!I restarted,tried one more time and deleted it. Now how could a game like asphalt nitro not run on an 8 gb ram phone but can in 4 gb ram?
It was a perfect racing game for those who want to play it offline. The features are also good, and the graphics are excellent. But still some improvements are required. But i can say that if you wanna play a game of Asphalt under 50mb and also offline then it is the best choice for you..
This is mind blowing!!! Feels like A8A and surprisingly it is only around 25 mb!! Terrific job GL! And for any idot complaining about graphics or being slightly over 25 mb….. good luck finding another game like this
Awesomeness Gameloft you out did yourself on this its absolutely a rush when playing I love it I love it please keep up the great work with your games ……. For those who didnt download this game is a must download so download it and have fun like how I am
Gameplay is cool and smooth,BUT, only 25 mb huh.. ? Idk youre cheating or what cuz when i downloaded it and open my storage it show me this game using 100+ mb make it clear fix it
Latest Update :
Various bug fixes and improvements.
Contact developer :
Video :
Download Asphalt Nitro from Play Store
Leave your feedback regarding Asphalt Nitro
Get more android apps/games/updates
Subscribe to our mailing list and get new android apps / games and updates to your email inbox.
Thank you for subscribing.
Something went wrong.