[App] aWallet Password Manager
,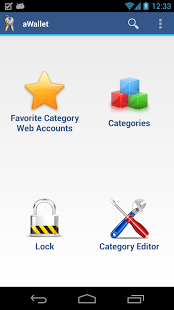 Android Wallet Password Manager
MAIN FEATURES
Securely stores your passwords, credit card information, e-banking credentials, web accounts and other custom data.
There is a built in Editor for changing or creating new data Categories with custom icons.
Search within fields.
Contains no advertisements.
Supports backup and restore of the encrypted data file to the SD card or Android USB device on phones like Galaxy Nexus.
Export of unencrypted data in CSV format to the SD card or USB device.
There is an Auto lock feature that can be preconfigured for a specific period of time.
PRO FEATURES, available via single In-app billing payment:
Password Generator
CSV Import
SECURITY FEATURES
All data is encrypted, including Entry names, Category definitions and the data itself. Even the choice of Favorite Category is encrypted.
Encrypts data using AES and Blowfish algorithms with key sizes of 256, 192 and 128 bits. And also supports Triple DES with key sizes of 168 and 112 bits.
When the data file is decrypted, up to all combinations of algorithm, key size and cipher mode of operation (CBC, CFB, OFB and ECB) are tried with the Master password to unlock the data file. This was inspired by TrueCrypt and makes brute force attacks longer. The app itself does not store any hint to the actual cipher, key size or cipher mode of operation.
Uses a randomly generated 'salt' combined with the Master password. Salt helps to protect from off-line dictionary attacks.
The key to open the data file is created by combining your master password with the 512-bit 'salt'. The result is hashed 1000 times by SHA-256. Repetitive hashing makes a brute force attack more difficult.
Supports auto destruction of the data file after a predefined number of unsuccessful unlocks have been tried.
Unlike other similar Android apps aWallet has no internet access permission (forever). The only permissions this app has is to access to the SD card to backup/restore the data file in case you lose your phone. SD card access is also needed to export to CSV file format. Permission is also granted to the Google Play billing service to allow for the optional purchase of the aWallet Pro features.
For more info see www.awallet.org/
There are also replies to some user reviews from Google play.
If you like this App, rate it in the Google play. If you have any suggestions, just let me know.
aWallet user reviews :
it's an amazing app to store sensitive info that is local to your phone. just remember to back it up if you change phones or else you'll lose it all unless you upgrade to the cloud version. I choose not to do the cloud version bc I don't want to store sensitive info elsewhere. It does what it's intended to do brilliantly.
Synpet

Hi, thank you very much for your feedback.
I've been using this app for a few years, on different phones and never had issues with transferring passwords file to a new device, got a new phone, did back up data file as I normally do, went to the location app said it put file in, and file is not there, tried a few different file managers. Please help
Synpet

Please see FAQ www.awallet.org/faq#h.p4aqrxgal5w4 how to transfer data to a new phone. It mentions how to transfer data on Android 11 or newer with a USB cable from your computer.
Simple and secure app for keeping passwords. However on a upgrade from 9 to Android 11 unable to copy or share the data.crypt file for use on another device with the standard Android file manager as before. Had to use a alternative file with greater access to find a solution
Synpet

Please see FAQ www.awallet.org/faq#h.p4aqrxgal5w4 how to transfer data to a new phone. It mentions how to transfer data on Android 11 or newer with a USB cable from your computer.
Its ok I wish that you could log into this app on a website from your pc, this way it would be a lot faster and easier to type all r accounts on a computer then sync it to your app onto your cell phone
Synpet
Hi Sonya, to input large amount of data, there is an option to export data to CSV format, edit exported CSV files in a PC and import CSV files back to aWallet. Accessing data from website would mean I should store your data on my web servers, this is something I want to avoid. As I believe that your data belongs only to you.
Good but! Thanks for the reply. O.k. At least improve the icon set with more flat icons like those used by Apple & Google now a days. Otherwise a 5 star app.
Synpet
Hi Nirmal, 1) To unlock press Categories, Favorite Category or the Search button directly. You will be asked to provide password. There is no need to unlock aWallet using menu button. 2) Regarding sidebar, I believe that most important features (Categories, Favorite Category and Search) should be accessible directly and not hidden in sliding menu.
Contact developer :
Video :
Download aWallet from Play Store

Leave your feedback regarding aWallet
Get more android apps/games/updates
Subscribe to our mailing list and get new android apps / games and updates to your email inbox.
Thank you for subscribing.
Something went wrong.