[Game] Balls Bricks Breaker – Galaxy Shooter
 world of solitaire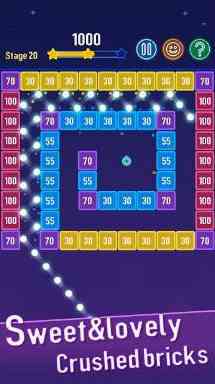 Balls Bricks Breaker 4 – Galaxy Shooter is a simple addictive and pleasurable shooting balls, bricks breaker game!
Shoot balls keep breaking bricks, relax your mind.
The brand new version has 100 stages and more than 10000+ levels.
Brand new boards and puzzles. Every free Items help you finish the level easier.
Every 5 levels will beat a boss, when you win you earn rewards!
Galaxy color designed bricks. Cool explosion effect.
Over thousands of challenging levels, clear the stages by eliminating bricks on the board. This balls bricks breaker game is going to be a hit!
How to play?
Hold the screen with your finger and move to aim.
Swipe the balls to the brick and destroy all the bricks.
Found the levels hidden tricks.
Try to catch split and bouncing items and make balls more effective.
Features:
Easy to play.One finger controls.
More skins! More balls. More fun!
Unlock new balls with special skills!
More challenges!Endless game mode!
Achievements and Leaderboards.
No Wifi: Play offline.
Download for free today, relax your brain in the addicted balls bricks breaker arcade game world!
Balls Bricks Breaker user reviews :
Great game until you really get fed up with the ads. About to uninstall as there are plenty of similar games not showing adds between all levels and "give" you 3-6 rewards per level BUT you have to watch an ad so basicly over 10 levels they throw about 40 ads your way. Greedy.
Fun addictive game, but needs cloud support plz! Switched phones and cant transfer the old data! Would greatly appreciate it!!
Fun game to start. Power ups are nice. Will review again after more vegging out
The game itself is fun. Ads are not an issue if you get rewarded with power ups etc, but there are unsolicited ads after every game also. Taking that into account you can end up watching between 90 seconds to 2 minutes of ads per game, sometimes more than the game time itself.
The game has issues that are a result of poorly thought of gameplay. Also if you choose not to watch ads for boosts it force the ads on you anyway sometimes. There are better options for this game elsewhere.
Far to many adverts! Every level complete you have a advert. Even when you quit, ADVERT. Its normally 30 seconds. Takes less time to quit the app and put it back on again. Little tip
Was playing well. Then just decided to blank the screen (white). Nothing else would show on the screen. Sorry but uninstalled.
Crazy fun & time consuming, when waiting for appointments.
Balls break all the bricks then just continue to bounce around.
They give you very useful power ups that they store at the bottom of the screen, but they don't put any labels on them and expect you to just remember what they do. The only way to find out is to press them and there is no interim explanation, it just goes immediately active. So if that's not the one you wanted, you just wasted it. Super annoying, enough to just uninstall and try another one. Too bad BC I liked the boosters but the annoyance factor is too high to put up with.
This is the best bricks game and I tried many. Runs smooth and good sound. Ads are not nearly as bad as some others. And you have a choice. Some ads are only five seconds. Seems like more fun to get fifty more balls, if you watch an ad, but it's optional. Lots of fun.
Played a lot of these games now and they are usually laggy and full of ads. This one runs really well and the ads although annoying, are quickly skippable. Quite like it tbh.
This game helps me relax when I am in a stressful mood a pretty much when I'm bored is very fun and exciting I think you got to have a little smarts to know what you doing in this game it's worth downloading it's a fun exciting game
Excellent. Visuals are appealing but not overwhelming. The ads are worth it for what you get IMHO. Def keeping this one.
This game it's so much Fun, I Love it!.Try it
I am already on level 100 and it just gets better and better. This game is totally easy and addictive. Five stars earned no problem!
Love this game…it's unique too. Great playing
Love the speed going to the next level
I really like the color and the patens!
Contact developer :
Download Balls Bricks Breaker from Play Store
Leave your feedback regarding Balls Bricks Breaker
Get more android apps/games/updates
Subscribe to our mailing list and get new android apps / games and updates to your email inbox.
Thank you for subscribing.
Something went wrong.