[Game] BarbarQ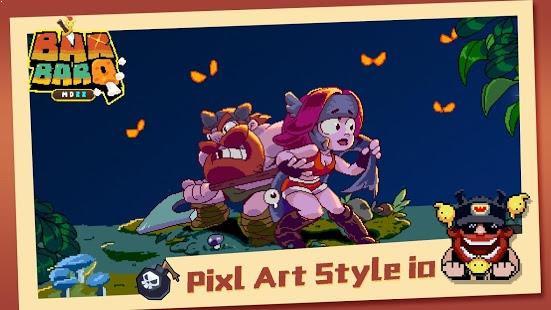 CHOP! DODGE! And SURVIVE! Release the anger of your barbarian warriors NOW! Go Savage!
BarbarQ is a casual multiplayer, real-time battle arena/battle royale type of game where you and your enemies compete to kill each other in an arena to be the best. It is addictive and innovative gameplay with a pixel art retro style. It combines the unique aspect of any MOBA games and IO games, making it an awesome game to play.
The game also implemented a level system, where you can gain a skill each time you level up (maximum 5 skills can be obtained). The skills will be permanent in a match, so be sure to pick a useful skill. In BarbarQ, the level isn't everything, teamwork, item usage, dodging abilities, and skills are something that can turn around the entire match.
Eating mushroom grants players experience that is used to level up and pick up new skills as each match progresses. As players get stronger in these games, they typically become physically bigger and acquire new abilities that help them stave off the competition as they become an increasingly attractive target. This time around players take the role of barbarians that are looking to do nothing more than to beat each other senseless and eat mushrooms. The game also features items that can be picked up, including bombs, honey, meat, and other random items.
Like other IO style games, levels and items gained during each match are reset after the match is over. Players do however earn gold that they can use to upgrade their skills and acquire pets that can give them a leg up in combat. BarbarQ's game modes include real-time 3 vs 3 vs 3, 2 vs 2 vs 2 team fights, Idle mode, Pet Adventure, and many solo modes.
The latest update:
BBQ Studio – Create your own fancy world
BBQ Studio is a built-in tool that allows the average gamers to tweak or fully customize a map of their own, with no mod or programming skills required. This is not a simple map editor, you can even edit the game modes as you want, it is a superb customization map editor with unlimited possibilities! Now, you can be a real game designer, to share your creativity and ideas to your friends!
Game Features:
Pixel art retro style game
Fascinate Battle Royale mode
Design your own map with the creative map editor BBQ Studio
Real-time 3v3v3, 2v2v2 team fight
Pet adventure and growth system
Global matchmaking and world ranks
Casual MOBA game with IO game elements
New player friendly controls
Constantly upcoming new contents
With the multiple game modes, broadcasting tool and the concept of BBQ studio, BarbarQ is more than just a game now, but a huge community of gamers across the world who love to share their joy and passion with others. To create new memories and expand friendships is our priority.
Support:
www.facebook.com/BarbarQ/
www.reddit.com/r/Electronicsoulgames/
You may also like
BarbarQ user reviews :
I played this game one year earlier and now your game looks too much like brawl stars: The slots, the play button and more importantly the players themselves. Change it back pls. I'd have no problem with that, just for originality's sake.
This is the best game everr, Bc Its so entertaining to me and so fun to play like so so fun. I like played this since 2015 i think and never forget about so fun andd so easy to get money and ect.
Disappointing. It crahes after I downloaded it, now I can not simply play it. *Edit*Ok thank you for the advise. But I have uninstall and install multiple times. But thank you I'll stick around hopefully it would work.
Electronic Soul

Dear chief, according to what you said, its almost like that you lost something in your game files. We sincerely suggest you to delete the game and redownload from the play store again. If this could not help you solve the problem, please contact our Facebook, thanks for your supporting
The nice game , very intersting simple game but , im have so much fun
Simply fun and addictive. When the first time I saw the ad. Of this game I was cringing so much, but then I gave it a try. And my God I love this game so much, the gameplay is simple, but fun as hell. Love the graphic, love the characters, pets and skills in this game, quite original and different than any games these days. Bottom of line, this game is awesome, fun to play solo or with your friends, totally worth it, keep up the good work Electrosonic Soul, I'm pretty sure this game will be at the top of most played games ever :) ps: my ign is YudhistiraPN
Having a 3v3v3 gameplay is a very good idea. Pets have different attributes and have variation of skills. Quite frustrating sometimes when you have team mates like "you do what you want and i'll do what i want" type of persons. But hey, not everything will be a road in a park. Its part of the thrill and excitement in every near-to-winning situation. Hahaha big thumbs up! And highly recommended.
Pretty fun and interesting game, except it does not connect to my home connection, data or university's wifi work fine. The only edit that I did to our router is changing the DNS to 8888 8844 so I don't know what might be causing the issue… Other than that, it is fun game…
Contact developer :
Video :
Download BarbarQ from Play Store
Leave your feedback regarding BarbarQ
Get more android apps/games/updates
Subscribe to our mailing list and get new android apps / games and updates to your email inbox.
Thank you for subscribing.
Something went wrong.