[Game] Battle Islands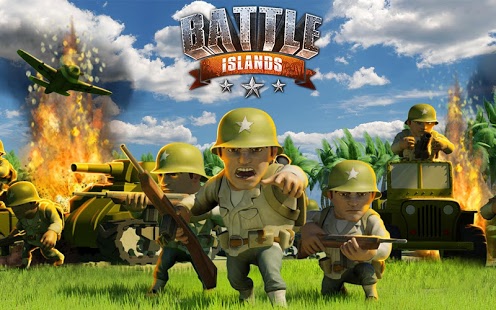 It's 1942, and deep in the South Pacific your platoon of crack troops lands on a tropical island, but can you defeat enemy forces and hold your ground to fight another day?
You'll need to act quickly in this action-packed, WW2-themed battle strategy game – Control air, sea, and land forces, build your garrison, battle against friends and create powerful allegiances!
FREE DOWNLOAD FOR TABLET OR SMARTPHONE
Control troops, jeeps, tanks, boats and warplanes over air, sea, and land as you vie for superiority deep in the South Pacific
Build and improve your military might, and use it to raid and pillage enemy islands and capture their resources
Make sure you've a strong garrison – your enemies are itching to invade!
Exciting Real-time strategy and combat game-play
Battle against friends in the fight for supremacy
Join together with others by setting up or joining an Alliance, and use real-time Chat to strategize!
Compete weekly with similarly-ranked players to be top of your Division
Optimized for both tablet and smartphone
Play across devices and save your progress by linking to a social media account
IT'S TIME FOR BATTLE, SOLDIER!
Join our community at www.facebook.com/BattleIslandsGame
Also take a look at our list
Battle Islands user reviews:
OK so I like this game it's got a lot of things I like about it but 1 main flaw that is really going to turn me off of this game and that's that u can not simply train until while waiting for a barracks to upgrade u can't train any units to attack…. this is very frustrating it's a low level upgrade and it takes 24 hours… 24 hours with no attacking, this is kinda lame
Can be fun but 2 major problems. First, frequently, you can't log in to play or are kicked off in the middle of playing. Second, it's unfair in that each lost costs about twice the number of tags you get from each win. So one step forward and 2 steps back. That's stupid. Uninstalled.
The only bad thing is that when this game is unsinstalled and reinstalled, I tried signing back in with play games and it still has me reset. Please fix soon. I would like my progress back.
the game is okay & different, but I think it need changes. The first problem I ran into was that it takes to long to jump into a fight during the start; I only use riflemen and it fill lile it take 30 mins. just to use them ALL in 2 min. Second problem mission "None shall pass", There no way of passing it because my gunboat and next level boat are 2 weak. I like how your troops attack off of land shuttle & limit on how many there are in shuttle. I also like how you expand witb islands. good work
Pretty good game. Has a good campaign. The factorys take to long to gather supplies though, and they don't gather enough. It also sucks that there isn't a options to add a player as a friend and have a personal inbox so you can chat with them.
I like the game. One thing i hate is that there is no reset button or anyway possible to reset. I have found a way how to but you have to factory reset your phone. For those on console completely make.new accounts.
It's a really fun game, I played this game before and playing it again now. Just a tip to all other people, to reset your data you can't just delete the game and redownload it. You have to go to the 505 games website and ceeate a ticket asking 505 games if they can reset your data. I hope my review was helpful.
Awsome It's pretty good I love the game keep up the good work guys and girls
I can't play this game, just stuck on loading, connecting, and optimizing. Retry retry and retry, but still not work.
Great fun This is a fun game. Lots to do and loads of battles to be won and lost.
Latest Update :
This whale has decided to call your islands home! Give the whale a pet and she'll make a splash!
NEW! A whale has arrived! This new pet will make waves with your troops.
NEW! Player Inbox! A place to receive news about updates and special offers.
Download this update and get back into the battle!
Don't forget to follow us on Twitter or Facebook for the latest news and updates from Battle Islands!
Contact developer :
Video :
Download Battle Islands from Play Store

Leave your feedback regarding Battle Islands
Get more android apps/games/updates
Subscribe to our mailing list and get new android apps / games and updates to your email inbox.
Thank you for subscribing.
Something went wrong.