[Game] Beach Buggy Blitz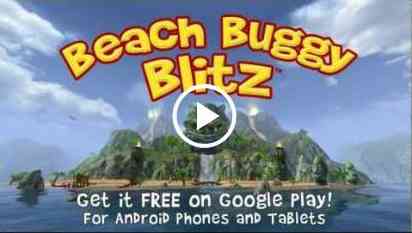 Drive your hot-rod beach buggy as far as you can into the uncharted depths of a mysterious tropical island!
Swerve and smash through a gorgeously detailed and completely destructible world packed with Tiki statues, grass shacks, giant crabs, lava monsters…even yetis! Explore sun-swept beaches, secret caves, fog-shrouded swamps, ruined temples and erupting volcanoes in this action-packed quest of discovery and mayhem!
Build a performance-boosting collection of upgrades and powerups! Unlock new vehicles like the Lightning muscle car and Rock Stomper monster truck. Upgrade your cars and customize their paint jobs. Collect wacky new characters. Unlock and upgrade amazing powerups like the fire-spitting Boost, the coin-tastic Coin Bubble, and a Shield that turns you into a unstoppable smash-everything force of destruction!
WHAT THE REVIEWS SAY:
All-in-all a breathtaking dollop of gorgeous eye-candy that blows the mittens off most other games.
Android Tapp, Rating: 4/5
A rare gem of a game that transcends ages and looks as good as it plays.
Gaming Illustrated, Rating: 92/100
Awesome racing game with heavy physics coming at you from all angles.
Slash Gear
Beach Buggy Blitz GAME FEATURES:
"Infinite Drive" Environment
Drive for miles and miles in a detailed procedural world that never plays the same way twice.
Tons of Unlockable Content
Unlock new cars and characters, upgrade cars, and improve your game with performance-boosting powerups and gadgets.
Intuitive controls
Easy to pick up and play – challenging to master. Supports tilt, touch-screen, and most gamepads.
Incredible physics
Detailed off-road powersliding physics with fully modeled, animated suspensions. From monster trucks to sports cars, every vehicle feels unique.
Google Play games services
Log in with your Google account to save and sync your game to the cloud, earn Achievements and compete with your Circles for the highest scores on the Leaderboards!
Special effects for Quad Core!
Quad Core devices like Nexus 7 and Galaxy S3 get extra effects like motion blur, lens splash, dynamic headlights in caves, real-time rendered car shadows and more!
SUPPORT
Beach Buggy Blitz™ is a graphically intensive game, and although it runs well on many devices, we recommend dual-core or faster for an optimal gaming experience.
If you encounter any problems with the game, the most direct way to get a resolution is to email us at support[at]vectorunit.com. Please don't leave support problems in our comments – we don't check those as regularly and it will take longer to resolve your issue. Thanks!
PERMISSIONS
We take your privacy seriously. If you have questions about Permissions in this game, please see our Privacy Policy at:
www.vectorunit.com/privacy/
NOTICE TO PARENTS
Please be advised that it is possible to make In-App Purchases within Beach Buggy Blitz. If you are planning on letting your children play the game, you may wish to password protect your Google Play account to prevent unintentional purchases. Instructions here:
support.google.com/googleplay/bin/answer.py?hl=en&answer=1626831
Also see our
Beach Buggy Blitz user reviews :
Best beach buggy game. Really like the free racing style of play. The game has awesome cars with great power ups. Each race takes you on differnt paths through the island. Unlike beach buggy reacing. Theres no finish line, so you can play as long as you can without running out of time. Would definetely download a part 2. If they would just make one! Maybe a new island with new cars? Come on vector unit, put out a Blitz 2!!!!!
Playing multiplayer games in only one device like 234 player games is a bad idea because there is coronavirus then I planned to download some single player games then I found this awesome game two years ago I played beach buggy racing it crashed but this game doesn't so play now 5 stars because cool and good keep up the good work!It's Geometrical Noobition blitzing out!
This app is really good, I have played BB Racing too.This app is really as good as BB Racing.l would only add an additional one star to make five if you include places in BB racing like the aquarius, dino jungle, fire and ice, fiesta village, spooky shores, shark habour and red planet.
It a very interesting game…. If u can make it multiplayer for two or more friends to connect and play it will be good
Awesome graphic and gane One of the great game is this. Very very cool GUI. Thanks all stuff who build this amazing game.
Love this game. It is so much fun. Great for relaxing and just having fun.
Best..!!!!!!!! :-) :-D Wooo i love racing ……the game was cool …and nice
Awesome! Good game for children as well as adults great graphics and a fun theme great job on this one
Video :
Download Beach Buggy Blitz from Play Store
Leave your feedback regarding Beach Buggy Blitz
Get more android apps/games/updates
Subscribe to our mailing list and get new android apps / games and updates to your email inbox.
Thank you for subscribing.
Something went wrong.