[Game] Block City Wars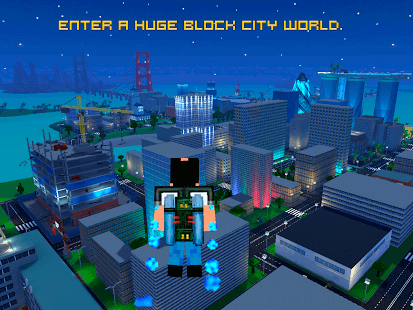 Welcome to the Block City! Welcome to the vast pixel open world where the real war is going! Constant skirmishes between gangsters and cops, shootout, fights for the liberty, bangs, mafia and police – that is Block Сity Wars about.
Complete impossible missions, drive cool cars, parkour, destroy deferent enemies (police, gangstars, zombies and monsters) or just do what you wanna do! Check out third person shooter in the great megalopolis with top high skyscrapers, with military base and palm beach. Play multiplayer mode on the big map with your friends or with anybody from anywhere! Become the hero of the downtown!
Block City Wars Main FEATURES:
2 multiplayer modes: Sandbox and PVP Deathmatch
Cool singleplayer mode – Adventure! Take Jobs and missions, pass them and grab cash!
Huge megalopolis with several districts (for example Old City with angry Zombies),
10 PVP maps: Old city, Port, China Town Military Base and others.
play with your friends from all around the world (use online chat for full communication)
drive cool cars, flight via jet pack and helicopters!
participate great shooting assault with tanks, APC and military helicopters!
Great choice of weapons and guns: M16, Ak47, MINIGUN, Sniper rifle, RPG, Knives, Katana and many more!
use hero room to choose one of the custom skins. Choose the favorite skin or skins and fight!
HD pixel graphics with dynamic light.
awesome sound effects.
Attention! It is not an official Mojang app. It doesn't affiliated with Minecraft game!
You may also like
Block City Wars user reviews :
I loved this game when I was younger, so I got it again to play. It was fun when you only play story mode, but every game someone was hacking, which SUCKS. The game used to be grind to the top and stay there, but now its just pay to win. Yesterday I finally got the AR for getting 1000 kills with one, and as soon as I got to the lobby, The game froze. I tried everything: restarting my system, waiting a day, and the word decision ever. I deleted and redownloaded the game and it is still like that
The game is fun but there's many issues I have. The modders are ridiculous almost every free fight lobby has a modder that's in God mode killing everybody. Secondly any other game mode besides single missions and free fight pay terribly. You make like 180 dollars on most game modes. Also the mech suits that have machine guns are bugged for me so it just shoots to the side. the guns in the game are stupidly over powered. And I get one shotted when I'm in my mech suit alot.
I found it really fun. The variety of game modes offers so much to do! One minute your trying to escape prison, the next your fighting zombies! Hijacking the different vehicles was cool too. I would recommend to anyone who likes this kinda stuff
game is great i love it! like the new update with the aliens. great job. but can you pleeeeeez ad the hazard suit one from the new update to extraordinary category for skins, I really want to use it. but overall love the game and is great for a gta mobile experience also a cool weapon would be the scar h if you can make it a navy blue camo with gold mag ,i personally think that no scopes would be better. add a silencer in dark grey. if you add it give it good damage and affordable price plz reply
It's a great game but this needs a massive update 1: Bring back the version 5.0 map 2: Bring Back Route 66 3: Remove Hackers and Titan Robots 4: Remove Game Modes (Except for Zombie Rush, Skyscrapers, Street Race, Cops and Robbers, Rocket Ball and Team Shooter) 5: Fix Rocket Ball and make it accessible instead of telling the player for stable internet 6: Make the cars, weapons, signs and armour more detailed 7: Bring back the old music from version 5.0 (if you can) 8: Pixel Gun Become Game Mode
This game is nice and good quality when I saw this for the first time.. I though this game is boring.. But when I played this.. It was Awesome! We can play Multiplayer with friends too! And sometimes I love playing Freeplay because I dont need to use my Internet so my battery doestn go down really fast.. Thanks for making this game I appreaciated it!
Love It but problems and add things Add safehouses and clothes. Add story mode in adventure and new locations too. There are a few bugs and lags so can you please fix them. Other then that its amazing. You guys are the best.
I love the game but the game map has to be like the real gta 5 one at like San Andreas PLEASE MAKE MORE MAPS
It was cool but… The guns,cars,gear are wayyyy to expensive please fix for FIVE stars
Latest Update :
Bug fixes.
Contact developer :
Download Block City Wars from Play Store
Leave your feedback regarding Block City Wars
Get more android apps/games/updates
Subscribe to our mailing list and get new android apps / games and updates to your email inbox.
Thank you for subscribing.
Something went wrong.