[Game] BombSquad
 free android apps , ,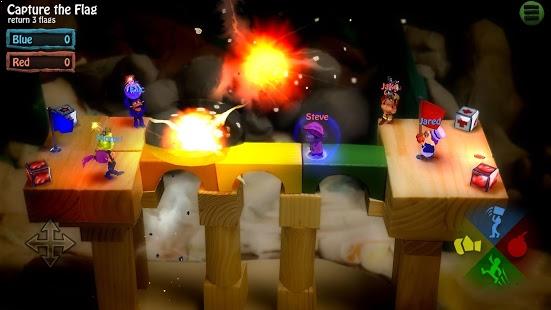 Blow up your friends in mini-games ranging from capture-the-flag to hockey!
Featuring gratuitous explosions, advanced ragdoll face-plant physics, pirates, ninjas, barbarians, insane chefs, and more.
BombSquad supports network-play as well as 8 player local multiplayer so all your friends can get in on the action.
You can even use phones and tablets as additional controllers via the free 'BombSquad Remote' app.
Bombs away!
Featured in NVIDIA TegraZone.
Plays great with full controller support on NVIDIA SHIELD Portable, SHIELD tablet, and Android TV.
Optimized for NVIDIA Tegra K1.
NVIDIA Tegra K1 features including higher bit-depth rendering, 1080p multisample antialiasing, and 50% more detail and debris in explosions, energy shields, and other effects.
BombSquad user reviews :
I love this game but, I have some issues. The interruption to get BombSquad Pro is annoying and you're forced to wait 30 seconds for it to go away, as if you're forcing users to buy it, even if they're broke. Another thing I really hate is Online Multiplayer. It's unplayable, everytime I want to move my character, it takes a while for it to move and I end up losing making it almost impossible to play. Also, please remove the slow motion gamemode. It's boring, it's not epic and it takes too long.
Wow wow wow…. Just awesome game ever I've seen. It can be played with my friends and also there is a solo mode that you can play this game in solo. I always playing the game and is very nice game. My suggestion is that If you want to play game with your friends in offline then download the game and play thsi awesome game. After all it is a friendly funny game
I report everything the best, but if you play a game with your friends and you run while punching. It gives you additional speed and it's hard to control it afterwards and I always lose because of it. Please remove this glitch everything is great except this glitch if you remove it, you will definitely get 5 stars.
I just hope my review is worth for everybody. Multiplayer online and LAN, solo or co-op or against, amazing! This game is awesomely done! this game has been made with such dedication, the more I play it the more detail I find. I've had and I know there still are loads of fun with this game.
This game is awesome! the controls are a little tricky and can kill you sometimes, BUT THAT'S BECAUSE I'M BAD AT IT. I'm not saying they suck, it's just hard. The gameplay is really fun! It's a cool game with loads of options to kill your enemys and there are some cool modes to choose from… This is a awesome game worth checking out, and if you haven't installed it yet… then you should try it out sometime…
This game was awesome back in 2016, now you have to buy everything just to get a little bit of fun. Annoying offers that pop up and it forces you to wait 15 seconds just to close the pop up. Hard mode used to be free, now it's not. Making your own game list was great, now you have to but this pro pack to do that. It's a shame because this game was fun.
the game is so much fun however when you finish easy mode you need to by bomb squad pro to unlock hard mode. when you get to hard pro football, you are literally f***ed if your friends can't play. I mean there are 5 people beating you up while one person takes the flag to the goal. plz don't abuse people who's friends don't have bomb squad
Awesome Great game! Love the visuals and gamplay!! So far everything runs smooth on my note 3 it'd be a lot fun if more people played it
Very very addicted I spent a lot of time playing this game alone, so hard but fun.. 6 stars for this.
Its really fun but i have no one to play with I wish you guys add in multiplayer online instead of multiplayer local I promise if you do this I will give you five stars thanks ;-) otherwise its very addicting and fun I like you can fall down and stuff
Awesome game Just need to work little bit on controls
Probably the best game I've ever played on a mobile device.
Contact Developer :
Video :
Download BombSquad from Play Store
Leave your feedback regarding BombSquad
Get more android apps/games/updates
Subscribe to our mailing list and get new android apps / games and updates to your email inbox.
Thank you for subscribing.
Something went wrong.