[Game] Broken Dawn Plus HD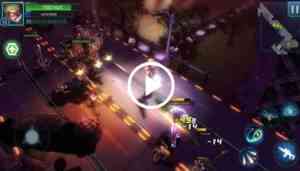 In 2025, a brand new virus spread across the world, transforming humans and animals to mutants. Without a way to effectively contain the virus, humanity has gradually reached an impasse, desperate to determine the source of the virus and rescue the planet.
With its independently-developed 3D engine, Broken Dawn Plus HD features optimized in-game graphics and adopts Broken Dawn AI Aiming Assist to significantly reduce the difficulty level of shooting games, enhancing the game's sense of combat and gameplay. Players can collect and choose from over two million pieces of equipment, as well as a range of world-renowned firearms. The game also includes vibrant monsters and varied difficulty levels to satisfy the diverse needs of its players. Great effort has been made to deliver the electrifying battles of shooting games, together with the entertainment and exploration aspects of RPG's.
Broken Dawn Plus HD user reviews :
This is a super fun game. A few things, though. 1, I would like to see my xp outside of the stage, to see how close I am to a lvl up. 2, sometimes I push a button, like hp… and it registers me as moving. 3, sometimes when I push the roll button, it launches my missiles. 4, whats the deal with the whole ranking thing? I'm always unranked. I've tried all the other BD games, & I cant stand the auto equip. Let me choose what to use, & when to use it. So I deleted them. This is the best one
This game is awesome it doesn't have any ads popping up in the middle of your game, and it doesn't take a long time to load.
this is a good game. no wifi no problem you can play the game.
amazing cool stuff in there. pretty much faster than i thought
is pretty cool laid-back chill phone you'd into RPG
So far, one of the best games I've played on my phone. A nice call back to arcade shooters back in the day. This is the first game in the Broken Dawn series and right now I'm hooked, it's so addicting. Planning to play the rest of the games when I 100% this.
awesome rpg game murdering alien skum!!!! Nice one guys
Its a great game. A few glitches here & there. One main glitch: it keeps throwing me out of the game. Its quite annoying. Other glitch: the daily rewards keep repeating, as in after day four it restarts at day one again. But other than those its a really entertaining & truly enjoyable game.
Great game try it you're going to love it
Ok let me start off by saying the game is fantastic. But here is whats bothering me… So I understood that the game can be played offline, which is true but then I found out that in order for your energy to replenish you have to be online. I was so dissappointed. Still I downloaded the whole series. But I want to ask you devs to please consider making the game playable while being offline completely. I will gladly continue to support your amazing games.
I love this game with a passion so I've downloaded all the broken dawn games in hd. Just a minor set back, make lives infinity so we can upgrade as much as we can. Next increase items and gold drop for monsters. Other than that, it's a fun game. Loving it so. Put more female characters to choose from. Let females be the heroes for once.
Great game. Only problem is it constantly crashes. Also I wished there were heavy equipment involved, like being able to take control of a hum-v or a tank or some other type of combat vehicle. But it is what it is, a nice playable entertaining game.
Its a very good game the only thing I don't like is that its so hard get good gun to play the levels if you don't buy it and to level up your player stars cost so much and the level only give you a little more money i dont mind playing a level over but after a few times it starts to get old other than that its a very good game
It's an okay version… the previous ones were simpler but better and had less bugs. Controls sometimes get delayed and this is what made me dislike it. I also preferred the old special moves. But it ain't a bad game.
Great game ever and the graphics they are epic….love this game wish captain can use the sword to slash the monsters and have an ability to fire multiple missiles from his suite…but anywqay great game.
Great fun…simple gameplay… an rpg lite, action shooter game…can rivet you to play for a long time!!!
I see why this game starts with the word "Broken"… it won't even open and says "this application keeps stopping".
It's great but on my old phone it's great but on the new phone it doesn't work pls fix it but I'm gonna give 5 stars because I can play on my old phone keep good work guys
Great game, what i have come to expect in this series. Is BD Plus a rework of Broken Dawn 1 or is it the last in the series? I want to play them in order.
Contact developer :
Video :
Download Broken Dawn Plus HD from Play Store
Leave your feedback regarding Broken Dawn Plus HD
Get more android apps/games/updates
Subscribe to our mailing list and get new android apps / games and updates to your email inbox.
Thank you for subscribing.
Something went wrong.