[Game] Broyalty – Defend Your Castle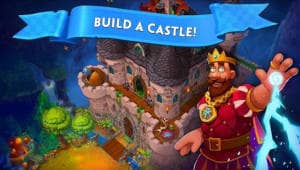 Broyalty: the Middle Ages await!
The mobile RPG featuring PVP throne battle and castlevania style castle defense.
Without hustle, build your castle in the universe, where a knight, a princess, a king, an arena, and a castle exist peacefully together! Enjoy strategic battle, castle attack, and throne defense.
Go for it! Build castles, don't stand idle, fight! Rise to glory; let your kingdom have the great army it deserves! Lead it to war to save the princess!
The medieval kingdom battle has begun! Develop a strategy, become a king in the magic universe of Broyalty. Build a medieval shelter, gather an army of noble knights, level up your troops and characters, and protect your kingdom!
Don't hide from the fallout in your shelter, crush your enemies to defend your castle and save the princess! Fight in the arena, face goblins, trolls, and other make-believe creatures! Engage in combat with powerful mages, magicians, sorcerers, and fighters, complete quests, upgrade your castle, and receive generous rewards.
Not many can survive in this world. Your survival hangs in the balance between life and death! This is a true challenge, a medieval apocalypse, and the king is in danger! You are about to face war and battles, and you need a safe shelter. Anyone could attack, and that means anyone: zombies, an enemy guild, or a foreign emperor! An impregnable castle in your kingdom will save your clan in this survival mission!
Now you are the king of a medieval castle! Castle defense is on you!
Remember that strategic games require a lot of attention to detail. Mine resources and level up your army to defeat enemies. Buy weapons, train your soldiers, develop strategy, and think about your tactics before you start a battle. Victory is never easy.
Complete levels, travel across universes, discover new quests and plunge into new battles! Win a kingdom war in the Dark Ages! Prevent an apocalypse in this survival game. Build a shelter or a castle to survive and your guild will never forget you, brave knight!
Defend the castle of your dreams and save the princess!
Mobile RPG featuring the Dark Ages and Middle Ages, Rise of empire, castle construction, medieval kingdom battles, combat for survival. Be a legend, be a super star!
Official Website:  starkitstudio.com/
Discord:  discord.gg/tmYrnPWKDZ
Facebook:  www.facebook.com/broyaltygame
Instagram:  www.instagram.com/broyaltygame
Twitter:  twitter.com/StarkitStudio
Broyalty user reviews :
Average. Nothing different from Hustle Castle. Just presented in a different way. Please incorporate *new* and never seen before game mechanics.
Starkit Studio LLC

Hello! Broyalty is a part of the popular game genre. That is why you can see some similarities to other games. However, it is distinguished from other projects by modern graphics, a unique combat system, an original plot, and much more! If you have ideas or suggestions about game improvement, you can send them to us via game settings.
I am just starting, this a temporary 2 atar may go up may go down, but I really like how you respond to your reviewers it was the main reason I installed, I was like does not look like the ad I saw but the. I was reading the reviews and saw how admit you are about making the game better so I'll give a whirl, after playing for a while it is kind of meh but still good so I'll leave it at a neutral rating of 3 stars
Starkit Studio LLC

Hello! Thank you for the review. If you have any ideas or suggestion about game improvements, you can always send them to us via game settings. We will be glad to know your opinion.
I like this kind of genre of game but it doesnt stand up to other game like this kind, ill keep on playing Broyalty tho
Starkit Studio LLC

Hello! Thank you for your feedback! We are glad you have chosen Broyalty over other projects. Broyalty is a part of the popular game genre. That is why you can see some similarities to other games. However, we are trying to make our game unique by developing and implementing new game mechanics.
Such a cute game. Nice graphics and concept. Loving it so far!
Starkit Studio LLC

Thank you for your feedback! We are glad you are enjoying Broyalty!
Right up my alley. A few special requests if I may add? Voice overs for characters, rotating camera, re name the characters to the persons liking. Iam not sure if day night cycles or weather change, is further in the game, I just started thanks . Really cool game
Starkit Studio LLC

Hi! Thank you for your feedback! You can rename units by tapping on the blue button next to the unit's name. We will also consider your ideas on improving Broyalty
Contact developer :
Video :
Download Broyalty from Play Store
Leave your feedback regarding Broyalty
Get more android apps/games/updates
Subscribe to our mailing list and get new android apps / games and updates to your email inbox.
Thank you for subscribing.
Something went wrong.