[Game] Burrito Bison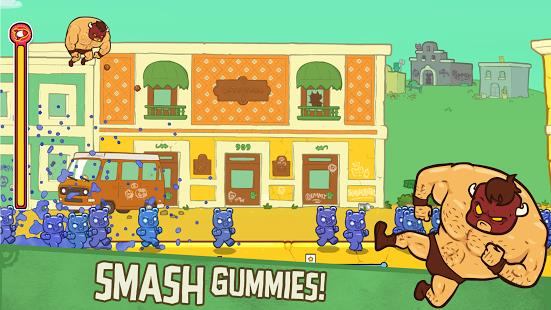 Burrito Bison is here and he's brought friends!
In the latest installment of one of the web's most popular games, BurritoBison teams up with new friends: Pineapple Spank and El Pollo to bounce, crack, eat cake, smack, fly, and soar through the skies to fend off the invasion of gummies!
Stolen by an evil chef, Burrito Bison seeks out his cookbook to take back with him to make the finest salsa in the world.
So strap on your rocket belt, and launch your way to glory!
Features:
Three powerful wrestlers: BurritoBison now gets to adventure with friends!
Dozens of upgrades to make you stronger, slippier, luckier, faster, more underground worm-riding-er, and more explosive.
Five opponents, each with unique weakness, to fight through on your quest for freedom. KO them for big bonuses!
For the first time in the series, battle a Final Boss in your quest to rid the world of gummies (or at least until you get your cookbook back and fly through the gummies' alternate universe)!
All the pinatas you can crack open!
PLEASE NOTE: Burrito Bison: Launcha Libre is free to play, but some extra game items can be purchased for real money. You can disable in-app purchases in your device's settings.
You may also like
Burrito Bison user reviews :
Very fun game and addictive, allthough it's kinda hard and you lose fast, and there's not really many updates
I simply just can't get bored of this game! Fast paced rounds, sometimes challenging but endless fun!
here's a hack to get more pinatas: on you're android, set the system time in the future (let's say one day in the future) with the internet connection off and the game closed (at all, not just minimised). than, get back in the game, turn on you're internet connection and get you're free 3 pinatas. collect the rewards, exit the game, turn off internet connection, close the game, change you're system time to real or another one day in the future, get back in game and get pinatas. that's it. enjoy.
I played this a few years back and just rediscovered it a few days ago. Amazing game!! Progresive and fulfilling gameplay, nice colors, crazy gummybears and much more! Give this game a shot!
Great game but the ad free version is far too expensive. I would love to pay the devs for the full experience but the price is ridiculous. What happened to the 2-5$ charges?
An overall EXCELLENT game. It has a meaningful progression system which is rare for a free game. Though I do wish it didn't have to be designed around putting progression behind a paywall. Don't get me wrong, I know developers need to make money. I would gladly have paid 8 bucks for a fully featured game though. Instead, the core progression of the game is purposely throttled to incentivise you to spend. It's WAY better than 99% of mobile games, but still stinks that it works like this.
Easily one of the best games I've played on mobile. You are trying to gain the most speed as you bounce off gummy bears and multipliers along the way and then trying to crash through walls of cake. Lots of upgrades, but if you bother watching the 30 second ads you can earn an upgrade per level depending on distance. Ads aren't obnoxious but only if you choose to click on them. Also different wrestlers for different types of play types. Overall it's a simple and fun arcade game.
This game is absolutely amazing. I search quite a long time for a nice offline mobile game and this just serves all my needs. Enough gameplay and achievements to keep it exiting and enjoyable, a good difficulty so you dont play threw it too fast but its still easy to get to the next lvl if you grind for a bit and (if you skip most the piñatas) not that much adds, i only watch 4 adds like every 3 hours to get the cash times 3 boost and the triple free piñatas and i think thats completely fair.
Omg. Its awesome
This game is amazing
My new obsession!
It is great Totally great
I love this game. Its just too fun! I hope the others like it! I would rate this a 5 Star, but I get forced to go to Google play.
3 stars even if is a 5 star game. Because: even before update: the fonts are unreadable so please consider; the Google play music is stopped even if I turn down sound and music all the way down in game. Really annoying. After update: do we really think people want to connect to Facebook after new high score in stopwatch mode? Wouldn't a post to Facebook button would be more appropriate?
Latest Update :
This update contains stability improvements and general bug fixes.
Contact developer :
Video :
Download Burrito Bison from Play Store
Leave your feedback regarding Burrito Bison
Get more android apps/games/updates
Subscribe to our mailing list and get new android apps / games and updates to your email inbox.
Thank you for subscribing.
Something went wrong.