[Game] Canasta Royale
 archer pi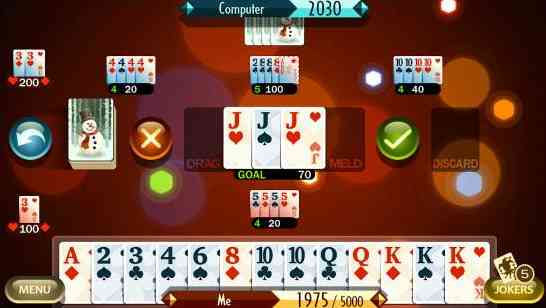 Canasta Royale is the BEST classic Canasta game created for Android.
The game offers three levels of difficulty, three unique game modes as well as extensive statistics tracking. Unlock both Team Play and Hand & Foot modes for unparalleled fun!
Includes Facebook integration! Personalize your game, earn experience with every game, never lose your statistics! Your statistics are always stored in the cloud and shared between all your devices.
Features:
Realistic gameplay and graphics
Intuitive single player gameplay
Three Unique game modes: Regular, Team Play and Hand & Foot!
Three difficulty options!
Extensive Statistics, including games and hands breakdown.
Facebook integration – personalize your game and save your progress.
Unique powerup! Add a extra Joker to your hand to make that final canasta and win the game!
Four unique themes, allowing you to customize your game play experience!
Canasta Royale user reviews :
Fun to play and the graphics are good, but it's way too easy to win. I literally haven't played Canasta in 30+ years, but I just won 7 games in a row in Easy, Medium and Hard mode. The only reason I lost the first game was that I didn't remember all the rules and I was having trouble figuring out the UI. The computer frequently tosses cards that I can pick up immediately, even if I have 6 of that card showing. I feel like I'm playing against someone who never learns from their mistakes.
Great game, great graphics, appropriate ads. For those who don't know how to play please add instructions on how/why the user can just discard a card until initial card goal is met. 4 stars because I had to forfeit 6 times until I could figure it out. Will change once instructions are updated.
Great game! My only complaint is that all the daily callenges have the same payout: 5 coins. I think the payout should be based on the difficulty of the challenge: the higher the level of difficulty, the bigger the payout. Otherwise, keep up the good work.
I play the Hand and Foot version. Sometimes the goals are not possible in that version. Threes are not playable and often playing a number of threes is the goal. There have been times where the scoring was incorrectly calculated but I think they have fixed that issue. It's an enjoyable game.
I love this game. It's just like playing with a real person. No distractions. I am really enjoying playing Canasta. I played years ago with a very dear friend. No downside to this game.not alot of ads. I am enjoying this game immensely. Very satisfying.
It's not hard if you know how to play canasta..but what does not make sense is if the daily challenge is meld red two's I get very few, hmm if meld 15 kings I dont see them…hmm if I normally win 3vout if 5 games the bot wins 2 in a row during the daily challenge…
Need to encourage people. More rewards. You don't offer much. I keep playing cause your app , playing against computer don't cheat as much as others. Sorry about review, but it's honest.
Once player gets several stacks going the far right stack is too close to the discard pile and computer puts cards meant to go into play into the discard pile. Also you didn't put an exit button on the main page. Only way to exit is to 'close all'.
It is entertaining but definitely not random dealing. When working on goals, the deal will inevitably work against said goal. It is annoying, and the computer player will make plays no normal player would make also to make it more difficult for you to complete your goal. You are supposed to be able to watch ads to renew your goal or pay in coins, but ad play hasn't worked for me in over a week…go figure. It takes a lot of coins to unlock other parts of the game.
Pretty good Canasta game, plays easily on my smartphone. The computer opponent is a little predictable. Other than that is a very fun game.
Great game! Ad levels are decent. They don't hit you every five seconds, like some games. Only wish there was a tutorial, as it took,me a bit to remember how to play it.lol
Very fun have not played in a long time, I'm talking years! Only annoying thing is he advertisements that comes out way to loud.
One of my favs! Love the option for play. Hard enough to make it interesting!
Contact developer :
Download Canasta Royale from Play Store
Lave your feedback regarding Canasta Royale
Get more android apps/games/updates
Subscribe to our mailing list and get new android apps / games and updates to your email inbox.
Thank you for subscribing.
Something went wrong.