[Game] Chaos Lords Tactical RPG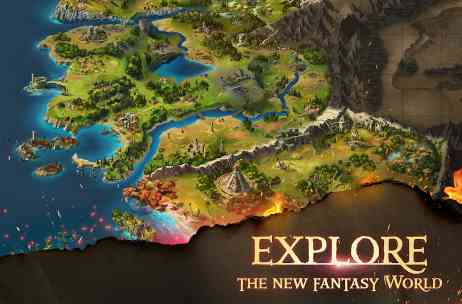 Join epic real-time PvE & PvP battles! Dive into the Fantasy game World full of magic and monsters!
Fight for the future of Tartesia in free-to-play fantasy tactical RPG! Fight monsters in epic PvE missions, compete with the other Lords in the PvP zone, explore the unique high fantasy world. Dive into the wonderful world of Chaos Lords.
Inspired by hardcore games we created Chaos Lords, which reflects our vision of mobile RPG games. Chaos Lords is a mobile tactical RPG set in a high fantasy world and created by great fans of old-school RPG adventure games and tactical games. This strategic game challenges your leadership skills in hundreds of tactical battles. If you like new Fantasy RPG games and Classic games you should give it a try!
Online PvE mode is a great opportunity to test your skills with others in real-time battles. Work on your strategy and tactics, develop your base and enhance equipment, level up your Heroes and become the mightiest Lord in the world. Create your personal play style and game strategy and challenge the other Lords.
The gameplay includes:
Real-time battles;
Base management and development;
Deep Heroes and soldiers customization system;
A beautiful global map full of activities;
Leagues and Seasons PVP arena.
Join an epic adventure:
Explore a huge world full of mysteries and magic;
Fight your enemies;
Reclaim your castle;
Gather epic treasures;
Join RPG adventure game Chaos Lords today.
Chaos Lords is a perfect combination of the most popular concepts: fantasy RPG, online PvE, turn-based RPG and strategy game. Go ahead, pick your characters, customize your army, gather loyal mates, and bend the world to your will.
We have already built a solid community passionate about the game. People waking up 4 am to fight for the region in Guild wars. We have such players, and we are happy about that — a game with an entire life around it. A strong metagame that surrounds the game mechanics and that is the juiciest and the most charming thing about the game.
Game Design: it's original. We have invented the wheel ten times over, but we have our very own Real-Time RPG System. Stats, Skills, Mechanics.
Art Style: our game has a classic 2D RPG isometric view with every character, every monster, every animation carefully handcrafted with maximum detail.
We have a mission: we came into game development because we genuinely believe we can make mobile gaming a better place.
Join our warm community of true gamers. Follow us:
Discord Server: goo-gl.su/LNJwz1u
Facebook: goo-gl.su/B8uYjx
Twitter: goo-gl.su/0tGe
Youtube: goo-gl.su/BuoE
Vk: goo-gl.su/SR1bE7o0
We realize that in the era of hyper-casual games, we are up to meet a thousand troubles. Every day is a challenge that we accept with the branding heart. It's not easy as we are lacking working hands and budget for a decent promotion for a niche game.
Support:
Having trouble with the game? Please contact us via e-mail feedback[at]dpill.games or in-game by going to Settings > Support.
You may also like
Chaos Lords Tactical RPG user reviews :
A vast and amazing game, it is pay to win but you can have alot of fun by just playing for free Definitely deserves a chance.
Just started playing and liking it so far except the ads for the store chests are broken. Just bring up a solid picture with no way to exit out of the ad and no rewards for bringing it up
Good graphic, good game but just 3 stars for me. Since you to have to be in a guild to enjoy all the ations. Why can ghe game be played with out guild options?
Digital Pill

Hello, Claudio! The game is focused on player interaction, so a number of game mechanics are only available to guilds. If you don't want to join someone else's guild, you can create your own and even join it alone
The potential for an amazing game is here. Unfortunately you guys fell into the trap that all these game types have fallen into: lack of main game currency. You guys have almost zero way to earn gold in game… and you need it for EVERYTHING. I supported you guys with a purchase, but I refuse to purchase anything further until you fix this.
Great game! I really enjoy the style of the game: medieval fantasy with a brutal touch. The game is quite grindy and the packs seem expensive, but I enjoy a good grind.
Good game, needs more control in battle gets abit boring just sat there wait abit and probably have to press the screen once for a spell that's it, other than that it's a great game gear graphic and smoothness it's all there
Contact developer :
Video :
Download Chaos Lords Tactical RPG from Play Store
Leave your feedback regarding Chaos Lords Tactical RPG
Get more android apps/games/updates
Subscribe to our mailing list and get new android apps / games and updates to your email inbox.
Thank you for subscribing.
Something went wrong.