[Game] Angel Legion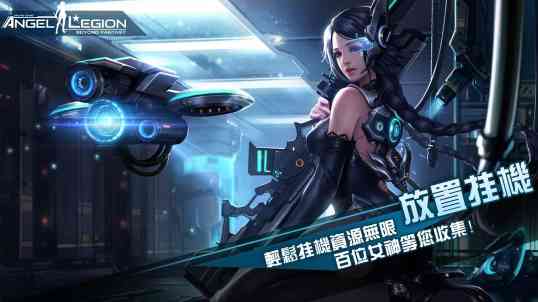 Miya, a mysterious girl, what's her big secret? All the forces of Sheila Galaxy fight against each other for it? Will the ancient prediction come true?
As a junior star hunter, how would you lead your battle angels and Miya to get through the difficulties?
Go through everything with Miya! What kind of relationship will you build? Friendship, Kinship or Love…
The story still goes on, and you are the hero!
Idle System
Dispatch your angel legion before you leave the phone alone, they will automatically fight for you!
You will become stronger when you come back!
Nearly a hundred angels will follow you!
Even if you are offline, you can get abundant gene rewards!
Appearance & Outfit
Elaborate Appearance: Design your angels' appearance as you like
Shared Outfit: When you own a single outfit, all the angels can wear it!
Strategy
Angels have all their own unique skills and talents!
Abundant commander items and strong eudemons!
Combine them rationally to become the strongest universe hunter!
Strategy
Angels have all their own unique skills and talents!
Abundant commander items and strong eudemons!
Combine them rationally to become the strongest universe hunter!
Endless Test
Ceaseless powerful enemies, extremely urgent dangers
You need to give full play of your intelligence to break through the difficulties and get abundant
Boss Raid
A young girl from the ancient Protoss has three different combat forms.
For honor and your own legend, go to defeat her!
Angel Legion user reviews :
A really good game with a lot of potential! I'd only wish that: 1) We could use a friend's main angel to assist in pve battles. 2) There was a preview option for costumes regardless if you own them or if they are already equiped by other angels. 3) There was more legion content. Right now the game feels very "single player"-like, with almost no guild/community interaction (at least on my server, even after a merge). 4) Bonus rewards after clearing a chapter would have more reasonable prices (or purchasable with in-game currency too). They don't feel at all like a 'reward'/'bonus' for the effort of finishing the chapter (especially at higher chapters). 5) There were some more ways to obtain Titanium. Overall the game is quite F2P friendly, but upgrading the cabin takes forever unless you are willing to invest $$$. 6) There were more S angel banners. – I hope you will take some of these into consideration for future updates. :) Thanks for the game and keep up the good work!
Xingfei company

Hi commander, thank you for your feedback and suggestion
Good story. Great graphics. weeks of fun and challenge before getting boring and repetitive. Advice: 1. change in event contents. Too repetitive. 2. Decrease time of items late game. A week for a whole s hero! Really! 3. The reward for 1st charge sucks and the hero is not even included in maya weapons. Change to a better scythe hero companion. Still i wanted to support you back then. Does not matter to me now. 4. The ship upgrade titanum costs are ridiculous. Revise
There's many similar games in this genre. Lot of games that feel basically like a copy/paste version of each other. This one stands out and has different styles and elements, which is great. There are some things that can improve, but they also have an active dev team that communicate with the players
Fun game at least in the eary stages. After playing for more than a year, the game has improved. However expedition play remains the worse element of the game. I'm ranked in the top 20s o the server, but have remained unable to get pass 18 of the 30 stages here.
Xingfei company

Your suggestion is being seriously considered, we will introduce a more precise and perfect matching mechanism later to ensure the game experience of each player hope to get your better rating
4 stars for now. The appearance customization of your starting character is very detailed. A con is it focuses only on the face: body shape is unchangeable. Also she's only B rank, would be better if S. Combat looks decent. One issue I have is that tapping when a dialogue is slowly appearing does not complete the sentence with the first tap and next line on second like most games, it just skips the rest of the sentence to go to the next line on the first tap. Fix that and 5*.
Xingfei company

We will consider your suggestion!
Game is good. Music is awesome. My only problem with games like this one, is if you find a character you like, design wise, that's on the lower tier, there isn't a way to bring them up to be as strong as the upper tier (b to a class for instance) at least that I've found yet. Other than that, very well done. Congrats on a very good game
Xingfei company

we will consider it
This is a great game, although there are opportunities to spend money for extra stuff, the game gives equal opportunity to achieve each goal by grinding through the game. Nice to have that contrast and not to be overwhelmed by wallet warriors whose access to better finances makes them dominant in every area. Graphics are very nicely detailed, gameplay has idle or interactive options, and the controls are simple to operate. Story evolves through each area, gaining puzzle pieces to open memories.
Xingfei company

Thanks for your supporting
Edit. New update went smoothly. improved functions and good rewards. I did complain about gear drop rates but then discovered gear fusion. Solid game so far. My only complaint now is the healing and fuel in the star map is so slow to recharge that I have to stop playing just to pass the time til my characters are healed. The waiting is killing me. I suggest speed up healing and fuel a bit more and it would be cool if A list characters could be customized as well.
Latest Update :
Function Adjustment
1. Added Justice Blade – Hinata Rin into Gene Pool, Yellow Crystal Store and Hero Katana Gene Chest.
2. Added a new function of recording player's birthday(unlocked when the intimacy level with Miya reaches lv. 4) and we've prepared a surprise in the living cabin on that day.
3. Added new holiday scenes for Chinese New Year and Valentine's Day in the living cabin, which can be interacted with during the holiday.
4. Added combo animation off function.
Contact developer :
Video :
Download Angel Legion from Play Store
Leave your feedback regarding Angel Legion
If you like the content that we provide since 2012, put a smile on our face and give us a like or share this with your friends on any social platform. If you want to support this project, any crypto donation of $0.5, $1, $2, $3 is welcome!
You can find our crypto wallets on https://free-apps-android.com/buy-us-a-coffe/
Sponsored Links