[Game] CrimsonHeart2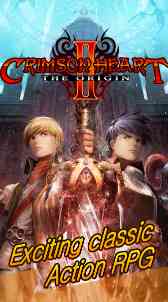 CrimsonHeart2 : Commemorative Coupon for 1.2.2 Update
200 Gold cubes free coupons. ILIKECH2
Use: Pause – System – Use Coupon
Game Features
Classic RPG with an exciting deep story.
From four different characters, you can combine two characters in a party.
Various options to be granted when acquiring items
Decorate your characters with over 400 costumes.
Come up with the best strategy to win battles!
Endless Fun
Content that does not end even after the story ends
Get better items in Forgotten Dungeons.
Challenge the Infinity Tower.
Confront other people through PVP.
Clear mission and upgrade your skills to demolish your enemies!
Exclusive Items
Wing Card – Make your character stronger.
Upgraded Stone – Upgrade your weapon.
You can create items in craft menu!
Gift for you
200 Gold cubes free coupons. CH2LIKEU
Use: Pause – System – Use Coupon
Welcome Gift free150 Gold cubes
Pause – Network – Check in mailbox
Payment Event
The game contains special gold cubes for in app purchase that can enhance game play and speed up your progress.
Get your additional free gold cubes!
150 free gold cubes for the first purchase.
When your accumulated purchase reached $10 in a month you can get 200 additional free gold cubes.
Also, for $50 your will get 1250 and for $100 you will get 3000 FREE additional gold cubes.
Contact us
Please send an email to game[at]anbgames.com.
CrimsonHeart2 Facebook page
Come to our page for events and tips!
www.facebook.com/anbcrimsonheart
CrimsonHeart2 user reviews :
Finally! A googleplay game worth playing through… It's all here. Fun ARPG that controls well, has exceptional visuals, animations and sound, as well as an actual story that doesn't try take every penny you have just to play. This is a well thought out, quality game that I will absolutely be supporting w my cash in the near future. This is how it should be done. -JA
I do like the story, as well as the gameplay. But the controls are a bit hard to navigate. That, and I should add the fact that it's actually a bummer that you can't restart a boss battle. Instead, you have to go back to your last save, and it's really a hassle. Reviving is one thing, but it would be great if you could just restart the battle itself, especially when you have two consecutive boss stages to handle. Overall, this game is just alright.
I've been looking for a game to stand up to the old Zenonia games, since 2 and 3 aren't… anywhere, anymore. This game has been fantastic, and like old Zenonia there's just enough story to be interesting while focusing on hack n slash rpg gameplay for the most part. And the party system? Sick. It's obvious this game was approached differently than the mass produced microtransaction farms that are most mobile RPGs.
The Game is great in First Impression easily a contender to Inotia and Zenonia series since they haven't made any sounds. My only problem tho would be the Joystick like controller where you toggle it. It's kinda hard Is there a way to add settings to make it just Tap Up,Down,Left,Right, and Diagonal with just tapping simply on circular button with arrows not just Toggle. Kinda a nitpicky type of issue but the game would be better if done well. More power to the developers.
Its been a while since I get to see another classic pixelated hack-and-slash RPG. This game is sick. I really liked it. Graphics, cool. Controls, not bad. Story, cool. ANNNDDD you get alot of freebies, which is, pretty cool. I'd look forward to more improvements or, if you want to, more games like this. Overall, its pretty damn nice to have this. Would recommend.
old school rpg game with beautiful pixel art animations and AWESOME, detailed story & dialogues. a great and amazing game. controls could use some improvements. please dont abandon this game and always give it updates & improvements to make it even better than it already is. also please make more games with beautiful pixel arts like these it's really good i'm willing to pay for it (instead of dealing with the tiring IAPs). thank you devs.
Contact developer :
Video :
Download CrimsonHeart2 from Play Store
Leave your feedback regarding CrimsonHeart2
Get more android apps/games/updates
Subscribe to our mailing list and get new android apps / games and updates to your email inbox.
Thank you for subscribing.
Something went wrong.