[App] Daily Yoga – Yoga Fitness Plans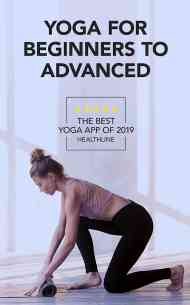 A true yoga app for beginners to advanced.
Daily Yoga offers 500+ asanas, 50+ yoga class plans, 200+ guided yoga, pilates, meditation classes plus the largest yoga pose base that suit yogis from beginner to advanced. Not only helps you stay with yoga every day, but also provides health benefits for both your mind and body.
Focused on yoga for weight loss, beginner to advanced, better sleep & full relax, altogether 20 yoga experts aim to make it easier & convenient to yoga workout and help you gain better results from yoga.
Highlights:
50+ Yoga class plans & workshops for Beginner to Advanced, Getting Toned and Wellness
500+ yoga poses with detailed voice instructions
200+ yoga classes with HD video updated monthly
Multiple choices for session duration varied from 5 – 70 mins
Stay on track with your health data
Specially designed meditations with online coach guide
Yoga post daily with a supportive community
7 languages available worldwide (English, Japanese, Korean, Spanish, Chinese, German, French)
More:
Various meditation music/yoga music/relax melodies available
Scheduled plans for boot camp, body toning, weight loss, strength, flexibility, relaxation, balance, menstruation, body detox, meditation etc. altogether with 10+ experts
Google Fit support
Online class from world famous coach on a regular basis
Clean design with easy-to-follow videos
This fitness app facilitates the most convenient home exercises, not only nourishes your health but also spares you all the tiresome workouts and help you achieve fitness goals with yoga studio on the go.
Rewards:
Voted "Best Yoga App of 2015/2016/2017/2019" by Healthline – The most popular mobile yoga studio app in your pocket!
Highly recommended by "The Wall Street Journal" as "Hard to beat on-the-go fitness app";
Featured by App in "Time to Workout", "Get in Shape", "Free Your Mind", and "Keep Calm & Carry On" Essential Collection;
Awarded by Evening Standard as the Best Apps for Londoners, along with Uber;
AppAttack selected Top 50 – the mobile industry's most innovative apps' by GMIC.
Find out even more at  www.dailyyoga.com;
Contact:
e: support[at]dailyyoga.com
t: @DailyYogaApp
f: facebook.com/DailyYogaApp
Privacy Policy:  www.dailyyoga.com/privacy.html
Terms of Service:  www.dailyyoga.com/terms.html
Daily Yoga user reviews :
I was first introduced to Daily Yoga when it was available during quarantine. It helped me so much when I was stuck at home. I recently purchased it for the year. The music is awesome. Instructors have soothing voices and I love the feature where you can customize what you want "boosted" (flexibility, hip stretches, shoulder stretches). Every routine is different! I highly recommend.
Started using this app during the pandemic. I teach a High Intensity Strength and Conditioning class at our local YMCA and I am used to working hard and sweating, which you can definitely do with this app! But you have the ability to tailor it to your level each and every time, if you need a little less. Music choices are nice too (or you can choose no music); accompanying voices are good too. So glad I found this app!!!
Love this app. Been using it a couple years. I started paying for the subscription last year, not bc i felt it was really necessary, but to support the app (they offer a very low price at certain times of the year). Great to be able to do just a few minutes when that's all the time i have and i like how customizable it is without feeling modular.
I had tried several yoga apps before coming to this one, but this by far the best! There are plans and one-off classes for all levels. If you are a beginner there are videos and audios that you can listen to that explain about using aids such as straps and blocks, which I have found useful as a beginner. There is paid stuff, but I've not needed it so far, but when I do, I will gladly pay.
The app is really good. But I would want some yoga sessions specifically for men as well focusing on some of their common issues. I like the yoga sessions designed for women. Some sessions on men will help me convince my husband to do yoga regularly :) My another complaint is the navigation. They must work on it to make the user experience easy.
like the yoga app just fine but beware the relaxus offer. It won't actually let you do it and it requires you to open your phone up to security risks to download even tho it doesn't work.
I have tried several other apps and this is by far the best yoga app available.
Latest Update :
New in April: Beauty Of The Open Sea, Breeze Through The Trees, and In The Summer Garden
New feature: Explore the new puzzle challenges in the Community Events.
April New Challenge: Happy Cardio, the weekly Yoga with Earth, and the Easter Day Puzzle Challenge.
Fixed some issues.
If something doesn't work for you, you have any great ideas, or want to need any advice about yoga or meditation, please feel free to contact us at support[at]dailyyoga.com.
Contact developer :
Video :
Leave your feedback regarding Daily Yoga
Get more android apps/games/updates
Subscribe to our mailing list and get new android apps / games and updates to your email inbox.
Thank you for subscribing.
Something went wrong.