[Game] Data Wing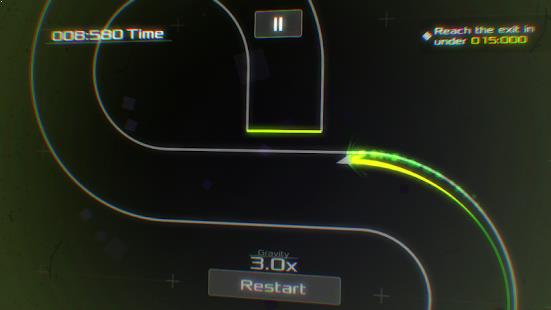 Blast through a stylish, neon landscape in this story-driven, racing adventure.
DATA WINGs deliver critical data throughout the computer system, following Mother's orders without question. But when the system comes under attack, and Mother becomes irrational, something must be done!
Intuitive two-touch controls with an arcade feel
Sleek racing with a focus on thrusting off walls
A +2 hour story with over 40 levels
A competitive crown system. Own courses and the leaderboards!
An amazing soundtrack from world-class producers. Featuring: luxury elite, 18 Carat Affair, ESPRIT 空想, t e l e p a t h テレパシー能力者, Eyeliner and NxxxxxS
A ridiculously stylish 2D racer – Touch Arcade
DATA WING is the solo passion-project of Dan Vogt; a 15-year veteran of the games industry.
Data Wing user reviews :
That game is perfect. Imagine if there was a level editor! Just kidding I know it's a pain to code, and I don't think the devs are on that game a lot. Edit : I sometimes have a bug where the whole game runs like 1.5 times slower then normal, it's not unplayable, but it's quite annoying. The timers and stuff go slower, but the musics seem to be okay.
I went into this game not knowing what it had in store. I thought it looked interesting enough, and it had good reviews. Upon playing, not only is the game incredibly fun with cool mechanics and interesting level designs, it has an incredibly immersive and well thought-out story packed inside. This game is no doubt one of the coolest free games that I've ever played. Well worth the download, and the time you get to spend playing it. Only issue, the audio stops working if the app minimizes.
I enjoyed this experience. the music was exciting and made me want to keep playing. The steering was fine tuned and made for challenging races against time. the effects and the use of a grain or filter was wonderful. I do think the binary challenges could have been a bit tougher and there could be another reason to collect the data files instead of just story but overall I think the game is nicely tuned and balanced for what it is and I had a great time trying to beat my own times.
The games design is really good along with the music but I find the controls in my opinion to be very janky, sensitive and just ruined the game, along with getting very little time to learn before being set into full time trials, races and modified levels, the game is great but these two factors ruined the game for me and the only thing I ask for is more learning levels and a control sensitivity setting to change how sensitive the rotation is. Mainly the second one. Thanks for reading this.
This game is honestly great. No ads, no paywalls. The story is also quality albeit short. This game is worth picking up. The graphics are nice and the music is great, and I wish it had a larger soundtrack. I don't normally think highly of mobile games, but this one is a diamond in the rough. My only issue with it is that I wish the levels were designed a bit smoother so that it's easier to glide through them without bumping into the walls every 4 seconds. Other than that, I'm also annoyed that I couldn't beat Ghost in under 8.5seconds.
This game was quite enjoyable! The mechanics feel pretty tight and have a lot of room for improvement in handling. And importantly, it didn't overstay its welcome by giving enormous endurance levels or anything painful like that. The only issue I had was some intermittent lag, which was curiously resolved after sitting on the level select screen for a few minutes. A fun hour or so!
Fun and unique gameplay mechanics (though there was a somewhat steep learning/comfort curve for me). Challenging, but certainly not ridiculous. And most surprisingly for a game like this: Clever and funny writing with an interesting story. Solid soundtrack. And all of this for free (which makes it difficult to complain about the short length). Not even any in-game purchases. Fantastic game.
One of very few free phone games that isn't a microtransaction-laden hellhole full of ads. Great little story and fun gameplay.
Great game. One of the best games i`ve ever played on Android.
Absolutely amazing game. Definitely one of the best I've played
Amazing amazing amazing. I really don't know how to define the genre itself (arcade racer with story elements?) but the gameplay, the atmosphere, the music, the story… Everything just fits perfectly into a delicious little game that will most certainly become a cult classic… And it's free! It's easily better than most paid games on the Play Store, even if it's short. Everyone should try this out. Nobody will be disappointed.
Contact developer :
Video :
Leave your feedback regarding Data Wing
Get more android apps/games/updates
Subscribe to our mailing list and get new android apps / games and updates to your email inbox.
Thank you for subscribing.
Something went wrong.