[Game] Dead by Daylight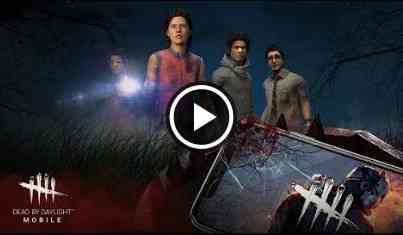 Dead by Daylight Device Requirements:
OS: Android v7.0 (Nougat OS) or above
Samsung Galaxy S7 or equivalent
Deadby Daylight™ is an asymmetrical 4 vs 1 multiplayer horror game in which one crazed killer hunts down four friends through a terrifying nightmare. Players take on the roles of both killer and survivor in a deadly game of hide and seek. Deadby Daylight is available on PC, console and now free on mobile.
PLAY WITH FRIENDS
Whether you enjoy making your friends laugh or scream, this 4 vs 1 asymmetrical survivor horror game has something all players will enjoy. With 5 players in the same Killing Grounds, unexpected moments and unforgettable jump scares wait around every corner.
ASYMMETRICAL GAMEPLAY
Players can take on both the roles of the crazed Killer and the evasive Survivors in Deadby Daylight Mobile. Some players like the heart-racing experience of escaping the Killing Grounds. While other players, of the more deranged variety, play for the hunt and the satisfying panic they inflict on their prey.
CULT CLASSIC CHARACTERS
Deadby Daylight Mobile comes with iconic killers from some of your favourite horror franchises. With Michael Myers®, SAW®'s Amanda Young, Ghost Face® or Stranger ThingsTM' Demogorgon, our growing gallery of popular licensed characters has the variety your insatiable blood lust will love. And if players wish to play as one of our Survivors, they still get cult classic variety with beloved heroes like Halloween®'s Laurie Strode, SAW®'s David Tapp, Left for Dead's Bill Overbeck, and Stranger ThingsTM' Steve and Nancy. Of course, if you want something fresh, Deadby Daylight brings all new and original characters to life for players to enjoy.
DEEP PROGRESSION SYSTEM
Between multi-varied in-game experiences, randomly generated maps, and perks specifically customized to characters, Deadby Daylight Mobile offers players virtually endless and enriching progression and ever-changing experiences to enjoy.
SLASH AND SURVIVE IN STYLE
Deadby Daylight Mobile comes with cosmetics for players to customize their favourite characters with. Between clothing items, full outfits, and accessories, players can fully express themselves and their unique personalities.
FITS IN YOUR POCKET
Deadby Daylight Mobile is the same survival horror game you love on console and PC, but fully optimized for mobile and now always by your side.
Want to make your friends laugh and scream?
Download Dead by Daylight Mobile now for FREE!
Note: An internet connection is required to play this game.
Dead by Daylight user reviews :
It's really good, especially since it's originally a pc game. I think you did a 'pretty good job' lmao. The only problem is the controls, but mostly camera, if you would fix the camera, the game would be the definition of perfect. I have no lag, the graphics are way better than I expected as well, so even though it has camera and control problems, it still deserves 5 stars
Edit: So far only two problems I have noticed. 1. The game lags super bad when I'm chasing a survivor and he is running into a never ending loop using the house with a basement. 2. The auto aim sucks, big time! I've never thought that this game would ever get released on Android! I've been watching my favorite YouTubers playing it on their pc and since then I've been a fan of this game. Now when I finally got to play this, I feel soooo happy.
It's fun, same mechanic as the console and PC version. The bloodweb is different however, and leveling of characters is different. There are some issues in the game which used to be an issue in the early stages of the PC version, such as getting fat shamed as the killer when the survivor has no issues passing through. Game needs some work, and the controls take time to get used to but I'm still enjoying myself.
The game is good, but the killers are over. We can't do a single thing with them we just watch each other died I do nothing. Also, the repair take a long time. Because of that the killer will find us very quickly an the map is open. So, this game need balance at least make give the killers nerve. Also, you need to remove the aim assist for the killers. This is because when I play with the killer I don't have to do a lot I just move and he automatically will follow him.
Latest Update :
1. Coldwind Farm Realm maps have received a visual update and been re-enabled
2. General bug fixes
Contact developer :
Video :
Keave your feedback regarding Dead by Daylight
Get more android apps/games/updates
Subscribe to our mailing list and get new android apps / games and updates to your email inbox.
Thank you for subscribing.
Something went wrong.