[Game] Deer Hunter Classic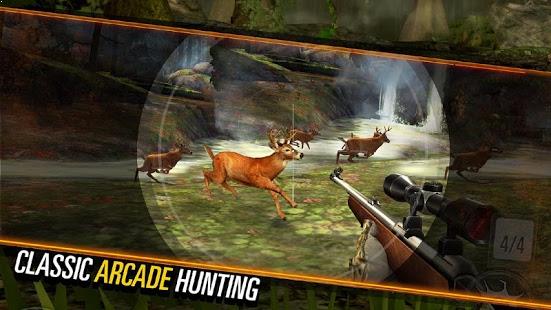 Return to the wilderness in the most visually stunning FPS hunting simulator on Android!
Travel from North America's Pacific Northwest to the Savannah of Central Africa in an epic journey to hunt the world's most exotic animals!
BRAND NEW CLUB HUNTS!
Join your friends in global cooperative challenges where teamwork is critical. Work together to complete hunting objectives and collect rewards!
EXPLORE A LIVING WORLD
Immerse yourself in diverse environments filled with over 100 animal species! Watch out for attacking predators including bears, wolves, and cheetahs! Hunting deer is just the beginning!
MAXIMUM FIREPOWER
Enjoy endless customization as you perfect your weapons. Upgrade magazines, scopes, stocks, barrels and more! Take hunting to the next level!
COLLECT TROPHIES
Compete for bragging rights as you bag the biggest animals with Google Play achievements and leaderboards!
High-end, immersive tablet gameplay!
It's open season join the hunt today!
Developed for fans of FPS games, Hunting Simulators, and the Deer Hunter franchise.
PLEASE NOTE:
This game is free to play, but you can choose to pay real money for some extra items, which will charge your Google account. You can disable in-app purchasing by adjusting your device settings.
This game is not intended for children.
Please buy carefully.
Advertising appears in this game.
This game may permit users to interact with one another (e.g., chat rooms, player to player chat, messaging) depending on the availability of these features. Linking to social networking sites are not intended for persons in violation of the applicable rules of such social networking sites.
A network connection is required to play.
For information about how Glu collects and uses your data, please read our privacy policy at: www.Glu.com/privacy
If you have a problem with this game, please use the game's "Help" feature.
FOLLOW US at
Twitter @glumobile
facebook.com/glumobile
Deer Hunter Classic user reviews :
This game is quite fun and a good way to pass the time if you're bored. The shooting mechanics are very arcade-styled, which fits well with a mobile game. However, it is a serious grind, especially if you don't pay for any microtransactions. After about region 5, it starts to get repetitive, and at about Region 10 it starts to get boring and is much less fun to play. Also, there's way too many ads. Other than that, it's not bad.
This used to be one of my favorite games but now it's not that great… without wifi the game is very slow and lags A LOT. Another continuous problem() is when you do the last boss hunt on each stage the game will crash, the hunt will be completed but i won't have any cash or XP from the hunt. It's like the creators completely forgot about the game…
I've played this game off and on for 10 years. I've never finished the game because its crashed on me 3 times over that time and my progress and money I put in was lost. I keep trying again every few years hoping the glitches would be fixed but they haven't, my last attempt I was at level 59 of 65 and the game crashed again and I was never able to get it to load.
I would give this 5 stars but the energy capacity is too low, should be 20. really don't like being required to upgrade for trophy hunts. crate system is kinda ridiculous, as far as cost. and finally, why do they offer you a discount soon after you spend a ton of time earning cash to buy a weapon, why was the discount not offered sooner or random, always after you buy. graphics are great, bullet physics are Def arcade style, which is entertaining.
Good game, but whenever I load in it will tell me that I'm not connected to the internet, when I definitely am. But that's not the main issue. My issue is that whenever I complete the last tier of a trophy hunt, the game with freeze. When I reload, it says it's completed but doesn't give me any of the prize money. I just lost 8k that I desperately needed.
OK I get it's the "Classic" version and all. But 2 years since the last update. We need more dog adventures. I've completed all the rare hunts. And just shooting birds gets boring. As for the "Big Game", it takes quite a while to obtain enough cash for new guns and none of the bows cost money (they cost glu coins). Which means the secondary maps are useless to me. Lastly I have no idea what the Golden Eagle coins are all about.
This is good game and graphics
Partially working offline. That's good!
Best hunting game on Android
Love this game
Contact developer :
Video :
https://youtube.com/watch?v=U4hGV4l4aNw
Download Deer Hunter Classic from Play Store
Leave your feedback regarding Deer Hunter Classic
Get more android apps/games/updates
Subscribe to our mailing list and get new android apps / games and updates to your email inbox.
Thank you for subscribing.
Something went wrong.