[Game] Doomsday on Demand
 free apps android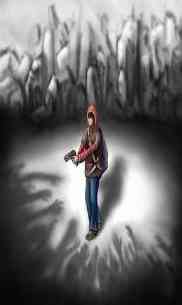 Survive in the demolished district after the nuclear bombings.
Face mutants born of the nuclear radiation, while dealing with what humans are left in the struggle for the hope to end your living nightmare. Decide who you'll trust and overcome the challenges that await you.
Doomsday on Demand is an interactive novel by Norbert Mohos. Your choices control the story. It's entirely text-based–102,000 words, without graphics or sound effects–and fueled by the vast, unstoppable power of your imagination.
Enjoy a 102,000-word novel filled with action, drama, and tough decisions.
Face deadly enemies, varying from humans to mutants.
Learn to overcome and adapt to the danger that lurks around every corner.
Decide who you'll trust. Build and strengthen friendships or make enemies.
Choose your personality. Let your conscience guide you to goodness or turn evil and look out for only yourself.
Doomsday on Demand user reviews :
I have played the story twice from beginning to end and I've got to say. I am gutted that it wasn't longer. This may be the best text story that hosted games has made; mainly because it is free with only short waits between chapters that I'm more than willing to wait for and ads that I don't mind. Thank you hosted games please make a part two for mobile.
Loved the game except for the fact that\SPOILERS\I couldn't bring Abbie with me when I escaped and had to kill Malcolm to save Lizzie. I would've appreciated it if I could've at least brought Abbie with me after promising her to escape, though I don't know if there is any ending with Abbie safe as I only played once. I saw some people review that 1)The wait got upto 2 hrs and that 2)A 12 yr old MC is irrational but 1)I had to wait 20 mins max and 2) the MC being 12 adds intensity to the choices.
It was a great expierence and the forced time to wait really broke up the timing and kept wanting to come back. I only went through it once but I liked my outcome and the story. I just wished you continued the story in another game where it left off because I want more now. Great game, great story.
Hi,I realy loved DoD and enjoyed it a lot,it was difficult at first for me to take on a caracter of a ten year old but I eventually eased into it and started to imagine it right and pushed through. So you probably wonder why I only gave 4 stars,well I fill like some choices where taken away from me that I could have taken that would maybe have changed certain lives such as those of my friends from school particularly that of Abby but nonetheless it was very interesting.
Pretty good game. It took my attention especially at how the MC was helpless at critical times. Well, it was an eye opener for me that being the MC doesn't mean that you can be a hero/god. Overall, the game is great however you have to bear the "time" unless you have money. Not a problem to me though
I find this very interesting, but my review may change later on. I find the waiting time EXTREMELY annoying. The time gets longer the further you go into the story and for me being quite young at the moment, I don't have the money needed to purchase the game itself which upsets me. Overall, it is still kind of worth the wait.
I'm liking the story so far. I understand the waiting time thing, but does it have be longer every time? I know it's because of the free version but so far that's my only complaint.
What an amazing journey. GREAT WRITING!!!! To the creators, everytime I put my phone down to take a break. This story called me back to my phone… all I can say is wow and this helped a lot during this insane virus going around the world and knowing I had to be home. So this really helped. Thank you so much and I recommend all to read/play.. Thank you again and keep up the good work.
Contact developer :
Download Doomsday on Demand from Play Store
Leave your feedback regarding Doomsday on Demand
Get more android apps/games/updates
Subscribe to our mailing list and get new android apps / games and updates to your email inbox.
Thank you for subscribing.
Something went wrong.