[Game] Dragon Raja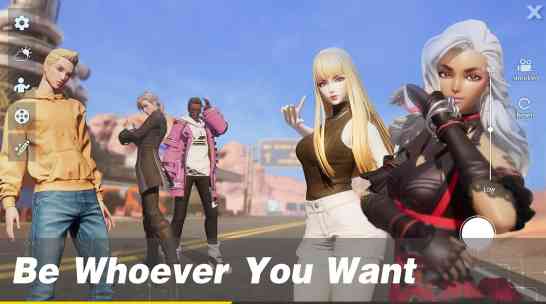 Created with Unreal Engine 4, Dragon Raja is a next-generation open world mobile game that offers a gigantic, immersive world through the use of cutting-edge technology and stunning graphics.
In DragonRaja, players are able to create one-of-a-kind characters to play, explore, and fight alongside their friends from all over the world.
STUNNING GRAPHICS
DragonRaja was developed using the top Unreal Engine 4. It boasts a unique in-game world of a gigantic scale and filled with vivid details. Day or night, sunshine or rain, players can explore the world of DragonRaja freely! DragonRaja also uses a simulated physical collision system and optical motion capture technology to deliver "smart" in-game environment that maximizes players' gaming experiences. Its fantastic graphics will gives players the feel of playing a PC game!
GIGANTIC OPEN WORLD
Many landmark locations around the world have been recreated in DragonRaja that global players are sure to recognize. From Tokyo to Siberia, every scenic location has been seamlessly integrated into the game's open storyline. NPCs will also give separate quests or engage in different dialogue based off of player choices, giving them the power to change the world.
COMPREHENSIVE CHARACTER CUSTOMIZATION
DragonRaja features a comprehensive character customization system. Players will be able to define their character's personality through their responses to unforeseen events. In DragonRaja, players are able to create unique characters and dress them however they choose—with endless choices. Casual, retro, street, and futuristic are just a few of the styles players could choose from when styling their characters with additional styles to come!
FIERCE REAL-TIME COMBAT SYSTEM
Dragon Raja's realistic combat and gameplay deliver an electrifying PvP system. Players can test their skills in duels, battlegrounds that hold hundreds of players, or fight for honor through guild matches. Besides that, the game's PvE system is equally exciting featuring a multitude of unique bosses and riddle solving making each PvE instance run a fresh experience.
TEAM UP WITH FRIENDS WORLDWIDE
Player-to-player interactive gameplay is at the heart of the DragonRaja experience. There are challenges that require teamplay as well as multiplayer quests that can only be completed with teamwork. In order to facilitate with in-game communications, DragonRaja features real-time voice chat system, one-click multiple language translation function, an interactive in-game social sharing platform as well as standard text chat. Players are able to join up with friends from all over the world!
TONS OF INNOVATIVE GAMEPLAY MODES
For the casual gamer, DragonRaja offers dozens of gameplay modes as well as a unique career system. Whether they would like to be a Michelin-starred chef, an entertainment superstar, or a racing champion every player in Dragon Raja is in control of their own destiny.
STORY
The Dragon Lord, once sealed away by a group of humans known as hybrids, has come back to life. The hybrids—humans gifted with superpowers—are gathering to prepare for the coming battle which is sure to be an epic showdown.
In order to support high game quality and massive game contents, the file size of Dragon Raja is relatively large. Please note that contents of 1.5 GB need to be downloaded after the first installation. And another 1.5 GB of art assets need to be downloaded after entering the game.
Device Compatibility:
System version: Android 5.0 or above
RAM: 2GB or more
Free space in the system: at least 6 GB
CPU: Qualcomm Snapdragon 660 or higher
SNS
Facebook: www.facebook.com/DragonRajaEN
Twitter: twitter.com/DragonRajaGame
Discord: discord.gg/aVdWR5A
Reddit: www.reddit.com/r/DragonRajaMobile/
INS: www.instagram.com/dragonraja_design/
Pinterest: www.pinterest.com/dragonraja2019/
VK: vk.com/dragonrajamobilegame
You may also like
Dragon Raja user reviews :
I love playing this game with good music, nothing beats it. It's fairly easy to level up and get new gear and stuff, and I appreciate how the loading screens give useful tips according to the type of character you picked. One thing I love the most is that they changed the word "Lolita" to "Girl", as the term Loli/Lolita is a sexual!zed one, I appreciate the team protecting characters from being viewed in a pedophilic way. As for the actual game, its graphics are basically unbeatable,10/10!
This game is really pretty, and I'm amazed how smoothly it runs on mobile. However I have no idea what's going on, what I'm doing, or what anything means. Very confusing for new players to understand. The tutorials don't explain anything really. Also you can just afk autofind anything and the game will fight for you too. Its hard to understand what the point of playing is. If you want to wander off you'll get stuck really easily or told you can't go there. It can feel limiting.
Most unique RPG of its kind I have yet seen. Actual storyline, interaction with characters, realistic landscapes, and you have your own house to return to when you need it. There's a combination of futuristic technology and old world simplicity. I sometimes just stand at the hilltop and watch the whale playing in the lagoon. Fascinating game, far more involving than the average RPG.
Phenomenal, another breath of fresh air in 2020. THE MACHINE GUN FIGHT, THE ICE RUNNING, THE DMC PARKOUR. PvP is a blast, community is neat, most of us are from the Chinese/Korean server so everyone loves it, and we're all helpful. I know none of this made sense, so download it and figure out what I'm talking about. You'll love it. The game is literally the novel and it's one hell of a delicious cinematic feast for the eyes. I kind of want to call in sick to work today guys, to be honest.
My oh… I've been dreaming of a game like this and I got it. It has everything I ever wanted from a game. When they say "Be whoever, play however" they mean it. Love this game, been playing it all day. This is barely the first day of the game and it has so much, I cant wait for the future. Developers did a great job with this. It's not only beautiful, but engaging and just great. Thank you for this game. I will be playing this for a very long time and that it rare for me to say. A 10/10 for me
Most mmorpgs have patchy storyline. this has a very good story line great graphics remanicint of unreal 4 well animated cutscenes and fast paced combat. It honestly feels like it belongs on console or PC but I'm having alot of fun and honestly recommend it if you have the space on your phone. great game. good job.
Latest Update :
2nd Anniv. Celebration brings you wonderful events and multiple gifts! Remember to claim your limited motor!
Contact developer :
Video :
Download Dragon Raja from Play Store
Leave your feedback regarding Dragon Raja
Get more android apps/games/updates
Subscribe to our mailing list and get new android apps / games and updates to your email inbox.
Thank you for subscribing.
Something went wrong.