[Game] EduKid – Car Games for Toddlers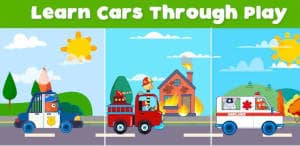 Educational learning game for preschoolers.
Learning cars in a fun way is a game for kids which will teach your child the use and function of different vehicles in a playful way with colorful scenarios.
Fantastic kids' car games with fun and educational content! Learn about different vehicles types and enjoy playing car games for kids.
Car Games for Kids
What are the most fun activities for kids? Cars! Which toddler or a preschooler doesn't love playing with cars? Add animals into the car game for kids, and you have a winning combination for sure! We're talking about kids' entertainment levels that are out of this world! But that's not all. We have created perfect learning games for your baby, toddler, or preschooler with an added educational value.
Car Games for Girls and Boys
This car game for toddlers puts an E not only into Entertainment but also into Education. Its purpose is to become the most fun and educational car learning game for boys and girls who love different types of vehicles and their sounds, regardless of age.
Educational Learning Games for Toddlers
The car learning game provides loads of fun for babies, toddlers, and preschoolers. Is your child impressed by firefighters? Become a firefighter yourself, turn on the siren, and put out fires. Want to chill instead? Hop on an ice-cream truck, drive around and share ice-cream goodness. Your child isn't alone on this kid's adventure. There are adorable animals to help on the journey of being a taxi driver or an ambulance driver.
Car Games for Toddlers
Fun and educational car games for kids include a few piece puzzles in which your child identifies vehicle parts, drags, and drops them into appropriate slots. More exciting adventures await as your kid accompanies different animals on their quest for knowledge while performing various actions along the way. It's fun, it's cool, it's educational, it's learning car games for toddlers.
Pick your favorite car and start the adventure. Are you ready? Set! Go!
Learning car games for toddlers in which you can choose types of vehicles and car games:
Firetruck: Meemu animals act as firemen who extinguish the fire and help kids learn about fire car functions with truck siren available.
Taxi cab: Animals drive taxi cars and pick up passengers to teach kids about these types of cars.
Police car: In this game, animals are policemen who follow prisoners with police cars and put them into jail. Perfect good behavior learning add-on to this already amazing interactive educational car game for toddlers.
School bus: School bus picks up animals and takes them to school to help kids learn the purpose of these cars.
Ice-Cream truck: Kids drive a colorful ice-cream car to sell ice cream and spread joy!
Ambulance car: Ambulance car takes sick, injured, and cute animals to the hospital and helps toddlers learn how these cars come to the rescue! Would you like your kid to become a vet? Educate him with this amazing car game for toddlers.
For the best preschool kids learning experience!
If you are looking for educational car games for girls or boys, you are in the right place! Let them discover the world of colorful scenarios and fun learning experiences.
EduKid: Educational Car Games for Girls & Boys is so rich in features that it's got a whole set of nicknames from our amazing users such as Car Games for Toddlers, and Fun Car Games for Girls and Boys. Regardless of what you call it, once you install the EduKid: Educational Car Games for Girls & Boys, you receive fun and educational learning games for kids.
All the educational car learning games content is kept simple and easy to use for the tiny hands.
You may also like
EduKid user reviews :
My kid loves it, strongly recommend.
My 3 year old loves this app. I love that it's educational but also fun for him especially how he's vehicle obsessed. The challenges are also very age appropriate. Thanks meemu kids for a great educational fun game
Meemu: Educational Learning Games for Kids age 2-5

Dear User, Happy to see you are enjoying Meemu! That's very motivating. Follow our social media pages to hear about new releases as well!
My 4yo loves this app. It provides just the right amount of challenge, it's age appropiate, works well, it's super fun & educational!
My younger brother like this game very much.But there's a problem. No matter how much my brother clean the car, It still become dirty very easily.
Awesome awesome awesome App for kids
Meemu: Educational Learning Games for Kids age 2-5

Dear User, Thank you for the review! It inspires us to make Meemu even better for you! Follow our social media pages to hear about new releases as well!
Contact developer :
Download EduKid from Play Store
Leave your feedback regarding EduKid
Get more android apps/games/updates
Subscribe to our mailing list and get new android apps / games and updates to your email inbox.
Thank you for subscribing.
Something went wrong.