[Game] Elemental Dungeon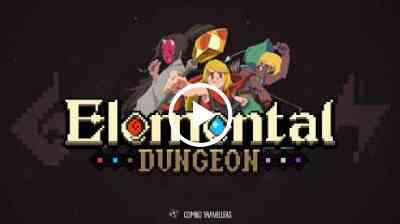 Elemental Dungeon : In this fascinating free action adventure RPG with roguelike elements and great pixel art graphics you explore randomized dungeons by combining the elements to cast powerful spells.
Use the environment and improve your skills to defeat the hordes of monsters lurking within. Find powerful items, meet strange creatures and play different unique classes in your quest to solve the mysteries of the Elemental Dungeon.
Challenge your friends for a brawl or let them join your quest in amazing multiplayer games!
RANDOMIZED DUNGEONS & ROGUELIKE GAMEPLAY
Each adventure is unique thanks to randomized dungeons. A challenging game play with roguelike elements will put your skills to the test. Play as Mage, Hunter, or Ronin!
MASTER THE ELEMENTS
Combine up to 3 elements from a total of 6 to unleash devastating spells on your enemies! Unlock spell scrolls to learn new spells and enjoy the smooth dual joystick controls.
SKILL & STRATEGY
Use the responsive environment to your favor: burn grass, freeze puddles or blow up barrels. Find hidden passages and magic treasures. Explore the weak spots of the countless monsters and mighty bosses and solve the secrets of these dungeons.
MIND-BLOWING MULTIPLAYER MODES
Take your friends on a multiplayer adventure where you fight through the dungeons together. Or challenge your friends in an epic brawl and be the last survivor!
GREAT PIXEL GRAPHICS & IMMERSIVE MUSIC
Unique pixel art and lovely characters will make your journey unforgettable. Enjoy a catchy original game soundtrack that will stick with you for a long time.
AWARDS & NOMINATIONS
SILVER AWARD Tencent Games Innovation Competition
FINALIST Indie Prize Awards
Should you have any issues or suggestions, please contact us: support[at]teebik-inc.com
Check out our official channels to stay up to date:
Facebook: www.facebook.com/elementaldungeon/
Twitter: twitter.com/ComboTravellers
Discord: discord.gg/59HHcQM
Website: www.combotravellers.com/elementaldungeon
Elemental Dungeon user reviews :
I really wish falling down a hole wasn't instant death. Maybe y'all could just make it do damage. Other than that, game is really fun. I don't think there is gamepad support, but if that's implemented this is a 5 star game.
Needs work on multiplayer, needs more skins and more variety in opponents. Needs more items and characters. Absolutely an amazing game, beautiful and masterfully made. Put together like no other game.
Awesome! Me and my friends play frequently together and love goofing off in the dungeons. We always have a blast with the different elements and are excited when we see progress. I'd love it if you could level up in co-op though.
Hey i don't know if this is a glitch or a wifi problem but whenever i'm on wifi i can't get pass the loading screen. I need to turn on monile data first, login, then change to wifi. But amazing game tho love it!
The game as great potential and it already has it,but I absolutely wanted was offline and online service in this game,that's all I wanted for this game.
Great so far but the game needs more content Edit: Ftom 5 to 3 stars due to recent update. Stages too long now, too many floors and game gets extremely boring. Decreasing floors would have been better choice.
Overall this game is amazing. The reason why I didn't give it a great review is because it always disconnects when I try to play multiplayer mode. I made sure it wasn't just my own wifi and connection problem, it happened with my friend too. I really need this problem fixed so I can actually play and survive with other people instead of going in and disconnecting randomly. Its very common now, so it gets very annoying.
TBG LIMITED

Sorry for the inconvenience. We will improve the multiplayer to make it more playable.If you have any further questions, please contact us via support[at]teebik-inc.com, thanks!
I think it's an amazing game, but multiplayer could be better. Other than that, I think it's really good an I definitely recommend it
Contact developer :
Video :
Download Elemental Dungeon from Play Store
Leave your feedback regarding Elemental Dungeon
Get more android apps/games/updates
Subscribe to our mailing list and get new android apps / games and updates to your email inbox.
Thank you for subscribing.
Something went wrong.