[Game] Little Empire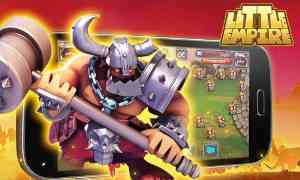 Little Empire is a 3D strategy mobile game like nothing history's seen before.
Almost as soon as it went live, it cracked Top 10 PvP lists in Europe, Southeast Asia, the USA, Japan, Korea, England, China, Canada, and other major gaming regions throughout the world.
Here, you'll play a hero with a mission: Deploy Trolls, Mages, Wolf Riders, and more, for a total of 12 different unit types, in thousands of different formations and countless challenges, using your brains and your braun to build and defend an empire all your own.
Fight beside your allies, or trample on your enemies.
Mine gold to fill your personal coffers, or donate it to the glory of your alliance.
Face your friends in friendly practice matches, or hunt for loot in Adventure mode. However you play, the result will be an empire that's uniquely yours!
Little Empire Game Features
1.The world's first purely 3D mobile game, with cute graphics that don't sacrifice detail;
2.Plants vs. Zombies-style tower defense gameplay, quick to learn and easy to play;
3.Unit type advantages make infinite formation possibilities, for a combined casual and competitive gameplay experience;
4.Three unique heroes to choose from, each with their own stats, skills, and equipment;
5.Created with skeletal animation technology, a new frontier for mobile games.
Update Content
Little Empire version 1.16 is going live! In this all-new version, enjoy 5v5 multiplayer battles on the Battlefield, face dramatic new bosses like the Swamp Dragon, Medusa, and Colossus, and more exciting new gameplay features! Update details:
1.New Evolve function for troops, temporarily open for Footmen, Trolls, Knights, and Cyborgs;
2.Second Adventure route added: The Seal;
3.New multiplayer Battlefield: Play 5-on-5 matches with no troop losses;
4.New Flower Patch, Stone Block and other decorations;
5.New spar mine added;
6.Battle reports can be shared with multiple people at once, including yourself;
7.New alliance equipment status page added;
8.New alliance status function added: Records member combos, kills, and deaths;
9.Alliance level cap raised to 10;
10.No more Reputation rankings: Now, earn Rep 3 times per day, earning more points per time.
Also check our free android apps list
Little Empire user reviews :
5 year player. Its been a good long run on this game but I finally put the nail in the coffin. This game was great across 5 servers and thousands of hours. I have only one issue with the game after 5 years the pay wall, if you wanna be at the top you gotta be able to pay. I cracked the top 50 across 2 servers and spend in the ball park of 7500$ across 5 years. Great game, great mechanics, great time. This is ItzJoshreaperz signing off one last time. -I hope that another game of this caliber comes soon.
Good game while running but crashes 99% of the time on start-up. Camel Games please fix this, this is ludicrous. The game crashes every time I open it- within the first 5 seconds! Like many other little empire players, I played it as kid and enjoyed it, and then came back to it later. I am sad to see that the game can't even run properly anymore. Respectfully, Thomas
They need to fix this problem. If they aren't caring for this problem,then what's the whole point of having a game that doesn't even work. It's considered worthless if they can't fix it. Sooner or later the game will be taken down because of this problem.if they still don't care then that's their problem to fix. FIX THE GAME
Used to love this game when I played it many years back, but now I can't play the game without crashing. Sad to see this game abandoned.
I used to play this a long time ago and I loved this game. But I had saved my progress on my Facebook account and now when I downloaded it on my new phone, there was no option for a Facebook login. This game is really awesome, a gem really. But I don't want to play from the start. All my progress is gone with Facebook login.
Awsome it is a gooood game the best It is the best game ever great job.But I NEED MOJO! :-)LOL
Nice This game is great no lags and very entertaining… For new players put this code SIBUEB… And when you turn lvl 10, 20, and 30 you'll get something good Invitation code: SIBUEB
Use Code: EMNYS Code:EMNYS Best game I've ever played on my phone. Type in the code to get cool stuff like mojo,gems,coins, and other good prize when u lvl 10, 20, 30 u get a lot More prizes not adding the starter pack u get for entering the code! Good luck code: EMNYS
Best casual game on the market Seriously this game is amazing, strategy based, intelligent, and easy to pick up and get into quickly. Recommend to anyone
Last Update :
Optimized game performance on Android 8.0 or higher.
Contact developer :
Video :
Download Little Empire from Play Store
Leave your feedback regarding Little Empire
Get more android apps/games/updates
Subscribe to our mailing list and get new android apps / games and updates to your email inbox.
Thank you for subscribing.
Something went wrong.