[Game] Eternity Warriors 4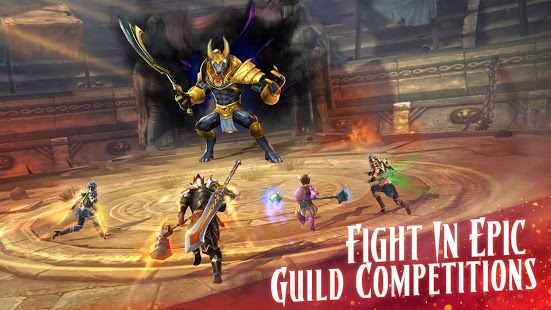 Crush enemies and become a hero in Eternity Warriors 4, the latest addition to the hit RPG series!
3 HEROES TO CHOOSE
Hack through enemies as the mighty Warrior, slash them with the lightning-fast Assassin or rain down fire upon them as the unstoppable Mage. Choose which hero best fits your play-style and jump into the action!
TONS OF EPIC LOOT
Craft or discover rare armor, weapons and loot to enhance your abilities!
MASTER UNIQUE SKILLS
Upgrade both active and passive skills to hold off the demon advance. Master them to unlock your hero's greatest powers! Use the new Rage Mode to unleash your most deadly techniques!
PVP BATTLES
Enter the arena to battle other players online in epic matches. Equip your hero with the best gear and fight to climb the ranks and earn prizes!
GUILDS
Create a guild and invite other players to join. Manage your guild and work to make it to the top of the leaderboards.
EVER-CHANGING EVENTS
New events are being added each week! Enter to win special rewards and gear!
High-end, immersive tablet gameplay!
Eternity Warriors 4 is free to play, but you can choose to pay real money for some extra items.
Use of this application is governed by Glu Mobile's Terms of Use. Collection and use of personal data are subject to Glu Mobile's Privacy Policy. Both policies are available at www.glu.com. Additional terms may also apply.
FOLLOW US at
Twitter @glumobile
facebook.com/glumobile
Eternity Warriors 4 user reviews :
Great game. Love hack and slash type games. If I don't get turned off by the game in the first 10-20 minutes it usually means it's a good game and I like it. If anyone remembers or played "Rise of Darkness" this game is similar to that. Definitely a must try for people who like hacking and slashing monsters!  Only problem I've had so far is the videos you can watch to get gems are never there it says there are no videos available right now whenever I try it. Fix it and definitely 5 stars!
Glu you were the best , i know you can do better eternity warriors 2 and dragon slayer were my favorite games i ve never played such good mobile games in my life if there would be something to compare those games with would be cod mobile but i still like ew 2 and dragon slayer more than cod mobile i know you can find a sollution implement lootboxes but make the game playabale as it is without them idc if it s hard to complete the levels i just want a good mobile game
Unstable ActionRPG with typical online game chores. The special attacks have bad auto-aim, so they miss a LOT. Settings don't allow players to adjust graphics, and few people still play it. The character classes leave nearly no freedom of choice either. On level 13, assassin & guild boss, I still don't see ANY improvements.
It's a very nice game The best thing developer should do is to shut down the game completely and restart it Updating some features like weapons energy cost, exp, inventory sizes etc And they still have to deal with syncing problem most especially when playing the raid boss … or if not going to be possible, Glu mobile should launch another version of it Like eternity warriors 5 ..
Controller settings, viewing effect and screen should improve. It not better than eternity warriors 2
Just awesome! Try it! 4 nice classes and can play with other humans.
This game is verry interestable game, but it has just one chapter and can play no more.The game required to buy next chapter game with diamond by a payment. And I now can't play any next level.This game is recommended for,not to dawnload 'cause it's better to uninstall than download…..
I'm enjoying the game so far! Really loving the classes' unique attacks! I think I enjoy the fox spirit mage the most! Keep up the good work!
I think this is a really good game kind of outdated but still enjoyable also where's my gems I purchased
Glu is this game over..build eternity warrior 5..don't let hacker break the game up..every player online is hoping for new update or version
Good but prefer the older version to this one..I enjoyed breaking jars for coins and getting health portion in the arena on the old version but can't find any on this one
Recently the game has been lacking in function NO LONGER SUPPORTED! Having to close the app completely and restart, even from the first loading screen. Game freezes up. It said my energy limit has been reached when I win an arena battle. Have a screenshot of it, but can't load it on here. The network is constantly congested, lagging in world boss, and "syncing" every other moment. When I pay to play, these unfortunate situations shouldn't be a problem. I am VIP 2. UPDATE THE PROGRAM PLEASE….!
Ok i'm king medhat from this game…..when i was leaving the game only royalty has more PS than me …..i dont know for now….but i can't login again…the game is not supportive on it own….ok thosw interesting should come to me for my logins …..i will give it to you for free…terms and condition applied.
Very difficult as pay to win… Have to grind… Waste of time. Even grind is bad as, you have to buy inventory and it 100 diamond for 5 slot…. That means you have to manage your slots. But if you are willing to pay a bit of money. It is so so game that you will grow to like. But I have no money. But feel free to try it out. **tips… Play all 4 character to get diamond as you complete tasks and that can go to buy slots/inventory. Good luck grinding.
this game WAS amazing I USED TO love it but I recently reinstalled an the game wouldn't even start. I logged in the game said syncing and didnt let me do anything i tapped retry… nothing. I even restarted the app it had me relog in and then did the same thing update the game or give us ew5 please and thank you. p.s. if there is a way to fix this please let me know so I can edit this review the game used to be really amazing and i loved the series
It a good game and one of the best games in play store but the only problem is that,the game doesn't function smoothly .Please do something about it. Thanks
FUN Great game. Just like any other Glu game. Only complaint I have is that when attacking with a melee character i run towards a group, press my attack button and my dude attacks in a different direction. Combos are even worse and my special attacks are almost always a waste. Dont know if its a problem with game or if its just me. Beyond that the game seems good so far. I havent seen anything new or original as far as concept or design but its still 4 stars. With updates i might change to 5.
Contact developer :
Latest Update :
Spring Festival World Boss – The Monkey King himself is coming to Udar to challenge its greatest warriors! Jump in to the fray to earn special rewards!
Spring Festival Guild Bosses – Summon and battle with the new Silver or Gold Lion boss for a chance to earn special prizes!
New Gear – All new weapons and armor will be available during the holiday by making offerings to the God of War!
Gift Bag Event – During Spring Festival players can complete guild quests to earn special gift bags!
Video :
Download Eternity Warriors 4 from Play Store
Leave your feedback regarding Eternity Warriors 4
Get more android apps/games/updates
Subscribe to our mailing list and get new android apps / games and updates to your email inbox.
Thank you for subscribing.
Something went wrong.