[App] FitNotes – Gym Workout Log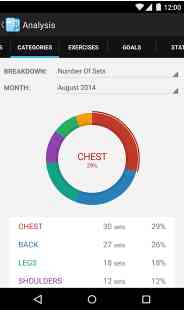 FitNotes is a workout tracker with a focus on simplicity and clean design.
Ad Free!
Workout Log
View and navigate daily workout logs quickly by swiping between them
Navigate to a specific day using the inbuilt calendar
Add an exercise to the workout log and record sets of weight and reps or distance and time
Swipe across when recording sets to view your workout history with the exercise
Attach comments/notes to sets
Rest timer with sound and vibration options
Re-order exercises you've added to a workout log (long press an exercise card to initiate 'edit mode' and then press and drag the blue drag icon at the top right of the card)
Exercise Database
Includes a default selection of categories (Chest, Back, Legs, etc)
Each category contains a small default list of exercises
Create custom categories to better suit your training program
e.g. Olympic Lifts, Plyometrics, Ab Training, etc
Add new exercises quickly using 'Save and New' feature
Two exercise types: Resistance and Cardio
Resistance – record training in weight and reps
Cardio – record training in distance and time
Routines
Create a routine to provide quick access to your most commonly used exercises
Assign exercises to a particular day within the routine
Name a day whatever you want (Monday, Chest Day, Workout A, etc)
Select a single exercise from a day within the routine to add it to the training log
or hit 'Log All' to add an empty set for each exercise which can then be filled in later
Create as many routines as you want and switch between them using dropdown list
Remembers which routine you selected last
Calendar
Dates on which you have recorded training logs are highlighted
Tap a day in the calendar to display a popup listing the exercises performed on that day
Navigate to a specific day's training log by selecting it in the calendar and hitting 'Go!'
Filter which days are highlighted in the calendar
e.g.
Highlight days where I did bench press and lifted more than 80kg for at least 5 reps
Highlight days where I ran outdoors and travelled more than 3 miles in less than 20 minutesr
Backup/Restore
Backup your data to device storage or an online cloud service (DropBox or Google Drive – please ensure you have the corresponding apps installed on your device if you would like to backup to one of these services)
Export
Export your training logs in CSV format so they can be analyzed in your spreadsheet application of choice
Permissions
Modify or delete the contents of your USB storage: Required in order to be able to backup/export data to your device storage or sd card
Control vibration: Used if you have selected the 'Vibrate' option for the rest timer
Prevent device from sleeping: Required in order to ensure the rest timer continues to count down when the screen is off
If you have any feedback then please email FitNotesApp[at]gmail.com
FitNotes user reviews :
I really enjoy this app. The best thing about it is that you have a record of what you've been doing. I find it motivates me to get to work and plan ahead. It is extremely adaptable; rename or add exercises, add short notes to sets, an interval timer will run automatically if you want after you record a set, you can change reps and weights between sets, and add as many sets as you want. It graphs! There are filters to tailor the information plotted; volume, max weights or reps, etc. Great!
In my old phone, when I copied over a workout from a previous day to a new day, the app would automatically highlight the first set of the exercise I selected with the option to update, after which my rest timer would start. Now, the default when I click an exercise is to add a new set meaning I have to click on the set I'd like to update each time. Don't know if this makes sense but it's quite disappointing
James Gay

May 25, 2019

Hi Daniel – You might just need to re-enable the 'Auto-Select Next Set' option in the Settings menu. If that doesn't help or you would like any more information then you can get in touch via 'Settings – Feedback'. Thanks.
Hi, amazing app, just one thing. Any chance categories of exercises (Chest, Shoulders, etc.) could be displayed next to an exercise? Experienced people have no problem with recognizing what is what but less experienced people may value such information. I think of it as an optional feature so everyone can choose what suits them.
Contact developer :
Download FitNotes from Play Store
Leave your feedback regarding FitNotes
Get more android apps/games/updates
Subscribe to our mailing list and get new android apps / games and updates to your email inbox.
Thank you for subscribing.
Something went wrong.