[Game] Frostborn Coop Survival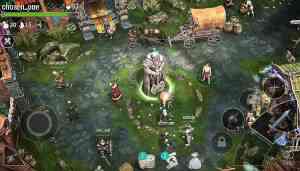 Set up and reinforce your base, subdue power of gods to yourself and fight against the army of the dead side by side with your friends.
Restore the former greatness of the vikings' lands by building a new capital from the ground up and set off to unknown shores for treasures and new victories – all this and more is waiting for you in the new online RPG Frostborn!
The world as we knew it is gone
Long ago beautiful forests and hills of Midgard were invaded with the dead and giants. Since then, river waters burn a throat, all aesirs have vanished, and valkyries no longer take slain warriors to Valhalla. This is all because of the goddess Hel, the mistress of the dead that is determined to gain power over all that exists.
Death is no longer an obstacle
You are an immortal, brave warrior, fearless of death itself. When dying in battle, you revive over and over again. Herbalists and shamans shrug their shoulders wondering why it happens, yet one thing is known for sure: only you are able to wreck plans of the goddess of death and reveal the mystery of aesirs' vanishing.
One cannot conquer alone
Four heads are better than one! Unite with other Immortals to build a solid base more quickly and confront all together with the dead, outraging in sanctums of aesirs in the lands of Midgard.
Everyone will have something to do
Choose one of a dozen and a half classes that suits your gaming style the best: crush with a hammer in melee combat, hide in shadows and attack stealthily, rout your enemies, rule forces of fire and ice, keep a distance and strike enemies with shots from a bow or heal and enhance your allies – the list is endless! And if you want to try yourself in a new role, all you need is a few seconds for preparation and a new equipment kit!
All is fair
Trade with other families and clans to build the most beneficial long-term relationships or set up ambushes in forests, mountains, and tombs, and rob settlements of vulnerable settlements of Immortals – the choice is yours. In the harsh lands of Midgard, sirvives only the strongest.
Architect of your own fortunes
Plenty of workbenches for crafting items and dozens of blueprints will allow you to craft anything you need for glorious victories – from a roof over your head and a bandage for a wound to powerful potions and a fearsome weapon. And if it's not enough – remember who you are, nordling, and build your own drakkar to try yourseld at sea!
Establish your inheritance
Build your own city – raise strong walls, don't forget to provide space for craftsmen and traders, set up resorts and places of amusement. Become the most powerful ruler in the lands of Midgard that will be reckoned by everyone!
Legendary artifacts
If you believe you are ready for anything – challenge fate itself and get down to abandoned sanctums of gods to defeat the strongest enemies and try to obtain rare loot! But be careful, danger lurks everywhere in dungeons, so only the worthiest warriors will manage to reach the end and find out what happened to Odin, Tor, and the other gods!
Frostborn Coop Survival user reviews :
Great Northern experience. Keep it up. I would make some of the weaker weapons, clothes and tools a little bit more durable. It seems awkward that you can't sweep a map with one axe…I mean it seems …unreal. Other than that it's great. Keep it coming
Good but could be better. You should fix the connection and the crash issues, it's ruining the game. I had this bug where I couldn't login to the game and keeps on re-authenticating, I don't know if it's a server issue and couldn't check. So it would be helpful if you add a page or something before you login and change servers more easily.
Kefir!

Hi! Thank you for being with us all this time :) It is possible that you don't have enough RAM on the device. To free some RAM, close all the apps you aren't using via the task manager. Restart the device and open the game. If these tips don't help, please let us know at frostborn.support[at]kefirgames.com!
Its a great game. Spent money on the game. Grinded for hours.i have 2 main issues. The repair bench takes way too long considering how much you break. And not worth donating for points when broken. Now i could see every 12 or every 8 hours. But 24 is too much. There needs to be a way to get more silver for districts. Me being district 102 and half the time only getting 25 silver is rediculous. Oh hope i dont have to keep paying premium everytome something new comes out just to get good stuff.
Kefir!

Hello! Thank you for your useful feedback! We are constantly working on our game, so if you have any more ideas or questions, please visit our official community on FB: www.facebook.com/playfrostborn and have a good game!
I'll give it 3 stars, this game is extremely fun, I just wish you would make the durability of the items bigger, or make it so the when you repair them, it doesn't take 24 hours… I could understand if it had higher durability but all weps and armor. 24 hrs is a bit much. Also, when you die. All ur items lose durability. That's insane. If its equipped I'd understand. But if it's in ur bag and not using it. It shouldn't break. Please do something about this.
Kefir!

Thank you for your feedback. Replies to reviews are limited to 350 characters, please report your situation to Customer Support. We highly appreciate your interest in our game.
Frostborn is a great game, no doubt. No wait time to locations which is what makes this game great. However, this review is more towards the negatives. Keeping in mind the game was only released 3 days ago. The character slides when walking ( a glitch) when opening up a box it'll go to the next one instead of the one you want to open. Opening up a box has a timing problem. It takes around 6 seconds to open it. When at a location it goes slow. 1 second I'm farming next I'm in the middle ofthemap
Kefir!

Hi! Thank you for playing our game :) There are some steps that may help you: try freeing RAM on the device, then clear the game cache and update the game to the latest version. Restart the device and open the game again. If nothing changes – let our Support team know!
Great game, and certainly a sweet update! Obviously my stupid tablet can't handle it, but I still love it! This is like a medieval version of Last Day on Earth. The sounds are great, and especially the design you went with it! The medieval style option certainly was a good idea, I expect to see good things happening in the future. Love, Swords.
Kefir!

Hello! Thank you for sharing your opinion! We are pleased to know that Frostborn is an enthralling game
So far from what I've seen and that there is currently an update right now. From what I have read along with that the visual graphics itself have been great. The multiplayer system is well implemented although l don't have any body to play with which is alright because the game is also welcoming to single player although it requires some planning and grinding it does seem to have benefits other than that this game is surprisingly well made.
Latest Update :
New season! Travel to mysterious Elven Gate and help Elder to open the way in new lands
Additional postseason activities
New Class – Ripper
New Keeper of the Portals – The Fire Guardian
Changes to Thrasher, Pathfinder and Sharpshooter class abilities
Rebalance of Freya's weapon
UI/UX improvements
Contact developer :
Video :
Download Frostborn Coop Survival from Play Store
Leave your feedback regarding Frostborn Coop Survival
If you like the content that we provide since 2012, put a smile on our face and give us a like or share this with your friends on any social platform. If you want to support this project, any crypto donation of $0.5, $1, $2, $3 is welcome!
You can find our crypto wallets on https://free-apps-android.com/buy-us-a-coffe/
Sponsored Links