[Game] Fury Roads Survivor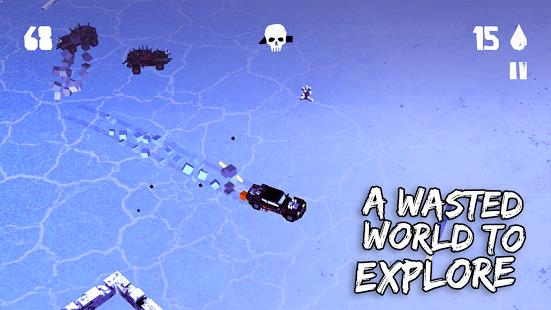 THERE'S NO ESCAPE.
Take the chance to FIGHT for your life in this charged-up ENDLESS arcade, free-roaming racing game.
Select your POST-APOCALYPTIC modified vehicle and drive it through the deserted ruins of the wasted world, while trying to defend yourself from the motorized oil-cultist SCAVENGERS hunting to seize your FUEL… and your flesh! Only a madman can do it! Are you mad enough?
BE MAD OR BE DEAD!
FEATURES:
Survive the longest you can against SPIKED BUGGIES, ARMORED FLAME-THROWERS, TANK-CARS, WAR RIGS and much more!
Use high lines, ramps and hills to challenge your enemies with evasive acrobatic jumps
Master dozens of vehicles to enjoy a completely different driving experience
Unlock loads of offensive and defensive gear to enhance your vehicle
Find your perfect vehicle+gear balance
Challenge yourself by smashing enemies without the support of your gear (Fury Roads Survivor ""Smashy Mode"" included!)
Explore a gorgeous isometric 3D "voxel" world!
Please leave a review on the App Store if you like the game!
We use all feedback to keep our games engaging and innovative.
Thank you for playing!
Fury Roads Survivor user reviews :
This game is good for sure, its challenging and also I like that you get a gun aswell and not just running away from the enforcement, also there are decent amount of vehicles that you can get. Just hope that the view is enhanced so you can see what is in front of you while you're speeding through the road it is a let down , a bit of one but that's it just needs a better view or slow everything down somewhat.
Great little game that is great for passing time or just generally to have fun. I've actually had this game downloaded for a couple of years now, but what holds this game back from 5/5 is that some of the mysterious items have to be unlocked first before being able to spin the wheel. Because there is no sure way to know how to unlock the mysterious items, it can seem a bit frustrating when you accumulate mountains of oil but are unable to spin to get a new item. Otherwise, this game is great.
It's got potential. I like the simplicity. There needs to be a switch button for forward And reverse minimum. A simple brake Button would be nice. Speed is a little fast for some strategies. Defensive Shooting seems happen radomly. Paid upgrade options work out expensive, because results are not predictable. I bought 1 car which was too fast to be really useful. I would buy slow and tank like if I could choose again. I really like the theme. I was looking for an clone of the original skid storm
This is my second time playing this and I love it. But I have a complain about the reverse gear. When I reverse my car, it goes on for a long time like that, sometimes resulting in me getting wasted/busted. Please remove that extra reverse drive and allow us to take our car in reverse only as far as we want. Also, I wanted to suggest a racing and elimination (kill targets) game modes. The new checkpoint game mode and new maps are great!
the current game is very fun, however It would be so much better if you where to to add a co op mode (via WiFi, Bluetooth etc) where one player might shoot and the other drives. This mode could be a different game if you wanted to make it it's own as it would be more fun that way. So yeah, it would be greatly appreciated if you where to add a feature reminiscent of this. also I believe that adding car customisation or open world mission based co op gameplay would be incredible.
It's a great game, it a good entertaining game when your killing time or waiting on something but there is a few bugs that needs to be fix. I have two vehicles and four mods to unlock but I cant get them because the "100" Button doesn't work even though I have over a hundred oil but overall it's a fantastic game, just needs to be fixed
Awesome games it is possible for you to add a city map
Everything is good but the controls is ok
I love games like this
Cool and awesome game. While playing, today, this glitch happened, wherein the gift vehicle gets destroyed, and when the game is over, it releases a barrage of oils. Because of this glitch I got 1000+ oils. And also I'm freakin' excited because I can't wait to try the nuclear winter map. XD
Contact developer :
Video :
Download Fury Roads Survivor from Play Store
Leave your feedback regarding Fury Roads Survivor
Get more android apps/games/updates
Subscribe to our mailing list and get new android apps / games and updates to your email inbox.
Thank you for subscribing.
Something went wrong.