[Game] GWEN – The Witcher Card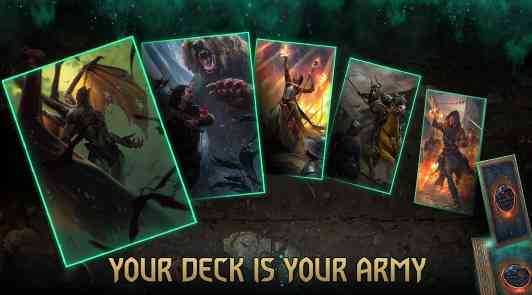 Join in The Witcher universe's favorite card game — available for free!
Blending the CCG and TCG genres, GWENT sees you clash in fast-paced online PvP duels that combine bluffing, on-the-fly decision making and careful deck construction. Collect and command Geralt, Yennefer and other iconic Witcher-world heroes. Grow your collectible arsenal with spells and special abilities that dramatically turn the tide of battle. Use deception and clever tricks in your strategy to win the fight in classic, seasonal and Arena modes. Play GWENT: The Witcher Card Game for free now!
FREE TO PLAY THAT'S WORTH YOUR TIME — A fair and fun progression system turns the effort of building a competitive collection of cards into pure pleasure — simply collect new cards to build decks with as you play GWENT; no strings attached.
STUNNING, ALL ACROSS THE BOARD — Beautiful, hand-drawn art and mesmerizing visual effects breathe life into every card, battle and battlefield, making GWENT fun to play and every duel a joy to watch.
SKILL BEATS LUCK — Crush the enemy with brute strength or outsmart them with clever tricks — no matter your deck, GWENT's unique round-based gameplay opens up a world of strategic possibilities to play with when fighting for victory.
MORE THAN ONE WAY TO PLAY — Whether it's a quick online game against a friend, a highly competitive PvP challenge, or something new and wildly adventurous like the Arena, GWENT's selection of game modes has got you covered.
EASILY SATISFYING, ANYTHING BUT EASY — Sling cards from your deck across two tactically distinct rows — melee and ranged. Gather more points in the duel against your opponent to win a round. Win two out of three rounds to win the battle. It won't be easy, but no one said it should be.
NO HOLDING BACK, NO HOLDING HANDS — You start with 10 cards from your deck in hand, able to play each card right from the start. It's up to you to open the game with your strongest unit, or save the best for later in the fight. How will your deck look and what will your strategy be?
Also see our
GWEN user reviews :
You you love the Witcher universe, this is the best card game out there. It has the best animations and visual aesthetics too at least for my taste. I really appreciate and respect the fact that they put the name of the artist next to each card. Way to go CD Project Red!
Really good transition from the PC to mobile. It's as good as ever. The onlt issue I have us that it's sometimes hard to srlect and play the correct card. Especially since when you choose a card in your hand, its description covers up all other card so it's impossible to take another look at all you cards. Aside from that, really good game. Probably gonna be playing it for the forseeable future.
I love this game. The artwork is beautiful, the gameplay is strategic and not luck based. It's free-to-play and the in game resources are very generous, you will have at least one top tier deck within 2 weeks of playing. The developers support the game with regular events, updates and balance patches. The community is also very helpful towards new players (there is a Reddit page to ask questions etc) If you're a fan of The Witcher books/games/Netflix show you'll love this game.
This game is the Bee's Knee's. Great game great graphics. Little different from the original, but you can quickly pick it up. There are a ton of different things to do Oh my God for Days I tell you. Only thing I think that may end up holding it back is the damn Pay to Play. I would of gladly bought the game. Let's just hope you can be somebody on this game without having to fork over big bucks. Again charge for the game and make it a even playing field.
Loving it! Obviously it couldn't be like the in-game on witcher for pvp. But strategically defeating an opponent is satisfying. The only change I would like is the ability to view your cards during the opponents turn (make it easier to plan, & speed up the game play) and I have an occasional issue where it won't let me end my turn unless I exhausted all my buffs (slightly irritating but not the end of the world). All in all I've been waiting for the release for quite some time… its Awesome!
Latest Update :
Update 10.5 brings a bunch of changes and adjustments, with the highlights being on Neutral reworks, Deathwish Monsters and a new 'Timer' Keyword!
Contact developer :
Video :
Leave your feedback regarding GWEN
Get more android apps/games/updates
Subscribe to our mailing list and get new android apps / games and updates to your email inbox.
Thank you for subscribing.
Something went wrong.