[Game] Haypi Monster 3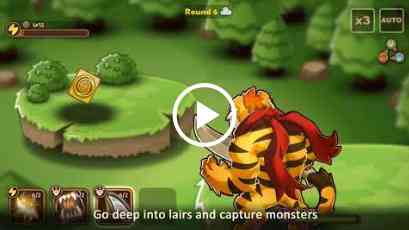 The story takes place on a beautiful and mysterious land, where lives a variety of bizarre monsters.
Each trainer has a dream in his mind — to get his fondest monsters in search of this land and fight with them.
Features of the game
Explore this vast and mysterious mainland
It's worthwhile to search everywhere on this vast expanse of land. Defeat the annoying monsters and BOSSES that block your way; Help troubled inhabitants solve their problems in exchange for rich rewards; Bargain with vendors to buy rare goods. Moreover, lairs with haunting creeps, formidable force and ancient treasury in the desert ruins… They are all waiting for you.
Utilize the restraint relationship to build various teams
The nine type monsters, with different skills and talents, reinforce and neutralize each other. Based on their restraint relationship, you can create a variety of teams — Weather Group, Double Blade, Control Center… There're only teams that you cannot image, yet no teams that you cannot build!
Train strongest monsters through various ways
Upgrade brings higher level; Star-up increases stats growth; Awaken unlocks new skills. Also, skill upgrade, talent activation, personality cultivation… Training though various ways helps you get more and stronger monsters.
Dominate the glorious ancient battlefield
Settle in this ancient battlefield with your dreaming monsters and fight with them in this place filled with treasures and dangers. Here, you may encounter close friends but also dreadful enemies. Who shall laugh last?
Delicate and powerful training base
Bring the rare recipes gained through the adventures to the Blacksmith. Craftsmen there will prepare necessities for your next journey. Collect magic books scattered throughout the land. Learners in the holy Shrine will study the sealed magic to make you more powerful. Every time you come back to the base, it is for the purpose of travelling farther.
Are you ready to fight for your chance to become the best monster trainers? Download Haypi Monster 3 and start your adventure now!
You may also like
Haypi Monster 3 user reviews :
The game has changed so drastically it's insane. I remember when it used to be just "Haypi Monster" no 3 added to it, no changes to the overall game,etc. I had stopped around late 2017 or so since I was around for it back in 2016 when it was a total different game. I came back around 2018 to play it to have it not only make me lose all of my monsters/progress but the game overall changed..miss the old haypi monster, I'm still willing to give this one a shot tho.
This game is awesome but please make something to beat ghost type monster Some times you need to get lots of power to battle
This game has brought me a delightful experience so far, surprisingly no bug's, except the ones you have to kill in da game to level  . Not once have I felt pressured to buy, or derailed by ads that hindered my progress in any way. Prices in cash shop are affordable, more importantly they are optional.
Love the game and all the previous ones. After the most recent update my game won't go further than the loading screen. Please fix this.
Haypi Inc

Please update to version 2.0.26
Cannot play it because it said that my network is not stable…I played another games, dont have any issues regarding network. Please fix it
Haypi Inc

Sorry for the bad game experience. The fixed version is coming soon, please be patient.
I've been play haypi monsters since the first one came out and I absolutely love this franchise. It's fun and entertaining with a lot of unique stuff.100% recommend downloading.
This is a really good game with lots to do. My only issue with the came and the reason I did not give it a 5☆ is some things are not clear on how to do and there is no type of information on how to do them. All in all I would definitely recommend this game.
Very entertaining and addicting, it is my favorite pass time playing this game and I love it a lot. Wish it didnt take so long to regain energy!
Awesome and amazing but tye bad factor is the stamina system, but over it is fantastic!!
Fun game. Takes best elements of other games and it works together for once.
I love this game I have so much fun playing it the only thing I miss is a more open world chat… I'm going to try the Discord Channel
Latest Update :
Fixed the bug that caused configuration update crashing
Other bug fixes and performance improvements
Contact developer :
Video :
Download Haypi Monster 3 from Play Store
Leave your feedback regarding Haypi Monster 3
Get more android apps/games/updates
Subscribe to our mailing list and get new android apps / games and updates to your email inbox.
Thank you for subscribing.
Something went wrong.