[Game] Heretic Gods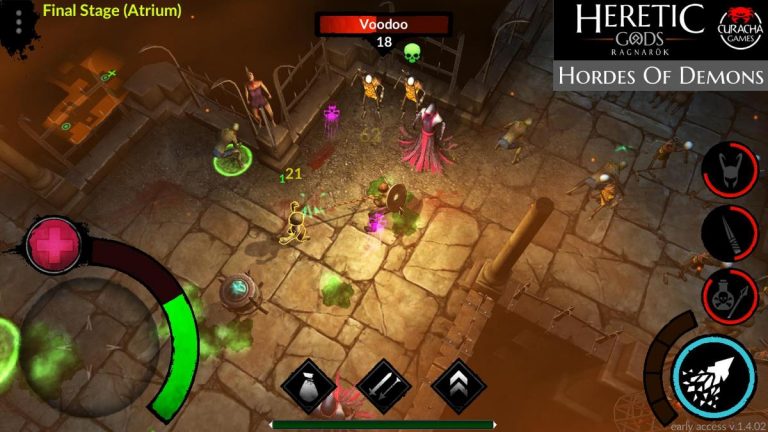 You are looking for a "Action Role Playing Game" ?
Well, Heretic Gods is simply the best game for Android if you are ravenous for Epic Loot, mastering skills and to butcher through hordes of monsters in dark dungeons.
Heretic Gods is an ARPG in which players can enter a dark world, full of dungeons and monsters, set in the land of the Viking Myths. Your objective will be to enter the depths of a cursed abbey to banish the heretical gods.
The control system of Heretic Gods is intuitive and is very well adapted to tactile devices. With the virtual crossbar on the left of the screen you can move your character, while with the buttons on the right you can attack and use skills. With just pressing the attack buttons, your hero will automatically target the nearest enemy.
The dungeons of Heretic Gods are generated randomly, so you will never play twice in the same scenario. That said, many levels are very similar to each other, with different variations in architecture and especially in the variation of enemies. The more levels you raise, the deeper you dive into new dungeons with stronger enemies to fight.
A very important aspect of Heretic Gods is the loot. You can find and equip hundreds and hundreds of different objects, including axes, helmets, gloves, boots, armor, shields, bows, swords, rings, and so on. In the village, in addition, we can trade with its inhabitants or even craft your own items.
Heretic Gods manages to successfully adapt the formula of popular roleplaying games to tactile devices. For this, it not only offers an accessible control system, but also some levels with a relatively short duration, which we can finish in a few minutes perfectly styled for mobile gaming.
random generated dungeons
shape up different character-builds out of 48+ skills
adjustable graphic settings for best performance even on old hardware
innovative auto targeting system
optional auto fight system
infinite random generated magic items
hundreds of unique items and set items
fully playable for free
3 difficulties
ongoing updates for even more game-content
HereticGods grants full playability now and will be upgraded through updates.
future updates will include more:
unique items
set items
enemies
boss enemies
quests
skills
game environments
Heretic Gods user reviews :
For a mobile game, it's actually amazing…such a clean UI, there's no huge SHOP button in the game! Plenty of customization, and yeah the level cap thing sucks a lot, but if you check the shop you'll see reasonable prices! Like 5 bucks for VIP with gives you access to everything. In other games 5 bucks doesn't even get you one silly thing, LOL. So as a conclusion, not the best F2P model, but workable, and as a paid game, really cheap!
Interesting game, but definitely bare bones. The gameplay is really good, there are just a couple of bugs. The attacks are overpowered for the enemies on each level, so the game is a little too easy and repetitive. The attack animations are a bit off. When picking up loot there should be an indicator for just basic loot, and not all of it disappears when you pick it up. There should be more of a story and missions to incentivize playing, oryou could just turn on auto and have it beat the game.
Similar concept to Diablo 2, to the point of ripping it off. I like the idea of runewords but most of them aren't worth it compared to sets and uniques. The crafting is confusing, even after watching some Youtube videos. VIP is too expensive because you still need to pay for extra stash pages. Some monsters and auras are OP and need some balance. Overall it's fun. I like the skill tree and the variety of builds. I actually prefer the gameplay to Anima. A cool story would make this game great.
Tried this game after playing Anima while waiting for Diablo Immortal and do not like the auto battle and after reading previous reviews and no response from developers, I would recommend leaving this game alone, especially if peaple are having progress wiped clean with no explanation what so ever. A Diablo wanna be.
The graphics are classic, very nostalgic and simple. I'm actually very very surprised it includes Greek language aswell, and as I see from the screenshots, not a lot of people are Greek people who play this game xD
Playing a 44 ranger with ~770 damage. Can you guys please nerf the reflect damage by around 25%. I constantly one shot myself because that aura activates and the arrow is mid air. Freaking annoying… Is lifeleech working correctly? If I have 10% lifeleech does that mean that if I do 1000 damage I get back 100 health? Because it surely does not work that way. Thanks for the backpack upgrade. Really needed it.
Some story line will improve gaming experience. But all in all i like this game. Keep up the updates. Every single update makes this game more and more interesting. Keep it up i like this game
Curacha Games

Please UPDATE to the NEW VERSION + spanish, + russian, + italian, + german, + french) NEW Play through all difficulties with same character New Monsters, Items, Sets Game is early access so expect much more with future updates Have fun playing! Forum: curacha.at/forum/ Discord: discord.gg/yz9kMdJ
This is my second review and this game is one of the best you guys have improved the game so much since the first day GOOD JOB!! I would recommend this to everyone I know! Also is there a list of the recipes I would love to see the work on the runes and gems you have done. Only suggestion add mercenary hires
Curacha Games

Thank you for the feedback and UPDATE to NEW VERSION 1.07.67 with RUNES Join our Discord for latest news and tutorials. Game is early access so expect much more with future updates Have fun playing! Discord: discord.gg/yz9kMdJ (Tutorials, Help, Chat)
Contact developer :
Video :
Leave your feedback regarding Heretic Gods
Get more android apps/games/updates
Subscribe to our mailing list and get new android apps / games and updates to your email inbox.
Thank you for subscribing.
Something went wrong.