[Game] Hero Defense King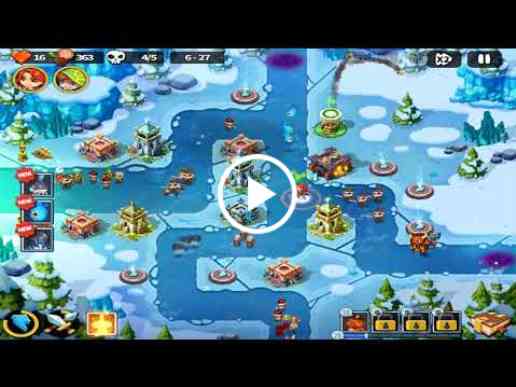 Use various towers to defeat the invading monsters!
Upgrade your heroes and join them in the battle!
It's the hottest tower defense game app! Play the Hero Defense King for free!
Game instruction
Over 24 different types of defense towers!
Various maps laid out over forest, volcano, ice, desert, and fantasy world!
Monsters that are unique to each region!
Defense tower's effective range, attack, cost, and speed can be custom upgraded!
Level-up a hero and use it as the battlefield commander!
Level-up a knight and use it as the reinforcement!
Magical skills and hero skills with awesome powers!
Want to play faster? Use the 3x fast forward feature!
Hero Defense King can be played anywhere, even without the Internet connection!
Supports 8 languages!
Supports tablet devices!
Update Period
Endless Mode for each Chapter. Challenge to be the world's best!
Offense system with card collection and card summon feature!
Play the cleared stage again and again with the Infinite Mode!
Achievement Quests with various rewards!
New items added!
New languages added!
Homepage:
play.google.com/store/apps/dev?id=4864673505117639552
Facebook:
www.facebook.com/mobirixplayen
YouTube :
www.youtube.com/user/mobirix1
You may also like
Hero Defense King user reviews :
Just found out that on infinite mode theirs no weapons just heroes. I played this before & was able to use weapons on infinite mode so I don't know why the developer change it. It's a good game but it can be great if they fix the problem.
This game is funny and graphic designer aslo good. Moreover, tower look good as there are two types of choice for Def. Good luck have fun with this game ,guys.
I tried this game on a fluke I really enjoy the strategy. I especially like it's free
Unable to get achievement rewards of levels, clicking or doesn't give rewards
I can't win stage 10 with three stars. I used every strategy but i did not win. Everything is weak and upgrates are very expensive. however everything cost real money and it's expensive for this game. I don't like this game
I'm really liking the game so far. Just a couple hours into it. I have played many TD games so I do have some perspective. Pretty decent graphics perhaps not as polished as the Kingdom Rush games but superior to others I've played. This game seems to have at least one feature I haven't seen before, turning the dead baddies against the living ones. Cool idea for sure. Hope everyone likes it as much as I have. Peace.
Great game. I love it. I wish the troops would level up on their own when fighting a battle. Buying heroes in special sales doesnt work though.
Fun game now that they fixed ad placement. Wish there was a community or better explanations for the souls and their abilities.
Game is a lot if fun. Have beaten all of the levels and going back to beat them on more difficult settings. I am not able to use the building supplies that I win, nor am I getting the skill acheivements even though I have completed all of them. if this is fixed I would give it 5 stars.
Nice game, but the upgrade system is too UGH, just to upgrade a tower, it needs gems and you can only get 1 per run. This is a tiring game, and the IAP… its seriously another headache. Its offline and I could play but the towers are too weak from the getgo. You need to upgrade them like crazy! Prepared! but it is such a good sport. But the IAP is so crazy. Based on my calculations, the IAP is just in the way, it makes this game P2W.
It's not a bad game. But it pretty quickly devolves into a Pay to Win game unless you want to REALLY grind. Even watching ads don't do much as the rewards for doing so are virtually nothing compared to what you need to upgrade. It's a shame the developers are that greedy. They could have made more ad revenue if they weren't trying to force people to pay money, which most people won't do. Especially not with a game that can get pretty annoying when you are trying to invoke the lightning anywhere near a tower, and it instead selects that tower. Can't tell you how many hard levels I lose due to one enemy slipping by when I couldn't kill it with lightning fast enough due to this. This will also happen with positioning your heroes, or using your heroes active ability. And since you are likely to have them near towers, it happens a lot.
Already upgrade hero n paratroop…after quit…it going level 1 back when online…n no gold refund…sucks game
mobirix

Dear user, this is Mobirix. We apologize for any inconvenience you may have experienced while playing this game. If you have a shortage while using the game, please provide details. We will review your comments and do our best to make further improvements. Thank you.
I like it so far.
I never wrote any review about any game. But this game is way too gooood
Loads of fun. A great, new TD game to add to my list.
mobirix

Dear user, this is Mobirix. Thank you for your valuable review. We will always try to provide fresh and fun entertainment. Thank you.
Latest Update :
Fix game issues
Contact developer :
Video :
Download Hero Defense King from Play Store
Leave your feedback regarding Hero Defense King
Get more android apps/games/updates
Subscribe to our mailing list and get new android apps / games and updates to your email inbox.
Thank you for subscribing.
Something went wrong.