[Game] Hidden City – Mystery of Shadows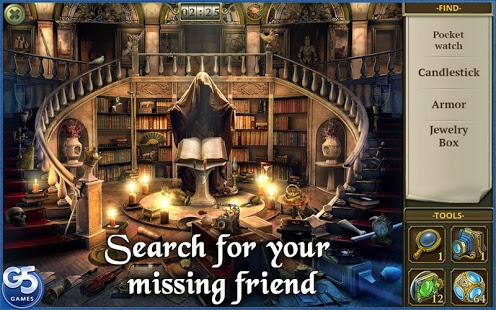 Hidden City : FROM THE COMPANY THAT BROUGHT YOU THE SECRET SOCIETY® COMES A NEW HIDDEN OBJECT GAME!
Get ready for a journey unlike any other!
Mirages of an unknown city have been seen around the world.
Is it real … or a hoax? While your detective agency is busy gathering information, your friend is dragged into the phantom city by black smoke.
The only one who can save him, you must now enter the strangest place you've ever been … where magic, witchcraft and science work together, imagination turns real and weird creatures wander the streets.
All around there are people and things gaining unusual abilities and a black smoke that seems to be alive, bringing with it enigmatic artifacts, secrets and dangers.
In order to rescue your friend and solve these unexplained phenomena, you will need to fulfill risky quests, explore dungeons, research amulets and get help from friends.
Unravel the many mysteries of Shadow City as you fight monsters, confront a cult and rid the city of a horrible evil!
YOU CAN UNLOCK ADDITIONAL BONUSES VIA IN-APP PURCHASE FROM WITHIN THE GAME!
26 eerie locations to search
Over 1900 quests to complete
277 collections to piece together
21 distinctive characters to meet
14 monsters to battle in mini-games
Play with your friends to fight the evil together!
Regular free updates with loads of new content
Google Play game services support
COMPATIBILITY NOTES:
Note – This game supports high-end smartphones and tablets such as Nexus 7 and Nexus 10.
VISIT US: www.g5e.com
WATCH US:www.youtube.com/g5enter
FIND US: www.facebook.com/g5games
FOLLOW US: www.twitter.com/g5games
GAME FAQS: g5entertainment.zendesk.com/entries/35621491-Hidden-City-Mystery-of-Shadows
G5 End User License Supplemental Terms: www.g5e.com/G5_End_User_License_Supplemental_Terms
Hidden City user reviews :
I really like this game but there are 2 things that really bug me. 1. I HATE the revolving rows on the Gemstone Vault! It is literally a pain in the behind and NO FUN! Please don't use it again. 2. Sometimes the articles I am looking for LITERALLY NOT VISIBLE on the board even when you zoom the screen as big as you can. Can you fix this? I am not asking that they jump right at you but to at least be able to see part of it so you can find it please. Thanks
G5 Entertainment

Hi, thank you for sharing your opinion. We are always collecting user feedback that we can apply with updates. Thank you so much for playing Hidden City!
This game is great, I love it and I've been playing it a while but recently It has been taking me to a black screen whenever I try to click on a goal or somewhere on the map. And it will also boot me back to my phone homescreen. I just recently went through all the upgraded in the game and then it does that. Please fix this. Because of this, it's unplayable and sadly I may have to uninstall if it doesn't work properly. Thank you.
G5 Entertainment

Hello, sorry for the problem! Please get in touch with Support Team at support@g5e.com and include your details: Player Login, device model, firmware and IDFA number. This information will help us resolve the issue.
Extremely entertaining! I didn't really read through the description when I downloaded it, so I thought it was just a typical G5 HO game. Needless to say, I was pleasantly surprised that it was much more, and very fun!
My favorite game at the moment! I've been playing this game forever and am super excited it finally updated a number of weeks ago. I am disappointed it doesn't sync from my iPad to my android phone. Many other developers have figured it out. Also, the two most annoying things in this game is if you have G5 friends that play other games and try to delete them from games they are not actively playing you delete them from EVERY G5 game. The second bummer is the expedition mini game. It sucks big time. Get rid of it G5!!!!
Very enjoyable. Excellent music and graphics. Objects are rather easy but since this is early in the game that may change. If difficulty of HO's changes then will consider a 5. Think it is unfair to request an evaluation so early in the game. Story line keeps your interest.
Latest Update :
NEW HIDDEN OBJECT SCENE – Someone in a monster costume attacks Mr. Black on the day of the Triumph Day masquerade. In South Fort the clever thief has stolen the key to his secret file cabinet! Can you track down the culprit before they gain access to his valuable information?
MYSTERY OF MASKS – Complete 35 quests to earn the Faces of the Holiday amulet and more.
MINI EVENTS – Enjoy short events with prizes.
MORE QUESTS & COLLECTIONS – Tackle 18 quests and three collections.
Contact developer :
Video :
Download Hidden City from Play Store
Leave your feedback regarding Hidden City
Get more android apps/games/updates
Subscribe to our mailing list and get new android apps / games and updates to your email inbox.
Thank you for subscribing.
Something went wrong.