[Game] Idle Huntress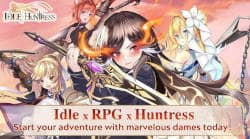 Idle x RPG x Huntress
Dive into the dragon realm and start your huntress adventure!
Idle Huntress is an online JRPG mobile game that allows you to collect, enhance and socialize with your huntresses to unlock their unique stories. Create your own legend now and conquer the dragon realm today!
Game Features
Unite with adorable huntresses
Collect and recruit over 100 fascinating characters, who are reincarnated as huntresses in this isekai world, and they are waiting your visit to lead them fight against evil forces. Interact and forge special bonds with beautiful huntresses, and find out secrets behind them!
Breathtaking graphic design and world-class voice-over talents
Designed by talented artists and voice actors, gorgeous characters are brought to life in this world. With three forms of live 2D appearance, you will discover an unprecedented gaming experience here.
Light tactic gameplay with idle feature
Too busy to log into the game? Have no time to train your huntresses? Feel free to idle anytime and anywhere! The hands-free feature allows rewards such as gems, coins, EXP and other resources to be auto collected when you are away from the game. Upgrade your characters easily and strategize your formation wisely to prepare for an epic battle. Enter the Arena and challenge other players! Don't forget to adjust the formation to maximize the element balancing and damage output!
Fair gaming system
There are six forms of elements in the dragon realm: earth, water, fire, air, light and dark. Each character has a special bond with one of the elements and there are no useless huntresses, your strength and chances of victory strongly depends on how your battlefield formation is strategized! High summoning SSR rate, completion of main stories and special quests will unlock many more valuable huntresses and treasures for you!
Other in-game features
Create a Guild with your friends and challenge Guild Boss's together! Start your own Summoner Guild and work together to take down Titans and Gods. Challenge your allies to a 1-on-1 battle in the Arena. Go through levels in the Queen's Tower and explore in the Lost Court for new challenges. Joining the guild can also swim with other friends in the continent of Tara. Come and embark on a dragon hunting journey with the lovely huntresses! You will enjoy great features such as idle mode, fighting system, adventure tasks, and huntress collecting, training and awakening. Explore unique continents as they are seamlessly joined in a role-playing game storyline! Choose and enhance champions now!
You may also like
Idle Huntress user reviews :
Played a couple times a day since launch. Level wall curve at 60 for SSR is real. All F2P currently to see if it's worth spending any money going forward to enhance the gameplay, and currently, I don't think it's worth it. You'd have to spend hundreds of dollars, and ratio of benefit/$ is EXTREMELY low. The price you have to pay via time or your dollars is far too high compared to other games. The game is too greedy. Play F2P for the art, but save your dollars. Had potential, but fell short.
Heavy pay to win features in this one. You get next to nothing for 12 hours of idle rewards, but you can't progress through stages without more resources from being idle, so you'll be stuck waiting for days to make even a little progress. Summon currency is very limited. The tower needs adjustment as lower CP teams will obliterate your higher CP team. If you spend money, you obviously won't have these issues. The art is excellent, though, so I guess they need to pay their artists somehow…
BluStar Games Limited

Thank you for your comments. We have already recorded it. We have taken your suggestion and forwarded it to our development team for future consideration. If you have any further enquiries or suggestions, do not hesitate to contact with our in-game support, we will assist you as soon as possible.
I'm a real big fan of idle games, so I always check out any new ones when they pop up on the play store. Love this game so far. It's easy to use, and I like idle games for killing time. You don't have to invest hours upon hours to move forward and if you run out of anything, just come back later after the idle runs it's course and you can collect everything easily
Only been playing for 5 minutes, so far, Solid. They start off with a simple quick tutorial that gives a basic grasp of the game, An option for a more diverse tutorial for new players to the genre may be useful. They're very generous with summons early on, which gives players plenty of choices to choose their lineups and experiment from R-SSR quality. However, small things like pie charts to show hero stats could help put this game on the next level. I give this a 3.5/5 so far!
Contact developer :
Download Idle Huntress from Play Store
Leave your feedback regarding Idle Huntress
Get more android apps/games/updates
Subscribe to our mailing list and get new android apps / games and updates to your email inbox.
Thank you for subscribing.
Something went wrong.