[Game] Idle Immortal – Train Asia Myth Beast
 free android apps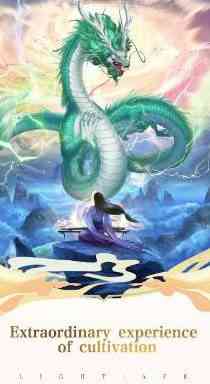 Story Background
Five hundred years ago, sky fire came and the monsters were rampant. People are hard to survive. Nuwa refined the monster to mond sky and got help from Donghuang Taiyi. Finally Nvwa is succeeded in mending sky. After that, both of them are disappeared.
It turned out that the body of Donghuang Taiyi was destroyed in the battle of mending sky, and his soul was extremely destoried. Five hundred years later, he was reincarnated as student in Myth Beast School. For waking Nvwa up, he need to tain myth beast to gain cultivation and restart the Nvwa Summoning Temple. In the process of gain cultivation, the memory of mend sky war in five hundred years ago also gradually recovered. You found that the world is falling into a new crisis…
Game Feature
In the game, you will play role as a student in Myth Beast School and gain cultivation from training myth beast. You are the reincarnated of Donghuang Taiyi and will help to awake Nuwa up. Daji who is nine tailed fox is helping you with training myth beast. Idle Game
This is an idle game which using less time online gamplay with explosive numerical game experience. You can get extraordinary cultivation when you are offline.
Train Myth Beast
You can collect ten greatest myth beasts and train them in our game.Also your myth beast team will be growed up and evoluted. You will gain more cultivation from them. Rebuild Temple
When you reach the certain cultivation, you can fight in the League of Gods. Collecting Nvwa stones and rebuild the Nvwa Temple.
Saving World
After the completion of the reconstruction of the Nvwa Temple, Nvwa will be awakened and help you further improve your cultivation. You will also become the god of the prehistoric times step by step!
Idle Immortal user reviews :
Bad translation and buggy ads. That's pretty much all the negatives I can find. It starts as a classic tiered upgrade idle game, but slowly unlocks more ways to interact with the game as you get stronger. The pacing is great and the art looks wonderful. You can tell a lot of thought has been put into the upgrades and balancing. It's not particularly long nor short but overall a fun thing to check on every few hours and click around. Do recommend for idle fans.
Was enjoying this game for the longest time. I also have a lot of patience normally, but it feels like a couple of weeks ago everything slowed down. It takes forever to get any energy to upgrade my beasts 1 level, the game won't let me awaken anymore, and enhancing is now rarely possible since again it takes so much energy. If an upgrade doesn't fix this I will have to delete this game
Reached the end? Not sure but I can't enhance my beasts, the enhancement page is empty and says "all used up", the awaken function also stopped working, no count down. Still getting missions for it but can't complete them. Wish there was some kind of chat or guild system. Also would be nice to get the last 5 demonized bosses.
MUJOY PTE. LTD

Seems like you've already reached the end of the current version. The new version is under preparation now. Also thanks for your suggestion, we'll consider that.
Fun game, but would be better if gender were possible to select. Currently it's Male even if you choose a female avatar. And more things to do would make it more fun too.
Fun game but awaken glitches every time you watch a video or pay to speed it up and takes 24 hours to reset
MUJOY PTE. LTD.

Please contact us through the support email [kfssll[at]mujoy.sg], record a video to us what happened exactly, we'll help you check.
Before I greatly enjoyed and loved this game, happily giving it 5 Stars. Now I'm nothing but disappointed. I have an issue with the Demonize icons and cannot participate or complete the game goals involving them. I reported it and sent a video of it but nothing changed. I didnt mind before since I loved the game but I receive no reply when I try to get back in touch about this problem. I regret spending money, time, love and effort on this game.
Contact developer :
Download Idle Immortal from Play Store
Leave your feedback regarding Idle Immortal
Get more android apps/games/updates
Subscribe to our mailing list and get new android apps / games and updates to your email inbox.
Thank you for subscribing.
Something went wrong.