[Game] Idle Skilling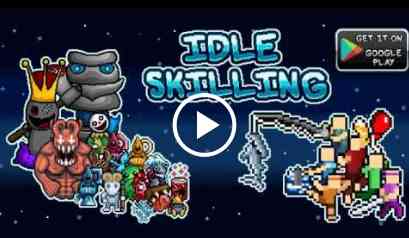 Idle Skilling – Pocket RPG Tycoon
The Game's Reviews don't lie — this game truly has the Most Content of any Idle Game out there! Here's a Summary:
Fight Monsters, go Mining, catch Fish, Craft items, harvest crops, plant trees, make potions, harvest souls, summon rifts, complete quests, unlock 6 perk trees…
…you get the idea! There's a lot to unpack in Idle Skilling!
If you love leveling up, this will be your next favorite Idle game! Level up your Attack, mining, fishing, crafting, and more, while casting spells and upgrading skill trees! Everything levels up in the background — 100% idle gameplay!
Want to be a part of the community? Join the discord, we have over 6000 active members!
discord.gg/YkcmBxb
GAME FEATURES
Idle your way to the top!
The game plays itself, whether you have it open or not!
Offline progress, so you can level up while you sleep!
Upgradeable Characters and Perks
Upgrade 20+ Idle Skilling heroes on your journey to reach Max Stats!
Each hero gives its own unique EXP!
Attack, Strength, Health, Mining, Smithing, and Fishing!
A diverse skill tree with 30 unique perks to spend your Skill Points on!
Battle Monsters
Fight 300+ Monsters for huge amounts of Gold and Loot Drops!
Cast 10 different Spells, from Meteors to Poison Clouds!
Collect Resources
Mine 16 different Ores and Gems!
Catch 30 different fish, from small minnows to legendary sea serpents!
Craft Items with Smithing Skill
Forge 60+ unique Items and trinkets to help you in battle!
Each Item can be upgraded over 100 times!
Create awesome Food Recipes to use in Battle!
Epic Raid Fights
Fight 12 fearsome Raid bosses in the Raid Theater! They're extra challenging!
Earn Awards from Raid bosses, to spend on cool upgrades!
New Game+
Reset your game to earn Relic Bonuses! These last forever, and change up the game!
And other cool stuff that didn't fit in the above criteria
Complete quests in secret areas! These areas are very tricky to find!
A Halloween event shop that will update with each coming season!
Tons of future updates from a developer who cares about his game <3
There are also SECRET hidden areas to uncover, but only the smartest players will figure out how to access them! In these areas you can talk to NPCs and fulfill their quests, earning you amazing bonuses that are otherwise not possible to get!
This game was made by a developer who really put his all into making an enjoyable experience. So if you like the game and want to help make it better, feel free to reach out to me and give me your suggestions! I'd love to hear what you have in mind!
Idle Skilling user reviews :
Idle Skilling is the best idle game I have played, hands down, and that's with a lot of competition. As it is a mobile game I can safely say it is truly pay for convenience, not pay to win as there are numerous ways to earn the premium currency for free. I have put hundreds of hours into it and there is a lot more that I can still do. The developer updates the game frequently and acts on player feedback. I strongly suggest trying Idle Skilling if you are in need of a layered Idle game!
This game a greate veriety of things to do. With each update there has been usefull improvements and newcontent added. I have play a ton of idle games but this one has stuck to me the most and is now one of my favorite games and its free! Also this is not like some other idle games where they have some currency that you have to buy to get. There are many ways the get that form of currency than just money so you dont have to spend a single dollar on the game(Get some for support if you like it).
I almost forgot why I uninstalled this, but I was quickly reminded. Sometimes when you click on the start button or try to switch to a different area, the screen freezes and I can't do anything until my tablet shuts off. I literally can't do anything. Besides that, great game. Edit: Installed and played it a few days ago, so I must've had it installed. Edit 2: It seems to be working better now.
Velvet Void Studios

August 2, 2019

No Kristen, that means you didnt have it installed. The New Update was posted under 24 hours ago. Please give it a try and let me know!
best game I have downloaded so far. always updates and has always been fun to play. new things to do every time you look on a different screen. alot of time and thought has been put into the game and have already got my partner addicted to the game also.
Contact developer :
Video :
Download Idle Skilling from Play Store
Leave your feedback regarding Idle Skilling
Get more android apps/games/updates
Subscribe to our mailing list and get new android apps / games and updates to your email inbox.
Thank you for subscribing.
Something went wrong.