[Game] Infinity Heroes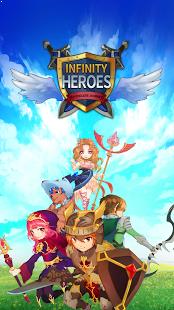 Infinity Heroes : Quick and easy gameplay!
A simple touch a few times to the leveling hero!
8 unique heroes!
Berserker – Stun monsters in one shot!
Knight – Shake the enemy's camp with powerful skill!
Crusader – Protect your heroes with a strong shield!
Thief – Move quickly to the enemy's back and kill them!
Hunter – Kill your enemies with powerful arrows!
Wizard – Weak body, but powerful one!
Shaman – Turn the tide of the battle with Resurrection skill!
Healer – Restore the energy of our wounded heroes!
Set up a party to go on a journey!
Are your heroes strong enough?
Challenge your dungeon! From easy to hell dungeons!
And challenge the Ranker in endless competition PVP!
Automatic play system for people who have no time
If you're busy, turn off the game for a while. Our heroes automatically play the game!
And automatically picks up the equipment and collects the material!
Infinity Heroes user reviews :
First idle game that well balances amount of game features with easy of use. Intuitive and fun
good, loved for weeks till it finally revealed its not infinity i max levelled my outpost was so dissapointed to see the word max i dropped a star, worth playing but its drying up fast when i see the word max. For anyone relieved not to see stamina or capped afk rewards it had a gold system which acts as a game extender stopping you from afking a lot.
The skin "Demon Wings" of Thief doesnt really give much effect because its effect is "Attack x8.0%". The effect is obviously the same as Attack + 8.0% so its a waste of 1000 sky stone. Even a common equipment can give you more than that. Pls adjust it
Simple and clean. Maybe a little TOO simple. Might need a few more classes?
Like endless frontier but much more depth. Really like the entire setup and the devs seem to actually care about feedback.
pretty good I like the battle system but it needs help with a few bugs that make the game freeze
Awesome idle rpg you just check twice daily and still progress no need to keep the app open all the time
this is one of those games where you can play it for 10 minutes everyday and not get bored of it 10/10
very nice idle game..let's you battle while your away…
good game, keep it up with new contents!
Have been playing for few months now. Graphics are nice, controls are smooth and responsive. It's not one of these open the game and let it sit for a day type of idle games. It's a bit more hands on and you need to be present sometimes to progress. There are so many ways to earn premium currency and the devs are very generous with it. The weekend bonus events are amazing and last the entire day. There's a lot to do in the game. You can definitely play and enjoy and be competitive without spending money, but if you love the game, give the devs some love. Overall this is the game that has captured my attention. And kept it for many months and many more to come as all the other games I download in this genre or others last only few days on my phone. The support is super responsive. Submitted a ticket with a problem in the middle of the night and few minutes later I get a compensation!
Great little game! Highly recommended. Use my username: Gallantis for 100 free gems
Really expensive in game items other than that very fun
Really good and generous game! Add Fredrik under setting/reccomanded for 100 gems!
More functions please, Love it anyway
Great game! Use my name Pale for free 100 crystals
Good game, original. Not sure how pvp works, but eh. Type my name in for 100 diamonds! Dauntless
Good game, hope you bring some update.
Good! Developer quick with response! Rated both apps
Contact developer :
Download Infinity Heroes from Play Store
Leave your feedback regarding Infinity Heroes
Get more android apps/games/updates
Subscribe to our mailing list and get new android apps / games and updates to your email inbox.
Thank you for subscribing.
Something went wrong.