[App] JW Library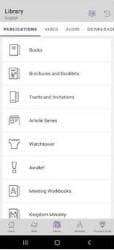 JW Library is an official app produced by Jehovah's Witnesses. It includes multiple Bible translations, as well as books and brochures for Bible study. … Compare all available Bible versions by tapping a verse number. • It includes six Bible translations.
1. The New World Translation of the Holy Scriptures (2013 revision) published by Jehovah's Witnesses. This version contains:
An introduction that answers 20 Bible questions.
An outline of contents at the beginning of each Bible book.
Footnotes and cross references.
An index of Bible words and a glossary of terms.
An appendix that includes maps, charts, and timelines, which help you gain the most from your Bible reading.
2. The New World Translation of the Holy Scriptures—With References (1984 revision)
3. The Kingdom Interlinear Translation of the Greek Scriptures. This Bible contains the Greek text edited by B. F. Westcott and F. J. A. Hort. Between the lines you will find a word-for-word English translation.
4. The Bible in Living English (Steven T. Byington)
5. The American Standard Version
6. The King James Version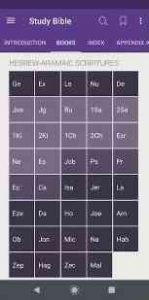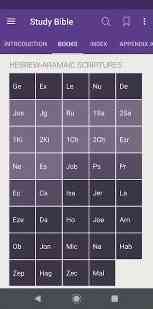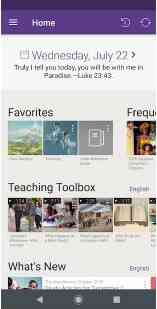 JW Library apk NAVIGATION
Choose a Bible translation, then select a specific Bible book and chapter. While viewing a chapter, you can:
Tap a verse number: Compare all available Bible versions.
Tap a footnote marker or reference letter: View the associated material side by side with the Bible text.
Swipe left: Move to the next chapter.
Swipe right: Move to the previous chapter.
SEARCH
Find words and expressions that appear in the JW Library Bible text, and navigate to them directly. Sort the search results by the order in which they appear in the Bible or by how frequently they are used in publications produced by Jehovah's Witnesses.
COMING SOON
Additional publications: Read and study books, magazines, and brochures published by Jehovah's Witnesses.
© Copyright 2013 Watch Tower Bible and Tract Society of Pennsylvania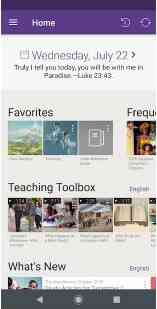 JW Library user reviews :
The best app I've ever used! Just a suggestion. It'll be nice to have a video sorting option of 'Newest to Oldest' in the downloaded section. It'll also be nice for the audio recordings and pictures to work simultaneously. I've noticed that when I pause my playlist and leave the app to use a different app my playlist doesn't continue from where it stopped. I'll have to start afresh. If I could seamlessly start from where I stopped I'll appreciate it. Thanks for your hard work brothers!!
The app is great but there's a few things that need fixed. The dark feature doesn't have a scroll tab like the light feature (tab for fast scrolling). I'm eally looking forward to highlighting in the study pane. Lastly, I've downloaded the songs or videos for study many times to my SD card and they're nowhere to be found. The items would even be downloaded but wouldn't play (that's a bug in there somewhere). Will there ever be a way to get a new device and not have to redownload EVERYTHING?
Recently, media controls don't appear in notifications or the lock screen. So while it still plays in the background, I can't control music/audio recordings when I leave the app or lock my phone. Also, I noticed that the iOS version of the app has the ability to AirPlay videos and audio when playing media. Would it be possible to include a Google Cast feature for the android version? Thanks brothers for your hard work on this app.
Thank you all so much for all your hard work on this app! Since the update before this latest one, if I listen to anything & go off of the app or make my screen go black, it will continue playing, but only for a minute or two, then it stops. It's never done that before. It used to continue playing until I stopped it. It's very frustrating because sometimes I need to turn my screen off or go to another app while listening, but I can't now. I have an Android, Galaxy 23 Ultra. Please help!
Definitely the most useful app on the Play Store. However, I wish I could go into the menu (where I can select the Bible, publications, media, meetings and so on) from any point in the app without having to press the back (<—) button. This is a problem when using gesture navigation on Android.
I am deeply grateful for this app. It has made things more efficient when doing my personal Bible study, attending Christian meetings, and when teaching others about the Bible. I love the search feature when looking for a specific keywords from the Bible or a publication. I also love that I can stream videos instead of downloading them. I hope that the tabs can be seen at the bottom of the screen on Android devices (similar to iOS) layout.
This is my most used app. I use it every day. I appreciate the notes, explanations, and pictures in the Study Bible, as well as the option to add personal notes. I love the ability to share links with others directly from the app and the added feature to start audio from any paragraph or verse. Very helpful & convenient! Thank you!!
Love this app! It makes personal study so easy, especially when on the move or at work. Everything is condensed in to one little tablet some things I would love to see in the future is more highlighting colors, and more bookmarks!!! Especially for the Bible, being limited to 10 has me constantly deleting/replacing when I find a new scripture I want to remember later. More bookmarks would be amazing
This is the Best App Ever! Just as a suggestion for possible future updates, I'd love to see a 'Night Mode', where the background is black and the text is white, so it's easier on the eyes. thank you brothers so much for your hard work on this wonderful tool!
I love it. So much work. It can't be unconsidered. But please could you add the feuture like on IOS, that you can go through the bible, books and home by tapping on the button on the bottom of the screen. Very useful and it's allowing you to read the bible and open books without really closing them. Please consider my feedback. It would really appreciated. But still continue update this wonderful piece of treasure
 Amazing! Thank you for such a wonderful tool that we can use to make us better Bible students. Your hard work is greatly appreciated.
Brilliant All glory, honor, and praise to the only true and living God Jehovah who has provided
Nice Application Cool Application. Its so nice to have all the references in one touch. I am loving it.
Thank you my brothers What a wonderful a addition to have at hand. Words cannot express how helpful this is and how much we appreciate the work and love required to give us this gift
jw library latest Update :

 Fixed several issues with playlists.
Improved stability and performance of editing notes.
Fixed issue where notes created in one Bible no longer displayed in all the other Bibles.
Fixed issue where notes in input fields, e.g. Meeting Workbook, were no longer shared between languages.
Fixed issue where items in a playlist would not play without an Internet connection.
Fixed several issues that were causing the app to crash.
Contact developer :
Download JW Library from Play Store
Leave your feedback regarding JW Library
If you like the content that we provide since 2012, put a smile on our face and give us a like or share this with your friends on any social platform. If you want to support this project, any crypto donation of $0.5, $1, $2, $3 is welcome!
You can find our crypto wallets on https://free-apps-android.com/buy-us-a-coffe/
Sponsored Links