[App] Knewz – Local & World News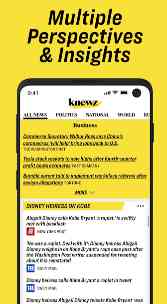 Knewz is a brand new news aggregator app for people seeking unbiased, trusted, true and quality journalism. All Knewz stories are presented to you after the content is critically reviewed and evaluated to make sure it presents a balance of coverage and context.
Our experienced editors deploy cutting edge technology to bring you unbiased coverage on the latest news from hundreds of sources across the US and around the world to give you valuable and neutral insights into what is truly happening. Knewz uses pioneering AI machine learning to gather top headlines, offering premium journalism, impartial reporting, insightful opinion and concise analysis from a wide range of perspectives.
Presented in a simple to use format, Knewz allows you to quickly scan headlines, preview stories and dive deeper into the news. You'll always be aware and remain informed about the most important headlines happening around the world. Our professional editors are committed to providing this balance.
Whether your interests be world news, market news, business or entertainment news, Knewz will send you notifications about breaking news stories: you'll never be out of the loop. Knewz gives you everything you need, all in one place, to stay up to date with breaking news and the most important global stories.
Features:
See the latest news from U.S. national, regional and local sources which offer a range of angles as well as comprehensive and accurate reporting
Quality news, a range of views, left to right, local to global: Knewz offers a range of stories from a pool of more than 300 leading media sources
Provenance matters: you'll see all publisher sources presented alongside the headlines
A large selection of full-story headlines on key topics, accessible with one simple swipe
Knewz does not personalize headlines nor search results. All stories are subject to the judgement of our editors who are scrupulous in their neutrality and fairness
Knewz utilizes machine intelligence to scan stories for political angles, tone, originality and timeliness, offering an engaging and balanced assortment of headlines
Get breaking news alerts and notifications on all the stories shaping the world today
Discover top stories in US news, politics, life, world events, entertainment, crime, business, technology, science, real estate and more. Knewz is a rigorously unbiased search and discovery platform for quality journalism; it's a one stop digital "kiosk" for news.
We bring you trusted reporting, compelling storytelling and insightful opinion and analysis from a wide array of media sources. Knewz scans thousands of news articles to find the top stories. With breaking news alerts and notifications providing the top trending headlines, you can't miss anything important with Knewz – and it's fast and fun.
Receive updates on the latest news across local U.S. and international politics, sport, technology and entertainment. Quick to set up and access, Knewz is a news aggregator app that brings you complete articles with full text, photos and video — all inside the app — from key local and world news sources.
Keep yourself updated with the most popular trending articles and topics of the moment and the latest breaking news notifications.
Knewz offers balanced, trusted, unbiased and quality journalism from a range of sources to present you with everything that's trending and happening now. Our editors use cutting edge AI machine learning technology to scan top news across hundreds of news sources, minute by minute, and collect headlines from many perspectives around every news topic
Download Knewz now and get instant access to a wide spectrum of news and views, from local, niche and national sources, without bent or bias.
www.knewz.com
Knewz user reviews :
Just started using this application… So far everything is okay. Maybe an internal notification when updates are available rather than wait for Google Play to catch up?
Finally. An actual news app. Beautiful organization. Highlighted headline – 4 choice of sources FOR EACH. Text size adjustable. Pick on/off notifications for news type. Permissions location, storage – external. Tabs for All, Tech, National, business, etc. Clean.Clear. WITHOUT constant intrusive ads. The only con- the columns ARE LONG. Drudge- like but organized. Don't see want you want to read? Keep scrolling or search event, person or news. Not for weather forecasts. For a Beta, so far so good!
NCNS Holdings, LLC

Thank you for your feedback. We're happy to hear you're enjoying Knewz! We are in beta so expect to see updates and new features in the near future.
Contact developer :
Leave your feedback regarding Knewz
Get more android apps/games/updates
Subscribe to our mailing list and get new android apps / games and updates to your email inbox.
Thank you for subscribing.
Something went wrong.