[Game] Knights of the Card Table – Dungeon Crawler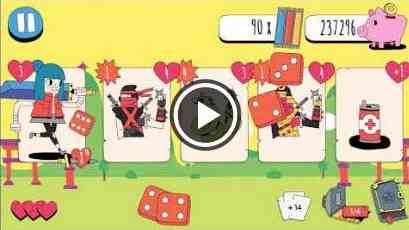 Master over 100 dungeons and 3 worlds in this free dungeon crawler card game that puts YOU in control of the dungeon cards.
Rearrange the dungeon cards to collect loot before rolling dice to slay foes with your nunchucks. Will you chug a power drank before you fight the vampire cat? Or should you cast a spell and sip the power milk? Read the cards carefully to make the right choices. Activate dungeon cards in the right order to build streaks for extra power. Tactics are everything.
Knights of the Card Table – dungeon crawler card game
CONQUER
Dungeon crawl through 3 whacky worlds–Suburbia, the Haunted Forest, and the Deadly Dojo. The mailmen of suburbia are really mad about something, I'm not sure what, but they're throwing envelopes at me and it really hurts! With 1 finger gameplay, this dungeon crawler card game is easy to pick up and hard to master. Activate cards in the right order for powerful streak bonuses, and unleash spells at just the right time to dominate the dungeon.
CRAWL
Descend through the multiple levels of each dungeon to slay tougher challengers. Rearrange the dungeon cards to face foes in the order you choose. Drink health drank to recover HP and power milk for an attack boost. Roll a D4, D6, or D8 based on your weapon to determine your damage. With several types of dungeons including endless dungeons, this dungeon crawler card game will challenge you and provide countless hours of fun.
COLLECT
With a huge collection of whacky weapons, shields, and characters, Knights of the Card Table gives you plenty to achieve, and tons of tactical options. Play as a Sodamancer for an extra punch from potions, then pick up a riot shield and some brass knuckles to slay your foes with style. Also, everything looks so cool you'll want to collect it all.
People always ask us, "Can I carry cool weapons like this in real life?"
No, you cannot.
COWABUNGA
This hilarious card crawl will delight you with its incredible art style, soundtrack, and puntastic dialogue. Chug a gallon of power milk for strong bones before heading into battle. Collect ice pops to buy new goodies and put your gold coins in your piggy bank to save up for a new, ahem, flash saber. This dungeon crawling card game has a captivating style all its own.
Knights of the Card Table user reviews :
Very fun card game! I've enjoyed this very much!
This is such a fun game having some musch fun leveling up
Charming as heck. Great music. Nice progression through weapons, shields, and classes. The first 30 minutes are a little too safe but allows the player to pick up the unique combat system. Gold pickups are too frequent or maybe the equipment is too cheap. Either way, purchasing new equipment never feels as rewarding as it could be if the gold drops and/or equipment prices were changed.
Ponywolf

Thank you very much for your 5-star review!!!
addicting,kinda fun and very interesting. it's got basics in graphics and the makings of a just starting out in graphic design and game engineering and it's pretty good and fun I think the developers have alot of potential. I wouldn't put money into any purchases in this particular type of game but for a free game it's really fun and the developers did a fantastic job. keep up the great work.
Amazing illustrations invoking child-like wonder and fantasy. The DM character kills me when he talks. The game gets significantly more challenging as you progress especially when the slingshot are introduced. One thing that is bothering me is that when I'm playing the daily challenges on Expansion Island, specifically the splash damage Sodamancer challenge, I find that whenever I attack the animation doesn't happen and the game sort of freezes or slows down for a couple of seconds.
Contact developer :
Video :
Download Knights of the Card Table from Play Store
Leave your feedback regarding Knights of the Card Table
Get more android apps/games/updates
Subscribe to our mailing list and get new android apps / games and updates to your email inbox.
Thank you for subscribing.
Something went wrong.