[Game] Legend of Blades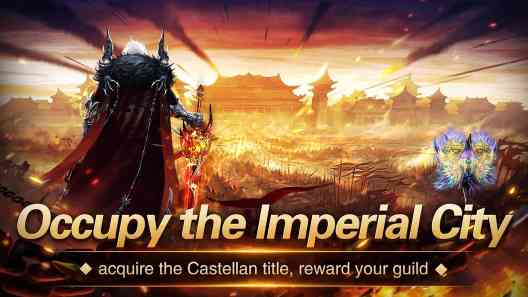 Legend of Blades is an idle Massive Multi-player Online Game.Free your hands with the assist of Auto-Battle Mode, Experience fierce fighting against all kinds of monsters in Dungeons and intense combat against other players in PVP arena.
Free Your Hands
Auto-Battle Mode allows you to free your hands and earn while you rest.Even if you're off-line , Off-line Battle Mode will keep producing a bunch of rewards until you get online to claim them .
Boss Hunts
Venture deep into Dungeons , encounter vicious Bosses, fight them, slay them,and then claim all the hidden treasure inlcuds divine equipments, a huge amount of Golds and secret items.
Evolution System
Collect resource by battling , use them to upgrade your equipments to Divine Equipment ,upgrade your wings and spirit, transform into Celestials in the end .
Multi-Characters
Activate second and third character when your main character reach certain level, double and tripple your power.
PVP Arena
Compete with the other players in PVP arena ,show them how strong you are . Be the champion stands on the top of the arena, all the prizes and glories are yours.
Castle Siege
Assemble your guildmates, siege and conqure the castles. Take over the lands and all the resourse .
Facebook:
www.facebook.com/Legend-of-Blades-Flame-Knight-289500905292906
Also check our list
Legend of Blades user reviews :
I must admit that I was hooked into the game, playing atleast 5 hours a day (min.5 hrs that is!). This was until the loot it obtained, never even appeared in my bag! I had high hopes for this game, so much that I went ahead and even purchased the in game items. Quite a disappoint. I hope to see an update in the near future.
AmusingGame

Hi player.Thank you for your comments. Can you detail your problem? Or you can contact us in our FB fanpage. www.facebook.com/lob.game/ Thank you very much
I lowered my stars given because your game is none responsive and so delayed and why do good games start showing all the bug issues they have soon as we get to a point were we're enjoying the game and im amost lvl 140 and now plus the update did nothing for your game and please take care of these issues, it really makes me wanna quit and search for another similar game!!
I like your game very much but 1.What I do not like is how in chat after sending about 5 messages you have to wait an hour. 2. I've paid enough to get VIP 4 so I can start my guild I think it is BS to make someone pay to start. 3. how can someone with VIP 4 not being able to chat with friends you want to have them pay so they would be VIP 5 so they can talk to friends. I hope you will change this this youit's really the only thing I found so far that I do not like about your game and lower prices
3 starts because I was level 82 and logged out for a few hours and came back to a level 80 character other than that its a great game, decent time killer. Now I worked and got to level 87, logged out for a bit and came back meeting a level 82 character, please fix. Really dont want to uninstall the game due to these problems.
Great game, really. 5 stars, but… The only way you can get good stuff quickly is to play for hours or pay. The graphics aren't that great, it's easy to learn how to play and there is some awesome gameplay, also developers please respond to this cos I started playing, got quite good then went to bed, the next day I went on it and it said 1st time loading in takes a while even though that isn't my first time playing
This game is a good and very progressive for its nature, and you don't have to be VIP. My problem with it is the constant reset of levels on a daily basic and the resets of prestige. Doesn't matter how much you work for it they always manage to lower your level and prestige, I don t get it, is really frustrating. Since last update I haven't being able to log into the game, always gets stuck on log in to the game part and won't load in. I'm on server 29.
highly recommended to others. I've been playing this game for several weeks now (over a month) and I'm hooked on it from day one. I very much recommend this game to anyone looking for a game that will keep you hooked for hours on in and this game very much satisfies my game cravings. haven't been this addicted since I played Taichi Panda and even then I wasn't as addicted to that as I was and still am to this one since day one.
Latest Update :
Improve gaming experience.
Contact developer :
Download Legend of Blades from Play Store
Leave your feedback regarding Legend of Blades
Get more android apps/games/updates
Subscribe to our mailing list and get new android apps / games and updates to your email inbox.
Thank you for subscribing.
Something went wrong.