(Game) Magica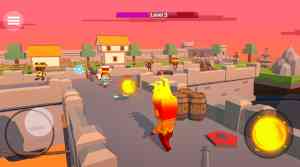 It's time to become a champion!
Magica.io is a mobile Battle Royale game for true leaders! Smash other players on the battle arena and conquer the leaderboard charts!
Fight for survival in great battles, collect epic loot, improve your character's fighting skills! All this and more you can find in the Magica.io battle royale game!
Game features:
Play online & offline
Fight against real players
Enjoy different locations
Tons of new heroes
Choose your weapon from the variety of magic ammo
Different game modes
Complete daily quests
Earn rewards & unique weapons
Magica.io will be your favorite io battle royale game! It's a great combination of outstanding graphics and interesting gameplay. Upgrade your hero, improve your fighting skills to stay as long as possible on the arena and survive! Prevent your enemies' attacks and crush 'em all with your magical abilities!
Ready to become a champion? Tap the install button and enjoy the fantastic battle royale io game! Let's rumble!
You can also play Magica.io offline if you don't have an Internet connection.
COMPANY COMMUNITY:
Facebook: www.facebook.com/AzurGamesOfficial
Instagram: www.instagram.com/azur_games
YouTube: www.youtube.com/AzurInteractiveGames
Magica user reviews :
I don't usually play games for long but this is one of those games I played from start to finish. I have beat a the levels as of today and it took a very long time. If you have trouble, go back and play through old levels and watch ads to get level up characters. Some of the character spells can really make or break your game play.
I really liked this game at first and even payed for no ads, but after the last update it got a little annoying. The bots just chase me and don't shoot. Sometimes when I'm walking my character will freeze and I'll get hit and die. When I watch an ad to respawn, I'll end up in the same spot so I still get hit and die immediately after watching ad.
The game overall is great. Cute, good mechanics, well put-together. The only issue I have is when I paid for the ad-removal and 50,000 Coins, the game never gave it to me (and I still keep needing to watch ads). I'll update rating once this is fixed. Could've been a solid 5-Star game if not for this payment issue.
The game is good but there is far too much ad. I know you earn money by that, but not that much. I am willing to see ad to earn double reward or coins, but not every time when I die and a ad pop up that I can't choose.
Good game. Aiming is a bit difficult but i guess that's part of the game. what REALLY irritates me is the ads. They come between stages and just kill me for no reason! I see the ad i press the x and then boom I'm dead. Didn't even get to play the stage. You guys have to fix this!!
CASUAL AZUR GAMES

Hello there! In the next updates, most of the current bugs should be fixed. Thank you for your patience!
The game is really fun and what not but there isn't a great lot to do after you've done the main levels its just about doing the daily quests, the daily quests always bug out for me so I never get the last key and the leader boards have been severely hacked as it says some people get over 1 million kills per game which is impossible it needs a massive update
It was a good game when i first playing this game, but at the end its boring when you have finish all stage nothing can do you can just repeat the same thing again and again. I hope there is a new feature. Like online mode with friend.
CASUAL AZUR GAMES

Hello there! There's a lot of awesome stuff coming to the game with the next updates: make sure to check it out in the future! We hope one day you'll consider rating Magica.io with more stars
too many ads edit:ads are fine but ads in the middle of the game is not, it always happens to me in the middle of the loading screen entering to stage 3 an ad suddenly pops up and after the ad, I got out of the game and then I have to start to stage 1 again.
CASUAL AZUR GAMES

Hello there! We'll be keeping your remark in mind as we work on the next updates. Currently, the ads help us keep the game free-to-play.
This game is good but I have a problem. Pretty much every time I get to the third stage I get an add and it kicks me out of the stage and resets me on the whole level and I have to do the level again. Overall a good game.
Love the game, but to many adds every time you die there is an add, It will be great if you just take some of the adds away.
Contact developer :
Download Magica from Play Store
Leave your feedback regarding Magica
Get more android apps/games/updates
Subscribe to our mailing list and get new android apps / games and updates to your email inbox.
Thank you for subscribing.
Something went wrong.