[Game] Mass For The Dead
 free apps android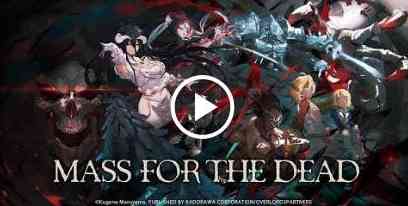 Overlord's first full smartphone game based on the anime has finally arrived!
Play the Completely Original Story just for MASS FOR THE DEAD
The story is based on the idea of Kugane Maruyama.
"Yggdrasil", a popular online game, is unfortunately shutting down and you're unable to logout. Trapped in a defunct MMORPG, ready your team alongside the powerful skeletal ruler, Momonga, and dungeon crawl through this otherworldly dark fantasy RPG.
Game System
Strategize, build, and customize your team in a turn-based battle system, where each action and each turn holds the key to victory or defeat.
Create a 4-member party, wielding skills and ultimate attacks to clear difficult quests.
Battle in live 4-player co-op and work with your allies to defeat powerful enemies.
2x Speed & Auto-Play Mode
Breeze through dungeons with Auto-Play and 2x Speed modes. Collecting loot has never been faster.
Deepen Your Bond Using a Unique Relationship System
Build relationships with the characters who join your party to unlock special voice lines or new scenarios.
Game Theme Song
OxT "MASS FOR THE DEAD"
Featuring Original Voice Overs From the Anime
Satoshi Hino / Yumi Hara / Sumire Uesaka / Emiri Kato / Yumi Uchiyama / Masayuki Kato / Kenta Miyake / Shigeru Chiba / Hiromi Igarashi / Mikako Komatsu / Manami Numakura / Asami Seto / Ayane Sakura / Kei Shindo /Hiroki Tochi / Naomi Kusumi / Sora Amamiya / Koji Ishii / Kiyono Yasuno / Ryota Osaka / Minoru Inaba / Takehito Koyasu / Hiroshi Shirokuma / Aoi Yuki /Koji Yusa / Ami Koshimizu / Kimiko Saito / Yumiri Hanamori / Masaaki Ihara / Shinya Hamazoe / Shizuka Ishigami / Miyu Tomita / Akeno Watanabe / Marika Kono / M・A・O /Kazuyuki Okitsu / Natsuki Hanae / Mutsumi Tamura / Ryota Takeuchi / Junpei Asashina / Tooru Sakurai / Mamoru Miyano (Credits listed in no particular order)
Official Game Site
www.crunchyroll.com/games/massforthedead/index.html
Official Social Media Accounts
Facebook – @OverlordMFTD
Twitter – @OverlordMFTD
Instagram – @OverlordMFTD
Youtube – www.youtube.com/channel/UC6pGDc4bFGD1_36IKv3FnYg
Mass For The Dead user reviews :
Great game, but the amount of gems you can earn is a lil stiff late game and the 10s load times are the down sides.
Great concept! Full download is masive. Seems like a pay to win kind of game (one less star). Summon rates are fair. Seem to find NO significance in paid/unpaid stones for summons. I am a fan of the anime. This brings great aspects in form of user interaction (does not seem to effect game experience however). Better rates and bundles please. Please add a way to secure accounts! More animations/ audio for story? Thank you! (updated: 08.17.20)
The game is really good i liked the artsyle and the 3d models as well as the story and special events that have fan service like the wedding event. My only issue is that you can't login with your google play account to continue from. I had to factory reset my phone and when i tried to log back in the game everything was deleted which is a shame since i have played for 2 – 3 months so i lost my account and don't want to redo everything again but i would recommend if you are overlord fan.
This very much is a pay-to-win gacha (a.k.a. lootbox) game. I started playing it expecting something like that, so I'm okay with it. However, I haven't spent a cent on the game. The various story arcs are pretty good, I enjoy them a lot. The gameplay can get pretty repetitive and boring, but fights with high level enemies can be challenging. I would like to have a better way to return to the "main" screen from the various sub-menus. Tapping Back 7 times with a loading each time really isn't fun.
It's a good game, solid graphics and the gameplay is fun because of the original VAs. The only thing I have to add as something that's bad it's the fact that most of the 4 or 5 star summons are useless or their skills are inferior to that of 3 stars respectively. Of course that's not always the case but the majority of the game it's thus. You need to fix the summoning system, abilities, and drops.
I really enjoyed this game. Its fun and entertaining reading all the interactions. This is not only great for fans but those who are just getting into the anime. The crossover was fun and quirky as to be expected when adding konosuba. The sounds and noises the cast made in this crossover really hit the ball park for me. Id give 10 out 10 due to all the attention given to detail when playing the game
Contact developer :
Video :
Download Mass For The Dead from Play Store
Leave your feedback regarding Mass For The Dead
Get more android apps/games/updates
Subscribe to our mailing list and get new android apps / games and updates to your email inbox.
Thank you for subscribing.
Something went wrong.