[Game] After War – Idle Robot RPG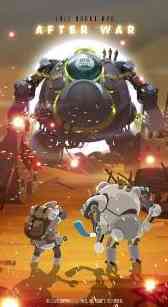 AFK! Battle continues itself, unattended Collecting RPG!
Busy at work? Students? All come in~ Just Leave me Alone!
Battle by itself~ Farming itself~ All you should do is Letting it there, Idle RPG!
First Idle Robot Game, right? Enjoy the Fresh Concept!
Massive Dungeon and Entertainment
Feel the Essence of the Endless Machanic Battles!
Dungeon difficulty modes are more than 20! Eliminate the Endless Monsters!
Swamp of Guwool Dungeon, King's Tunnel Dungeon, Arena (To be updated) and other Unusual Battle contents!
Collect Great Robots and Parts!
Common medieval fantasy RPG is boring! Future-oriented Robot Collecting RPG After War!
Cool and diverse Robots with Various Skills!
Gather and Grow your Favorite Robots!
More Parts, Stronger Robots! It will make the dungeon battle more enjoyable!
STORY
20 years after the World War 4th Nuclear War.
Hopeless', a small trading village in the desert which handles and trades waste iron, used sawtooth and small mutant animals.
On the day of 8th sand strom, unknowingly, the village were attacked by medium-sized mutant animals produced for military use.
Hopeless Village was destroyed….
The only survivor was Boy A, who has learned and grown up his mechanics skills,
noticed that the unknown raid and death of the family are all related to the plot of 'Big Brother'
and begins his journey of revenge.
You may also like
After War user reviews :
I must say, the game is truly generous with gems. Players will have no issue gathering a team of legendaries. The art style, while it's not my cup of tea is very well made and has a definite charm. I've experienced issues with items going missing or their levels dropping though. Loading is a bit of an issue for the impatient. I think the biggest flaw is the game feels boxy. It needs to have more expansive world and modes. It would benefit from a map, guild and pvp. Maybe even manual missions.
Rawhand Games

Thank you for your review. The slowness of using Asian servers is being improved. PVP mode will be added soon, so look forward to it.
Been playing from day one and there are many issues that need to be addressed. First thing is the constant loading, no one wants to waste time on loading screens when playing a game. Second issue is the lack of content, we need new modes, arena(pvp), guilds and events. I think that the game has potential, I like the art and robot abilities but as things are now I don't see myself playing the game for much longer without these two core issues being addressed. Hoping for a meaningful update soon. Thanks for listening and good luck with the game.
Rawhand Games

Hello Survivor, this is After War. The issue has been checked and updated, but it has not been processed yet. Updates will be processed soon. Sorry.
Was 5 stars. Return rewards are flakey whether they work, but eventually you do get everything. The real issue is the new Hyper Corestone – its only available in a single package right now, for 55 bucks. While alone its not a huge deal, it shows the movement of the game into pay-to-win/pay-to-progress territory. For a game already flooded with optional ads, it gives it the look of a fast cash grab. I'm enjoying the game, but I'm bailing now because I can see the heartbreak coming a mile away.
The sort of game that makes me weep a tear of joy that all is not lost in mobile gaming. Bittersweet, then, to discover one that does almost everything right, only for the sole flaw to be almost game-breaking: "Loading…" Summons? "Loading…" for between ten to twenty seconds. Mid-battle? "Loading…" for ten to twenty to seconds. Since this makes heavy use of the Merge Three upgrade system, more time is spent contacting their server, apparently via tin can and string, judging by the speed. And since there are so many menu changes, items, actions to be making and taking, each with its attendant connection lag, all of the things I COULD be doing in game are replaced with drumming my fingers. A game I love connected to a server I hate: what a terrible, wasteful shame.
Good, but could be better. Its missing some key components that are essential for idle rpgs like this game, such as raiding prior levels, better tutorials, and more story. The game could probably be 5 stars once updated with more features and content. Fyi: the combine upgrade rate of 40% appears to be BS. Maybe my luck is just awful, but after doing hundreds of combinations, the rate appears closer to 20%. Thats not necessarily bad, but it is false advertising.
Love the game. Clean UI. Smooth graphics. Love it. More features please. The game suddenly have to load every single time i collect rewards in missions, everytime i combine mechs and create mechs in the factory. It's annoying and lessened my playtime in this game bigtime.
Rawhand Games

Thank you for your review!
Contact developer :
Video :
Download After War from Play Store
Leave your feedback regarding After War
Get more android apps/games/updates
Subscribe to our mailing list and get new android apps / games and updates to your email inbox.
Thank you for subscribing.
Something went wrong.